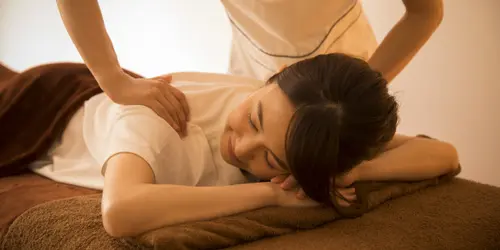 Shiatsu Massage
Shiatsu massage, which literally means "finger pressure", is an ancient Japanese massage that has proven itself time and time again. Tired from travelling? Recharge your batteries with an authentic Shiatsu session.
Shiatsu, an ancestral Japanese massage that relieves many aches and pains
Shiatsu (pronounced "shiatsou") literally means "finger pressure". Much like acupuncture and anma massage, whose theoretical basis it shares, shiatsu massage incorporates the fundamentals of traditional Chinese medicine , such as the notion of meridians and, above all, points called "tsubo" in Japanese.
The benefits of shiatsu massage are numerous and recognised:
- stress reduction,
- stimulation of the immune system,
- balancing the energy system,
- physical and psychological relaxation.
A massage technique officially recognised by the European Union
Practiced in Asia for dozens of centuries, shiatsu massage took its modern form in Japan in the early 20th century, initiated by Tokujiro Namikoshi.
In 1954, the Japanese Ministry of Health officially recognised the practice of shiatsu as a medicine in its own right. The practice took on an international dimension in 1997 when the European Union Parliament recognised shiatsu as one of the eight most effective non-traditional medicines.
The fundamental principle of action of shiatsu is physiological. The pressure of the fingers or palms on the surface of the skin of the person being massaged allows the muscle underneath to become more limber and releases muscle tension. The second principle concerns a more spiritual concept: "qi" or life energy.
Discover Shiatsu in the traditional atmosphere of a machiya
In order to relieve your muscles as well as your mind, we invite you to a Shiatsu massage session in a Kyomachiya, a traditional house made of tatami and shoji windows, in Kyoto.
For one or two hours, depending on your wishes or the state of your aches and pains, enjoy the techniques of a professional shiatsu massage therapist.
You can communicate in English, and don't worry, the patient's body speaks better than words for a shiatsu professional.
Important 
Please note that pregnant women cannot take this activity.
On the activity day
Right after you book this activity, you will receive a confirmation email. 
A few days later, you will receive a ticket in Japanese. Please make sure to print and bring this ticket when you visit the massage institution. 
Location
---
Shiatsu Massage
$53 per person