The Tokyo Olympics Games Calendar
Due to the Covid-19 pandemic that the world is facing today, the Olympic Games are postponed until the summer of 2021, they will still be called the 2020 Olympic Games despite taking place a year later!
The official schedule for the Tokyo Summer Olympics, starts on 23 July 2021 and ends 18 days later on 8 August 2021. 
This will be the fourth time Japan has hosted the Olympic Games. After the Tokyo Summer Games in 1964, the Winter Games in Sapporo in 1972 and Nagano in 1998, it's time for the capital to host again in 2020!
There are 339 events which are organised around 33 sports. For the Games of the XXXII Olympiad, baseball, softball, karate, sport climbing, skateboarding and surfing are becoming Olympic sports!
---
---
The calendar below is the original program for the Tokyo Olympic Games competitions. Following the postponement of the Games due to the COVID-19 pandemic, this calendar will change. It will be modified and updated as soon as new information becomes available.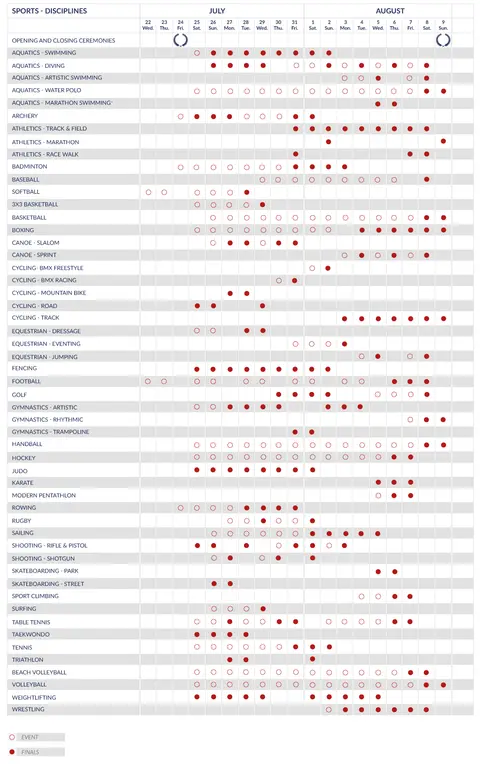 Among the numerous events at Tokyo 2021, you'll find:
July 21st, the first events of the Games will be women's softball at the Fukushima Azuma baseball stadium from 09:00am to 05:00pm and at the Yokohama baseball stadium starting July 24th from 10:00am to 04:30pm then at 08:00pm to 10:00pm. There will also be women's football from 04:30pm to 09:30pm in three different locations: Tokyo stadium, Sapporo dome and Miyagi stadium.
The 2021 judo events will be held between July 24th and 31st in Nippon Budokan, a stone's throw away from Tokyo's imperial palace. A newcomer to the Tokyo games, the first baseball match will take place on July 28th at the Fukushima Azuma baseball stadium, with the final on August 7th at Yokohama stadium.
All 2021 athletics events will take place between July 30th and August 8th at the new Olympic Stadium!
On August 8th, the last day of events, lots of events will take place. Water polo, the men's marathon, women's basketball, boxing, cycling, women's rhythmic gymnastics, women's handball and women's volleyball will bring the 2020/2021 games to a close.
---
Calendar of marathon events for the 2020 / 2021 Olympics
The marathon and walking events were moved to the capital of the northern island of Hokkaido, Sapporo. As a result of this decision by the Olympic Committee, the competition calendar was also changed:
5 August / 4.30 pm: men's 20 km walk
6 August / 5.30 am: men's 50 km walk
6 August / 4.30 pm: women's walk 20 km
7 August / 7.00 am: women's marathon
8 August / 7.00 am: men's marathon
---
---
For more information on the 2021 Olympic Games: