Karaage, Japanese fried chicken
鶏の唐揚げ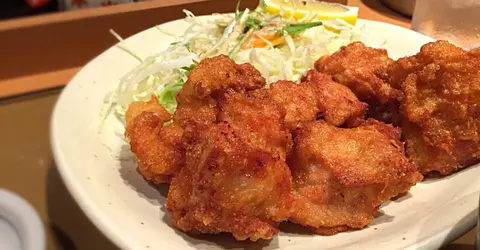 Japanese nuggets
Karaage (fried chicken) is one of the great classic Japanese dishes which is very popular. You will find this dish on menus in an izakaya or for sale in a konbini. This is a must-have dish on any table in Japan, in a restaurant, or at home. 
Karaage: what is it?
Karaage is chicken that's fried and marinated in soy sauce. The pieces of meat are coated with flour or potato starch before frying. Then it's eaten however you like: with lemon, mayonnaise or simply plain. The crispness of the coating contrasts with the chicken, which melts in your mouth. Usually accompanied by a small salad, this dish is easily enough for a full meal or as a snack along with edamame. 
The origins
After the Second World War, there were shortages of everything in Japan. With food, a major state reform introduced new methods, such as industrial breeding: necessary to feed a large population at a low cost. Chicken was favored as it was already popular in the family kitchen due to its versatility. The frying method has long existed in Japan since the Edo period (1603-1868), when tempura was in fashion.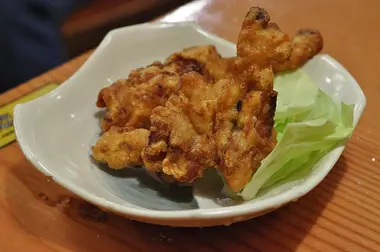 From then on, Karaage became an everyday dish for all. To make the preparation easier in the kitchen, everything is sold pre-prepared in the supermarket - chicken is usually sold boneless, cut into pieces, with karaage ko, the special flour for the coating stocked right next to it. Or even simpler, you can usually find fried chicken hot and ready to eat at the prepared food counter! It is also found on the food stands at many matsuri all over Japan, and today there are even restaurants specializing in karaage, which have recipe variations for endless fried chicken!
Recipe for karaage
Want to make your own Karaage? It's very simple. Here's how..
1. Take a boneless chicken thigh and cut into bite-size pieces. 
2. Marinate in a mixture of soy sauce, sake, or white wine, grated ginger, and a little sesame oil. 
3. Roll each piece in seasoned flour (or even better, a mixture of flour and potato starch), then deep-fry in oil until crisp. 
4. Serve hot and enjoy!
This is a recipe that can be found in many Japanese homes, it should be noted that karaage has thrilled culinary talents as much as the taste buds! This is why, today there are several variations of the recipe, which differ according to tastes and regions.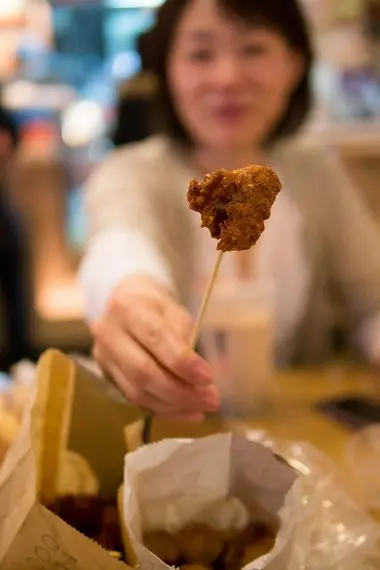 Regional specialties
As is often the case in Japan, there are regional differences. Traveling through the country, you will discover different tastes, depending on whether you are in Nagano (sanzoku-yaki), Hokkaido (zangi), Imabari (sen-zangi), Niigata (hanba-age, half chicken fries), Seki, Gifu (seki kara-age, which is black because it's mixed with a type of algae).
In the recipe for kara-age tebasaki, fried chicken wings are soaked in a spicy sauce, which is a specialty of Nagoya. In the town of Nakatsu (in Oita prefecture, Kyushu), about sixty shops and restaurants offer kara-age, which is why it's called the sacred city of karaage: a good reason to visit!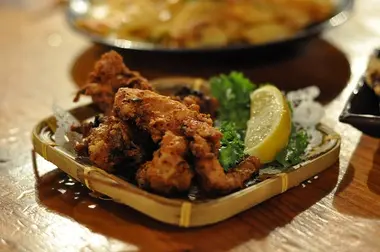 Where to eat karaage in Japan?
Karaage can easily be found in supermarkets or konbini, but that there are also many restaurants specializing in fried chicken throughout Japan. The latter are generally inexpensive, and offer varied menus that mix regional flavors to the delight of their customers! 
Where to eat Karaage in Tokyo?
Winner of the gold medal for the best karaage in the country for 5 consecutive years, Tometaba in Gotanda is one of the leading figures of fried chicken in Tokyo. The chef has been revisiting the Kyushu recipe for years, and his specialty, "Tometaba", attracts many foodies.
Address: Gotanda AS Bldg. B1F, 2-8-3 Higashigotanda, Shinagawa-ku, Tokyo
Opening hours: 5 p.m to midnight on weekdays, 4 p.m to 11 p.m Saturday, closed Sunday
Directions: a few steps from Gotanda station (Yamanote, Tokyu Ikegami lines)
Originally from Nagoya, Furaibo has successfully established itself in Tokyo. Its tebasaki karaage is cooked according to the traditional recipe of the prefecture of Aichi, and its homemade sauce is famous throughout the country.
Address: 2-chome − 3−13, Konan, Minato City, Tokyo
Opening hours: daily from 11 a.m. to 11 p.m.
Directions: a few minutes walk from Shinagawa station (Yamanote, Keihin-Tohoku, Yokosuka lines)
Where to eat karaage in Osaka?
Johnny no Karaage Tenman (Temma)
Located in Osaka, Johnny no Karaage Tenman has the distinction of offering karaage made from different parts of the chicken. Whether it's wings, thighs, breast, or even a neck, it's all good.
Address: 4-12-16 Tenjinbashi, Kita-ku, Osaka-shi
Opening hours: 3 p.m. to 11 p.m. weekdays, 12 p.m. to 11 p.m. weekends
Directions: a few minutes walk from Temma station (Osaka Loop line)
With several different karaage recipes and a multitude of chicken dishes, Shinjiro is a must-visit restaurant for Karaage lovers in Osaka.
Address: 1 Chome-18-20 Higashishinsaibashi, Chuo Ward, Osaka, 542-0083
Opening hours: 5 p.m. to midnight, closed Monday
Directions: a stone's throw from Shinsaibashi station (Midosuji, Nagahori Tsurumi-ryokuchi lines)
Finally, please note that many izakaya chains offer karaage at affordable prices in all the major cities of the country, like Torikizuku, who has made chicken in all forms their specialty!
All the themes of the city