Red Fox
The Red Fox: Enchanter of the Hills
Mark Brazil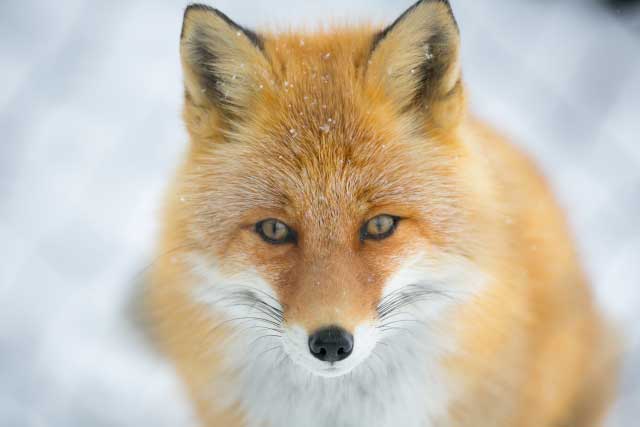 Vulpes vulpes, Red Fox in winter
Be on your guard! There are foxes about! Beware the shape-changers, and take care to avoid possession! But don't just expect to see a fox loping down the street bold as brass towards you, though there are places in Japan where that has happened, and most unnerving it is too.
Foxes are usually far craftier than to allow themselves to be seen and are quite unwilling to reveal themselves in their true forms, for they exist on many planes, as godly messengers, as tricksters and deceivers, and as wild and wily animals.
These are deceptive, far-ranging, and strange creatures - I have listened to their eerie calls, the high-pitched barking of the dog fox on frosty winter's nights and to the strange caterwauling cry of the vixen; I have tracked them in the snows across the highest peak in the land, Mt. Fuji, and watched them investigating the nooks and crannies at the base of a Hokkaido sea-cliff just out of reach of the waves. But there is much more to the 'humble' fox than meets the eye, and proverbs abound attempting to explain the lore of the fox.
Foxes are common in mythology, too, adorning charms, painted prayer tablets, and appearing as statues at many a shrine, but whereas the raccoon dog or Tanuki is a practical joker, performing pranks or assuming the shape of the moon, our fox, on the other hand, can be a wicked deceiver.
Yet despite this, the enchanting Red Fox, or Reynard as he is known in Europe, Vulpes vulpes to scientists the world over, and Kita-kitsune here in Japan, has, in the form of its alter ego the "Happy Little North Fox" become virtually a symbol (albeit commercial) of Hokkaido, the north land, thanks to massive sales of "Happy North Fox" and "Cute Little North Fox in Wonderful Nature" goods.
In real life we are dealing with an out and out opportunist, willing to try almost anything, but as they typically eat things ranging in size from small insects, beetles, grasshoppers and earthworms, or even berries and fruits in the autumn, to rodents and occasionally birds and hares, the tale of one having killed a cow in Hokkaido is as absurd as the thought of a person being killed by a rampaging kitten. Absurd, that is, unless enchantment was the key.
The foxes of Japan really are extraordinary creatures, whereas those of Hokkaido are confiding and unusually conspicuous, those in Honshu are secretive and retiring, but more than just extraordinary there is something else about them. Something, well, mesmerizing.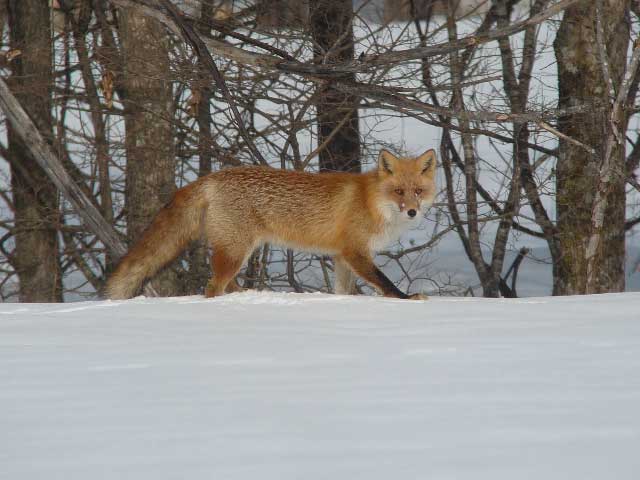 In Honshu, foxes tend to be completely nocturnal and shy, however in Hokkaido they are also diurnal in winter and not particularly shy of people. In fact they are curious and often stare at or even approach anything or anyone new in their surroundings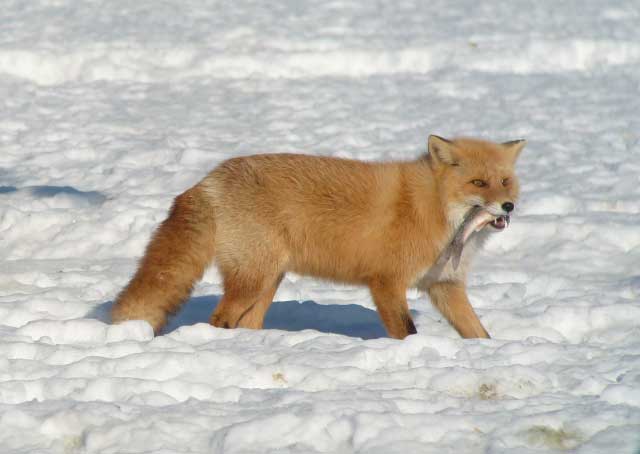 Foxes quickly learn where there are easy pickings. This one has learned to steal food put out for Red-crowned Cranes in winter in east Hokkaido
Each time I see one, I just have to stop. At first I believed it was due to my natural inclination to take a closer look and to enjoy a longer view of one of the wild creatures that shares these islands with us.
Slowly over the years, however, I have become convinced that I don't stop by choice, but rather because I have become enchanted by the fox. And this power to bewitch is merely one of the fox's talents, for how else could it have achieved such a reputation for supernatural powers and superhuman deeds? The ability to bewitch humans just cannot be doubted, for I have taken others out too who also have been compelled to stop and stare, on sighting a fox.
On one occasion, when drawn to halt near the Okhotsk Sea coast of Hokkaido, I looked out across a huge, snow-covered field at the far end of which a pair of foxes was running back and forth, back and forth, round and around in brilliant sunshine.
That sight in itself was mesmerizing enough, but to my amazement they set to and repeatedly poked their heads down conical holes in the snow, in what seemed an entirely random manner. Trotting and poking, trotting and poking, like tiny clowns on a vast white stage they bemused me, then suddenly, inexplicably, they were gone, the trance was broken and I, another duped human, was released.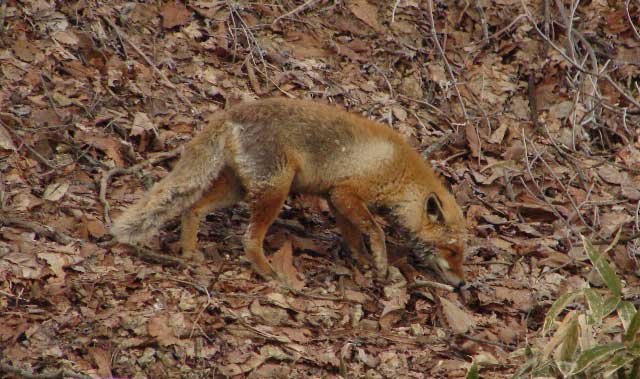 Autumn may provide plentiful food for foxes as they scavenge fruit in addition to their more typical prey of small rodents, but winter ahead is a hard time for them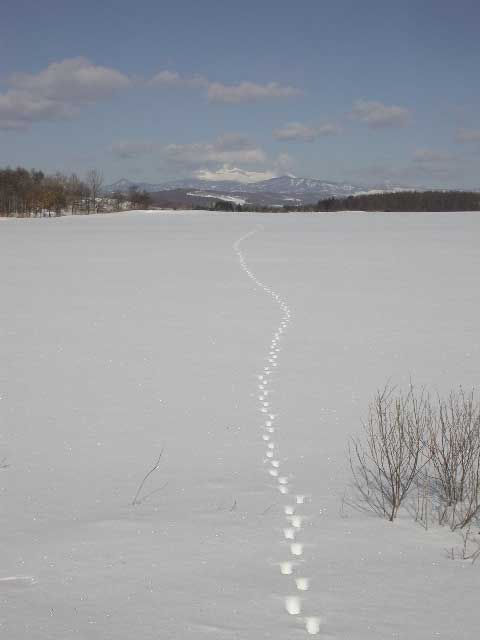 Red Fox tracks are easy to spot - a dotted straight line in sand, mud or snow reveals where they have trotted, carefully placing one foot in the same place as another. Sometimes a pair will tread exactly the same line making it difficult to work out how many animals have passed
At other times I have seen foxes in their role as confidence tricksters, pretending to be casually marking out a snowfield with straight, dotted lines of paw prints. But regular sideways glances revealed their true intentions, for all the time they were sizing up the best way of running the gauntlet of a forest of legs and an armoury of stabbing beaks.
Decision made, trot turned to dash and, jinking and swerving, like writhing eels, they have snatched a prize of a fish from under the very noses of an irate crane flock and from beneath the marauding talons of a soaring sea-eagle.
Perhaps only the dragons of fable and mythology pre-date the foxes of superstition. After, no doubt, a long oral tradition, the earliest written reference to the enchanting fox's magical abilities to confuse and ensnare humans is in the "Uji Jui," an 11th century Japanese story book, and certainly since then tales of their deeds and abilities have abounded and some must hold more than a grain of truth and cannot be doubted.
It is their skills and abilities at shape-changing, whether into men or women, or even, as in one story, into a vast Cryptomeria tree, that have most often been extolled, but just over a century ago in 1889, the most extraordinary tale of all was circulating, about the craftiest of all the shape-changers, the greatest of a long line, who achieved new heights in assuming the shape of - a steam-powered railway locomotive on the Tokyo to Yokohama line!
The phantom train appeared before the driver of a real train, driving towards him on the very same tracks. The engine-driver tried frantically to signal to the oncoming train to stop, but suddenly, realizing that his signals were being ignored and that the train was not actually approaching, but maintaining a steady distance ahead, he put on a tremendous burst of speed in order to catch the phantom up. Catch it up he did, but on reaching it, it disappeared and all the driver ever found was a fox, crushed beneath his wheels.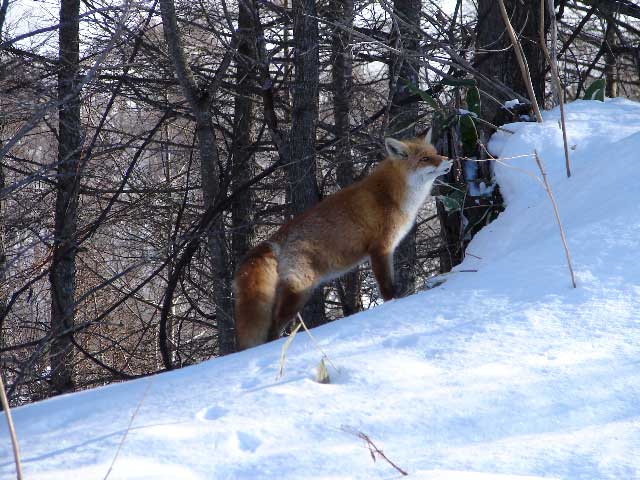 Scent is very important for foxes, not merely in finding prey, but also in keeping track of males and females in the same range
That tale has certainly made me think back over long night drives that I have made, to occasions when mysterious car lights have appeared suddenly in my rear view mirror, only to disappear without trace, without ever passing me. Perhaps, a century on, the fox spirits have learned the dangers of the railways and have found safer shape-changing pranks to play on the roads.
Popular belief and superstition concerning foxes has lasted down the centuries regularly fueled by inexplicable events, which can only be explained by the machinations of 'old slyboots' himself.
Even medical study has been devoted to the matter of the still more curious and fascinating power of the fox, not just to take human form, but to actually possess human beings and take over their bodies - kitsune-tsuki.
Thankfully, we know something of the malaise, frequently mis-diagnosed as depression, hysteria, even insanity, for eminent scientists have studied and documented cases of malevolent possession. One such study was made at the turn of the 20th century, by Dr Baelz of the Imperial University of Japan, who studied cases in the hospital under his charge and made notes on the medical condition. His conclusions were that the fox demon:
"Having entered a human being, sometimes through the breast, more often through the space between the fingernails and the flesh.... lives a life of its own, apart from the proper self of the person who is harbouring him. There thus resulted a sort of double entity or double consciousness. The person possessed hears and understands everything that the fox inside says or thinks; and the two often engage in a loud and violent dispute, the fox speaking in a voice altogether different from that which is natural to the individual."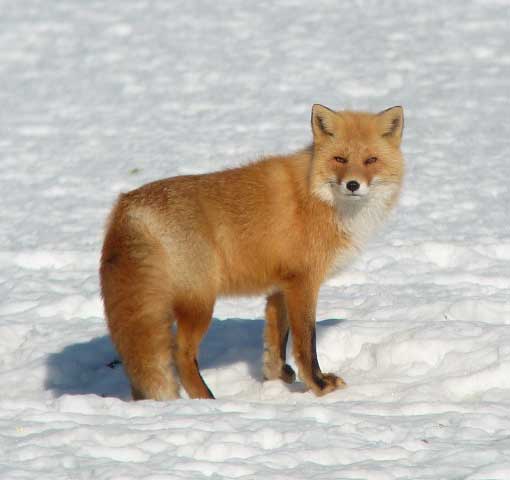 A fine Red Fox in full winter coat. Its bushy tail is crucial to its winter survival as they curl it around themselves for insulation
Dr Baelz was also aware of the difficulties of curing those afflicted with a fox demon, and advised that:
"The cure-worker must be a person of strong mind and power of will, and must enjoy the patient's full confidence. For this reason the priest of the Nichiren sect of Japanese Buddhism are the most successful expellers of foxes. Occasionally fits and screams accompany the exit of the fox. In all cases - even when the fox leaves quietly - great prostration remains for a day or two, and sometimes the patient is unconscious of what has happened."
Possession, just as enchantment, seems, mercifully, a temporary, curable affliction which responds to modern medicines. But before these days of easily administered drugs, priests were the only recourse.
The ability of Buddhist priests to control fox spirits has been known of for more than 1,000 years, for it was that miracle-working Buddhist saint, Kobo-Daishi (A.D.774-835), who, when a fox tried to deceive him, on his home island of Shikoku, banished all foxes, driving them from the island in to the sea.
From then on the fox was replaced in local folk tales by other creatures. Mysteriously, though, the cunning fox has returned since the saint's death, and, having broken the spell, it has re-colonized Shikoku.
While some devout Buddhists specialize in driving out foxes, there are people who wish to attract them. For the fox, for all its bad associations, is also revered as the messenger of Inari, the deity of rice, and patron saint of sword smiths and traders.
At the famous Fushimi Inari shrine, founded in Kyoto in A.D. 711 and marked by ranked red gateways, two large stone fox statues grace the main entrance. Their bushy tails symbolize fruitful stalks of rice, the jewel in the mouth of one represents the deity's spirit, and the key in the mouth of the other represents access to stored wealth.
Originally fox images were placed there out of fear, inspired by the "wily beast," yet in the passage of time, the fox has come to represent Inari in popular superstition, and Inari herself is believed now to take on fox form. Not surprisingly, Inari shrines have flourished and more than 40,000 now exist nationwide because of their value in bringing prosperity to all forms of business.
So it seems that the fox is a paradoxical creature representing the messenger of the goddess Inari, while as a malicious spirit it takes on so many guises that it rarely appears as a fox at all.
Yet neither of these seems related to the flesh-and-blood fox thousands of which are shot each year by Japanese hunters apparently without qualm or compunction. In some regions it is conspicuous, in others retiring, at times a cunning trickster and at others a friendly force for good.
Tales abound for example, of foxes taking human guise and marrying humans, and many of them involve their eventual discovery by someone sighting their brush, or tail, in an unguarded moment. While many of these tales are full of malevolence, mischief and deception, others abound in charm and compassion.
The moral of the fox's tale is to be ever watchful, cautious but polite, for you cannot be sure just which kind of fox you are meeting, and never curse the fox for as the old proverb says: The Fox fares best when he is cursed.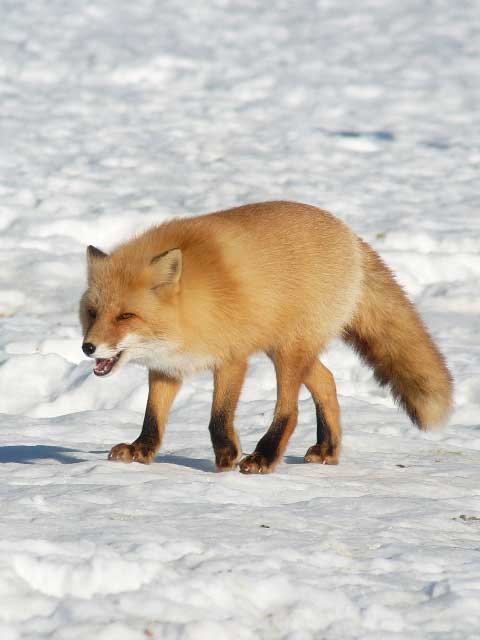 Vulpes vulpes, Red Fox in winter
Text and Photographs: Mark Brazil
Related Japan Nature Articles
Japan Nature
Blakiston's Fish Owl
Siberian Chipmunk
Mark Brazil
A writer, naturalist and wildlife guide, Mark spends half of each year travelling in search of wildlife and the other half writing about it from his base in Hokkaido.
Born and educated in England and Scotland, Mark spent more than ten years involved in the making of natural history documentaries for television, and nine years as a professor of biodiversity of conservation at Rakuno Gakuen University near Sapporo.
He began contributing his column, Wild Watch, to The Japan Times newspaper in April 1982, and has been writing about natural history and travel ever since.
His latest book, a field guide, Birds of East Asia, was published to considerable acclaim in 2009, by A&C Black and Princeton University Press.
You can learn more about Mark and his work via his website: www.japannatureguides.com
Japanese Red Fox: the red fox (Vulpes vulpes) has become part of Japanese mythology and superstition. They are deceptive, far-ranging, and strange creatures.
All the themes of the city