Internet Cafes
Internet Cafes in Japan: see a listing of internet cafes in Japan's major cities: Tokyo, Nagoya, Osaka, Kyoto, and to which you are free to add your own.
Internet Cafes & Manga Cafes in Japan
Ronald Veldhuis logs on..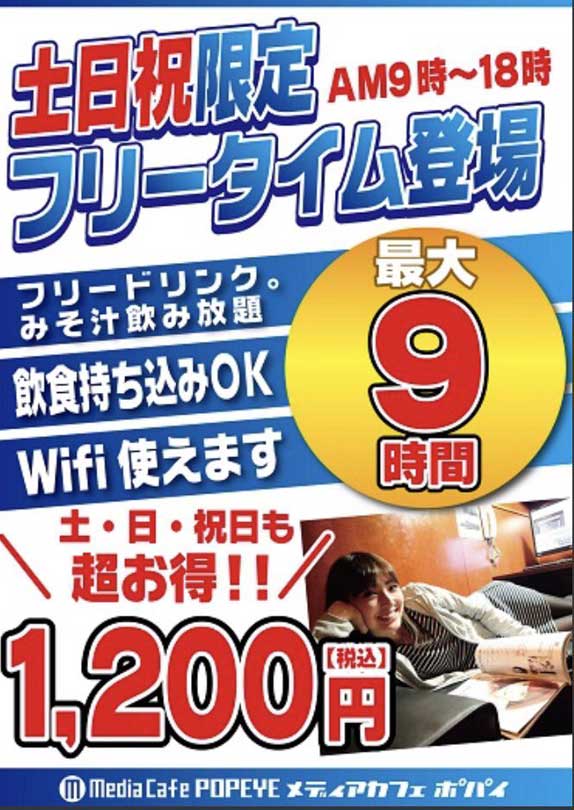 Ad for Media Cafe Popeye
With personal computing becoming ever more portable, the demand for traditional internet cafes with computers for hire has declined. Nevertheless, they are still around in Japan, and the number of cafes, restaurants, and other spaces, which offer Wi-Fi is constantly growing.
One way to get online and check your e-mail is with Kinko's, a US-based company that offers printing and copying services at its numerous branches. Kinko's has branches throughout Japan as well as Korea, China
and other places in the world.
However, being relatively expensive they are recommended more for business people or those travellers who do not intend to make extensive use of the internet while in Japan.
Manga/Internet Cafes
For more frequent use of the internet, or simply for the experience, a visit to a Japanese manga-cum-internet cafe is recommended.
Manga/internet cafes come in many shapes and sizes, but what makes them different is their double function, i.e. as places where people not only use the internet but also read comics (manga).
Japanese manga comics are immensely popular and many Japanese internet cafes are also known as manga- or media-cafes.
ABC Internet Cafe
Opening in 1995, the ABC Cafe - a manga-kissa
(a manga coffee shop) in Nagoya - introduced the idea of internet use for hire. It launched online
gaming hire four years later when more Japanese had begun going online.
Customers
have the choice of browsing a collection of classic hard-back manga
comic books and contemporary manga magazines as well as internet
gaming, general surfing and accessing email.
ABC's clientele are largely
students, young company workers and foreigners who welcome this bridging
of the gap between traditional manga (not to mention anime)
and online technology.
How to find internet cafes
If arriving in a city via its main train station, there is a good chance
that the tourist information office there can direct you to the nearest
internet cafe. Otherwise simply keep an eye out for one in any shopping
area. Look for the 24-hour signs as most manga cafes are open 24/7.
Along with these generous opening hours you can expect an extensive range
of services. Most of the cafes provide free drinks to customers. The selection
of drinks may vary but it's always a bottomless cup.
Bigger cafes with
kitchens even provide light meals at a reasonable charge for websurfers,
DVD watchers and video gamers.
Cost of internet cafes
As for charging, most internet cafes offer access for a certain time
at a fixed price and then charge extra for additional use beyond that.
For longer use, discounts may be available. For instance, there will often
be a flat rate for all-day access. Many offer a discount coupon at the
end of your session to entice you back.
The spaces themselves are often divided into open and closed boxes. An
open box with limited privacy is a little cheaper than a closed box. Closed
boxes are small cabins that, besides a computer, will often have a television
and sometimes also a game computer.
Normally there is also a choice of
a smoking or non-smoking booth. Many Japanese pay for a manga-reading-only
seat, which is cheaper but does not include internet access.
Internet cafe trends
At the moment there are a great number and variety of internet cafes
in Japan. However, a trend seems to be developing where chain branches
are pushing out the smaller cafes.
While these branches usually offer
more extensive services, their prices are somewhat higher and they often
require paid-up membership. If money is an issue, there are still places
to be found where internet access is free.
Department store internet cafes
Certain department stores still
offer access for a limited time at no charge. While no longer so common,
other establishments with a bar require that you order a drink or two
in return for for limited period access. But a manga cafe is generally
the best bet for getting online in Japan.
Japan Internet Cafes: Listing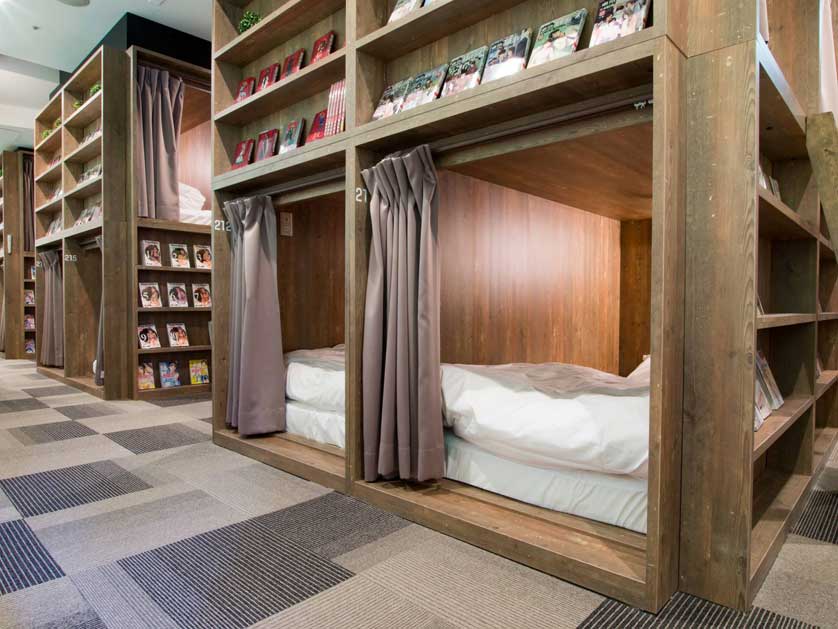 Jiyu Kukan
The Cafeman website lists internet cafes throughout Japan. Likewise, Freespot website, lists Wi-Fi spots throughout Japan. Please note that both sites are Japanese-language only.
Popeye is a large internet cafe chain with locations throughout Japan.
Jiyu Kukan is another internet cafe chain with stores nationwide with private booths for individuals or groups, karaoke, billiards, darts and manga plus food and drinks.
Osaka
Bean's Bit Cafe6-2-29 Uehonmachi, Tennoji-ku, Osaka.Tel: 06-6766-356610am-8pmClosed SundayTanimachi 6-chome subway station, exit #3.
Covent Garden Social Club
(Bar with internet)2-5-10 Kitahorie, Nishi-ku, OsakaTel: 06-4391-3113
Kobe
PopeyeSannomiya StationTel: 078-262-5128
PopeyeMotomachi 2-3-2Fashion Space Gem 5FTel: 078-326-2710
Internet Cafe@Wan Tel: 078-393-5454
Kyoto
c.CoquetOkazaki Bldg, 1F631 Shimogoreizen-choTeramachi-marutamachi agaruNakagyo-ku, Kyoto 604-0995Tel/Fax: 075-212-0882www.cckyoto-kotoba.comClosed Thursday.Access from Keihan Marutamachi station.
YondeyaFushimi-ku, Higashi Otemachi, Kyoto 612-8053Tel: 075 601 2209West of Keihan Fushimi Momoyama station.
PopeyeKawaramachi Sanjo agaruTel: 075-253-5300
PopeyeShijo Teramachi Higashi-iri 2-46 Tel: 075-257-5512
Nagoya
ABC Comics CafeHirabari BranchNakahira 5-711Tenpaku-kuNagoyaTel: 052-803-6825
Amy's3-20-26 SakaeNaka-ku, Nagoya 460-0008Tel: 052-251-8338Offers multilingal OS: English, Chinese, Korean, German etc.Sakae is the liveliest area in Nagoya city with easy access from many downtown
hotels. Cheap international phone card available. 5.5yen/min to the US.
Jiyu Kukan Meieki (Nagoya Station) BranchMeitetsu Lejac Building B1Meieki-minami 1-25-2Nakamura-kuNagoya, 450 - 0003Tel: 052-569-5012
Read more about internet cafes in Japan
If you wish to list your internet cafe for free on JapanVisitor Contact
Us with your details.
All the themes of the city