Asakusa Line Tokyo Subway
都営地下鉄浅草線

The Asakusa Line is a Tokyo subway line that connects seamlessly at both ends to other lines, linking both Narita and Haneda airports.
The Asakusa Line is a Tokyo subway line serving part of eastern and southern Tokyo. The Asakusa line's 20 stations run in a roughly north-south direction from Oshiage (think Tokyo Skytree) in Sumida ward at the northern end to Nishi-Magome in Ōta ward at the southern end.
The Asakusa Line is an important link between the Keisei Line to Narita International Airport in the north-east and the Keikyū Line to Haneda Airport in the south-west. And direct access with no change of trains between the two airports is possible on certain trains on the Asakusa Line.
The Keikyū Line serves not only Haneda Airport, but another branch of it goes to Yokohama and the Miura Peninsula. Therefore, it is possible to go from Narita Airport in Chiba prefecture all the way to Yokohama and further on down to the southern tip of the Miura Peninsula, in Kanagawa prefecture, with as little as one change of trains.
(Note, however, that travel from Narita Airport to Yokohama is faster - albeit more expensive - using the Narita Express, or "N'EX.")
The Asakusa Line is subway line no.1, its station numbers are prefixed with the letter A, and its color on subway maps is rose.
History
From before World War II, a subway line was proposed that would run through the center of Tokyo (i.e., Ginza and Shinbashi at that time) and connect the Keisei Line's Oshiage station with the JR Keihin-Tōhoku Line's Shinagawa station.
The Asakusa Line was the result of this proposal, and the first of the Tokyo Metropolitan, or "Tōei," (as opposed to Tokyo Metro) subway lines to be built in Tokyo. It was therefore called "Line No.1." Work began on the line in 1956, and the first section, from Oshiage to Asakusabashi, opened in 1960. The final section, from Sengakuji to Nishi-Magome, opened in 1968. The original plan of ending at Shinagawa was changed, and Shinagawa (and on down to Haneda Airport) is served by a branch of the line that splits off at Sengakuji.
The line's name changed from "Line No.1" to the "Asakusa Line" in 1978.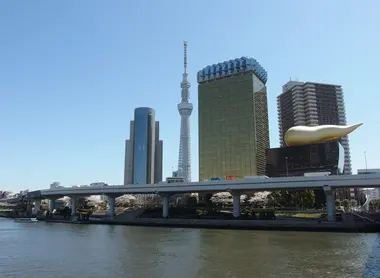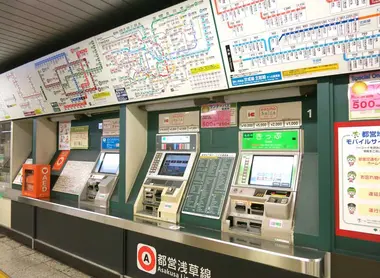 Asakusa Line Stations
The following is a list of the stations on the Asakusa Line, with nearby features, attractions, and transfers. Each station title includes the station name in Japanese and the station code. The Asakusa Line is numbered from the south going north so follows that order here.
0 KM - Nishi-Magome Station 西馬込駅 A-01
Nishi-magome Station is in Tokyo's Ota ward. The huge Ikegami Honmon-ji Temple (池上本門寺) is about 10 minutes' walk south of Nishi-Magome Station. This temple is the headquarters of the Nichiren sect of Japanese Buddhism and is the area's main attraction. The Ōta Ward Hometown History Museum (大田区立郷土博物館) is a small, local museum about 7 minutes walk north-east of Nishi-Magome Station, and is worth a look if you have nothing else to do, but all displays are in Japanese only.
 
2,1 KM - 0H02 - Magome Station 馬込駅 A-02
 
2,1 KM - 0H03 - Nakanobu Station 馬込駅 A-03
Nakanobu Station on the Tokyū Ōimachi Line is a minute's walk west of Nakanobu Station on the Asakusa Line.
 
3,2 KM - 0H05 - Togoshi Station 戸越駅 A-04
The 1.3 km-long Togoshi Ginza shopping street runs by Togoshi Station and on to Togoshi Ginza Station on the Tokyū Ikegami Line, which is 5 minute's walk west of Nakanobu Station.
 
4,8 KM - 0H07 - Gotanda Station 五反田駅 A-05
Gotanda, in Shinagawa ward, is a major commercial area with a lot of budget options for entertainment, dining and accommodation - and plenty of shopping. Gotanda Station is about 2km west of Shinagawa Station - and just two stops away from Shinagawa Station on the Yamanote Line. The accommodation in Gotanda is generally much cheaper than around Shinagawa Station, making Gotanda a handy place to stay if you're planning on taking the shinkansen bullet train from Shinagawa.
Change at Gotanda for the JR Yamanote Line.
 
5,5 KM - 0H09 - Takanawadai Station 高輪台駅 A-06
Takanawadai Station is just a 15 minute walk west of Shinagawa Station, and there is a cluster of upmarket hotels just east of Takanawadai, between the two stations. It's a 10-15 minute walk to the Takanawa side of Shinagawa Station.
 
6,9 KM - 0H12 - Sengakuji Station 泉岳寺駅 A-07
Sengakuji Station is where the Keikyū Line connects to the Asakusa Line. The next stop south on the Keikyū Line is Shinagawa. There are many Buddhist temples to the west of Sengakuji Station, the most famous being the temple after which the station is named, Sengakuji Temple - renowned for its connection with the Chūshingura or "47 Samurai" episode in Japanese history and folklore. Accessible from Exit A2.
 
8 KM - 0H14 - Mita Station 三田駅 A-08
Mita Station is in the Shiba district of Minato ward, which is dominated by office towers, but with plenty of dining opportunities around Exit A3. The Italian embassy and Keio University are both a short walk from Exit A3.
Change here for Mita Station on the Tōei Mita Subway Line and for Tamachi Station on the JR Yamanote Line.
 
9,5 KM - 0H16 - Daimon Station 大門駅 A-09
Daimon Station is ideally located close to Kyu-Shiba Rikyu Garden just 4 minutes' walk east, and the huge Shiba Park, with its iconic Tokyo Tower - the symbol of Tokyo - 6 minutes' walk west. There are numerous comfortable hotels in close proximity to Daimon Station.
Change at Daimon Station to the Tōei Ōedo Subway Line. Hamamatsucho Station on the JR Yamanote Line is just east of Daimon Station, accessible from Exit B2.
 
10,5 KM - 0H18 - Shimbashi Station 新橋駅 A-10
Shinbashi Station (aka Shimbashi Station), in Tokyo's Minato ward, provides access to the bustling Shimbashi area with its many dining, shopping and entertainment opportunities. Hama-rikyū Garden is a short walk east, and the nearby Old Shimbashi Station, one of the very first railway stations in Japan, is a must-see for anyone with an interest in trains or history. Shiodome Shiosite is a modern architectural cluster just between Shinbashi Station and Hama-rikyū Garden, and makes for a dazzling modern contrast to the elegant grounds of the old garden.
Change at Shimbashi Station to the following lines:
JR Yamanote Line
JR Tōkaidō Main Line
JR Ueno-Tokyo Line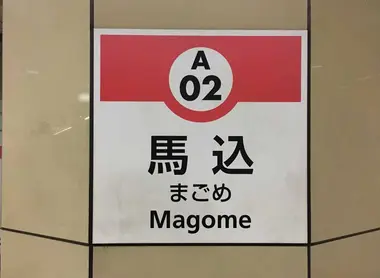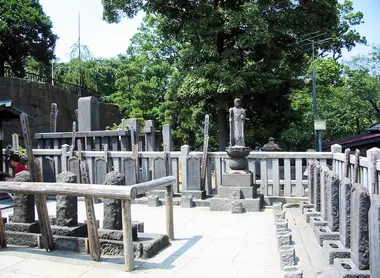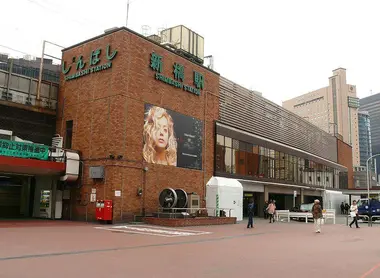 11,4 KM - 0H20 - Higashi-Ginza Station 東銀座駅 A-11
Higashi-ginza Station on the Asakusa Line is just 3 minutes' walk east of the main boulevard of the chic Ginza district - Tokyo's most exclusive shopping enclave with every top brand from around the world on offer here, and home to several of Tokyo's most venerable and luxurious department stores. Just across from the station is the renovated, but still beautifully traditional, Kabuki-za Theater. In addition to high fashion and classy department stores, Ginza is renowned for its hundreds of fine art stores and galleries, mostly off the main shopping street.
Change at Higashi-Ginza Station to the Tokyo Metro Hibiya Line.
 
12,2 KM - 0H21 - Takarachō Station 宝町駅 A-12
Takaracho Station, in Kyōbashi, Chūō ward, is about half a kilometer south-east of Tokyo Station. It takes about 10 minutes to walk from Takarachō Station (Exit A7) to the Yaesu entrance of Tokyo Station. The name Takarachō is a hangover from before 1978 when what was then the district of Takarachō merged with Kyōbashi. The surrounding Kyōbashi area is well known for being art-related, with numerous shops and galleries.
Change at Takarachō Station for the Keiyō Line. Kyōbashi Station is about 150 meters west of Takarachō Station, from Exit A4 or A5.
 
13,0 KM - 0H23 - Nihonbashi Station 日本橋駅 A-13
Nihonbashi Station is in the grandly historical Nihonbashi area, and just three minutes walk from the iconic bridge that gives the area its name. Nihonbashi is one of Tokyo's classier business districts, with much here of historical interest, and the station is surrounded by famous hotels, department stores, restaurants, bars, and cafes - as well as numerous art shops and galleries. The Yaesu Exit of Tokyo Station is just 10 minutes walk away
Change here for the Tokyo Metro Tōzai Line and the Tokyo Metro Ginza Line.
 
13,8 KM - 0H25 - Ningyōchō Station 人形町駅 A-14
The Ningyocho neighborhood is quaint and historical, with its old Amazake Yokocho shopping street, mechanical figurine clock towers, and craft shops whose traditions date back to when Ningyocho (literally "Doll Town") was the center of puppetry and kabuki theater. The old-style Masamura Pachinko parlor is a popular landmark here.
Change at Ningyocho to the Tokyo Metro Hibiya Line. Suitengumae Station on the Tokyo Metro Hanzomon Line is just five minutes' walk south-east.
 
14,5 KM - 0H27 - Higashi-Nihonbashi Station 東日本橋駅 A-15
Higashi-Nihonbashi Station is in the Bakurochō area of Chūō ward, which is characterized mainly by wholesalers and cheap, everyday clothing stores.
Change at Higashi-Nihonbashi Station to the adjacent Bakuroyokoyama Station on the Tōei Shinjuku Line and Bakurochō Station on the JR Sōbu Main Line.
 
15,2 KM - 0H28 - Asakusabashi Station 浅草橋駅 A-16
Asakusabashi is Tokyo's traditional doll and toy, and clothing accessory, town. Numerous wholesalers, retailers and artisans of such products are found throughout the area. The bustling area around the station is a cluster of most cheap eateries and dozens of tiny stores selling buttons, ribbons, lace, leather goods, stationery, and the like. Asakusabashi has become a mecca for budget accommodation, with numerous hostels and chain hotels.
Change at Asakusabashi Station for the JR Chūō/Sōbu Line. Akihabara (electronics/manga culture) and Ryōgoku (sumo) are one short Sōbu line stop west and east respectively - even walkable.
 
15,9 KM - 0H30 - Kuramae Station 蔵前駅 A-17
The streets of Kuramae are a fascinating mixture of banal and trendy, with numerous hip cafes and boutiques dotted throughout very ordinary residential scenery. The artisanal aspect of neighboring Asakusabashi extends throughout the Kuramae district, too, but generally in more up-to-date ways.
Change here for the Oedo Subway Line. With two stations called "Kuramae Station," changing trains here can be confusing. Read a simple explanation of the two different Kuramae Stations.
 
16,8 KM - 0H32 - Asakusa Station 浅草駅 A-18
Asakusa is the bustling, colorful, historical district that the whole Asakusa Line is named after. Asakusa's main attraction is the big, picturesque Sensō-ji Temple which is about 1,300 years old. Asakusa is a must-see spot in Tokyo, and has an excellent tourist information center in front of Sensoji's main Kaminarimon Gate. You can even get whisked around the area in a rickshaw!
Change here for the Tokyo Metro Ginza Line, Tobu Skytree Line, and Tsukuba Express Line. With four stations called "Asakusa Station," changing trains here can be confusing. Read a simple explanation of the four different Asakusa Stations.
 
17,5 KM - 0H34 - Honjo-Azumabashi Station 本所吾妻橋駅 A-19
Honjo-Azumabashi Station is on Asakusa-dōri Avenue in Sumida ward, across the Sumida River from Asakusa, and about 400 meters behind the Asahi Building, which sports its distinctive golden flame on the roof. The Tobacco and Salt Museum is a 7-minute walk away. The block just south-west of the station has quite a few small Buddhist temples.
 
18,3 - 0h36 - Oshiage Station 押上駅 A-20
Oshiage Station provides immediate access to the Tokyo Skytree, with its big Solamachi shopping and entertainment complex. While Oshiage is the last station on the Asakusa Line, trains continue on from here to Narita Airport. Fans of Japanese baseball history might be interested in the nearby home of Sadaharu Oh (b.1940).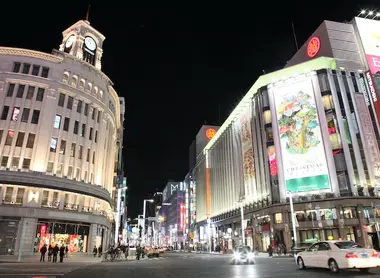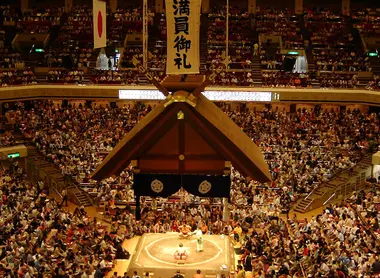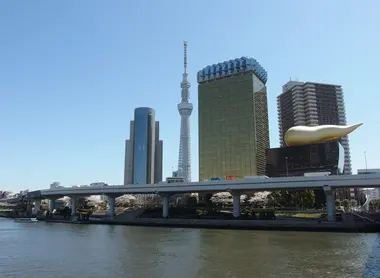 Tips for Riding the Asakusa Line
Here are some useful tips for using the Asakusa Line (and all other trains in Japan).
1. First buy a pre-paid smartcard, such as a Suica or Pasmo (if purchased in Tokyo, different if purchased elsewhere). They require a refundable 500 yen initial charge, but make subway use much easier than having to buy a paper ticket at a station whenever you ride a train. Simply touch the card for a second on the sensor at the ticket wicket as you pass through.
2. Identify in advance the number of the exit you will need to take at the destination station and ...
3. having identified that exit, board the car closest to that destination exit. You will save time (and be less likely to get lost) if you can board the car that will stop closest to the destination station exit you will leave from. There are charts for that purpose on the station wall, telling you the appropriate cars for each exit at each station, or you can ask a station attendant: "[Station name] no deguchi ni oriru no de, dono sharyō ni noreba ii desu ka".
4. Mind your manners. Don't eat or drink on the train, remove your backpack if you're standing, don't put luggage on the seat beside you, don't talk on your cell phone, and if you're talking to people, try and keep it subdued.
All the themes of the city