Navigating Ikebukuro Station

A station surrounded by shopping malls and department stores
Ikebukuro Station is one of the busiest train station in Tokyo with JR, Tobu and Seibu lines. Read our guide of Ikebukuro Station, its train connections and area.
About Ikebukuro Station
Ikebukuro Station is located in a lively neighborhood with a number of shopping centers and restaurants in Toshima ward, north-west of central Tokyo. Sunshine City is a 5-minute walk away.
Ikebukuro Station was first opened in 1903, making it one of the oldest stations in the Tokyo metropolis.
Ikebukuro is the second busiest station in Tokyo (and the world) after Shinjuku Station with over 2.7 million people passing through on an average weekday, many of whom are commuters to and from Saitama Prefecture.
All platforms for all lines at Ikebukuro Station have elevator-enabled access from the outside the station.
It is one of the busiest train stations in Tokyo, but the organization of its route and access makes it a space in which one can easily spot with a map. 
The station ground floor has the Tobu shoppings centers in the west side and the Seibu department stores in the east side, two of the country's largest department stores.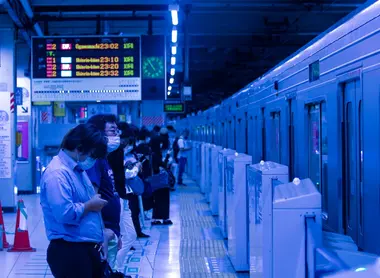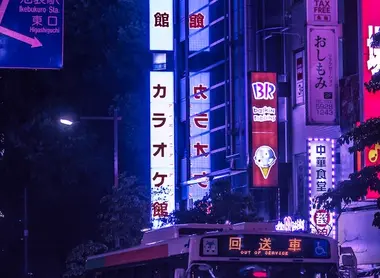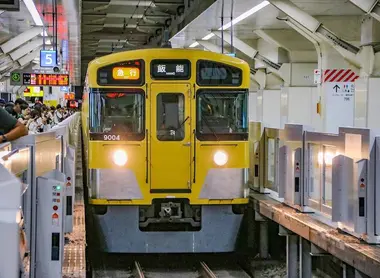 Triple crossroad
The station is crossed by three major corridors that provide access to the gates. The shopping aisles perpendicular to these corridors have original street names whose theme you can quickly guess: Cherry road, Apple road...The station has three accesses on each side. The exit are indicated by yellow signposts and contain orientation or shopping center indications.
Ikebukuro is also a huge connection point for the subway Marunouchi Line, Yurakucho Line and Fukutoshin Line. There are many exits which are numbered. It can be easier if you know the number of your exit in advance. If not, you can still read the maps or follow the signs.To exchange your Japan Rail Pass, you will have to go to the North Corridor.
Ikebukuro Station is the terminus for:
-Seibu Ikebukuro Line with trains to Nerima Station and Tokorozawa
-Tobu Tojo Main Line with services to Kawagoe-shi Station in Kawagoe, Wakaba and Yorii.
Ikebukuro Station also serves the following lines:
-Tohoku Honsen Express Line, which starts in Shinjuku and goes on, after Ikebukuro, to Ueno and from there all the way up Honshu
-JR Yamanote Line
-Saikyo Line with trains to Omiya Station in Saitama Prefecture and Osaki via Shibuya and Shinjuku stations.
-Shonan-Shinjuku Line to Ofuna
-Marunouchi Subway Line
-Yurakucho Subway Line
-Fukutoshin Subway Line
The next station heading clockwise on the Yamanote Line to Ikebukuro Station is Otsuka; heading anti-clockwise is Mejiro.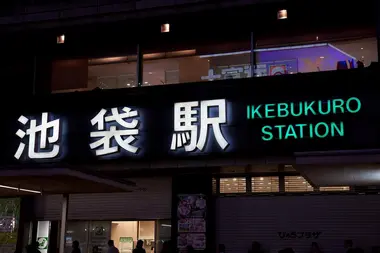 Bus Services from Ikebukuro Station
Ikebukuro Station is also an important bus terminus for buses to various destinations in the Kanto region as well as a local 王33甲 Toei bus to Nishiarai Station, Toei bus 草63 to Asakusa and Kaminarimon 1-chome and 池86 bus to Shibuya Station.
Chikuma in a joint operation with Seibu operates buses to Karuizawa from the East Exit of Ikebukuro Station. Presently the fare is 2,600 yen for an adult single; 1,300 yen for a child.
There are also buses from Ikebukuro Station West Exit to Haneda Airport at regular intervals beginning at 4.25am until the last bus at 10.15pm. Journey time from Ikebukuro Station to Haneda Airport is 50 minutes.
Other highway bus destinations from Ikebukuro in the Kanto, Shinshu and Koshin regions include Niigata, Nagaoka, Joetsu, Kawaguchiko for the Mount Fuji area, Komoro, Ueda and Bessho Onsen in Nagano Prefecture and Nagano city.
Seibu Group buses from Ikebukuro Station also go west to Toba in Mie Prefecture, Otsu in Shiga Prefecture and Kyoto (overnight), Osaka JR Station and Universal Studios Japan (USJ), Shirahama in Wakayama Prefecture and Katsuura Onsen in the Kii Peninsula.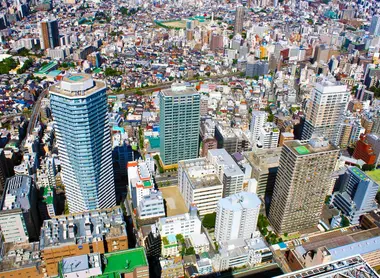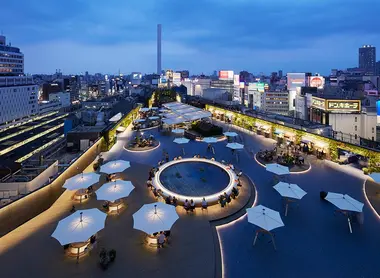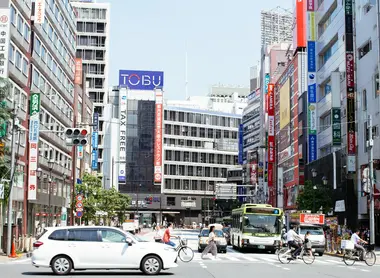 Around Ikebukuro Station
Ikebukuro is a major commercial area in Tokyo. Both Seibu and Tobu operate huge department stores at their respective exits at the station, Seibu near the East Exit and Tobu at the West Exit.
Both department stores have incredible basement food halls (depachika) and a wide range of restaurants to choose from. Seibu department store has an art and craft exhibition space on its 6th floor called Art Forum and, not to be outdone, the Tobu department store has the Bijutsu Garo art gallery on its 6th floor.
Other nearby shopping centers include Bic Camera, Metropolitan Plaza, Mitsukoshi, the 60-story Sunshine City, and Parco.
Sunshine City has a museum, the Ancient Orient Museum on its 7th floor, an observation deck on the 60th floor, the Sunshine Planetarium on the 10th floor and the Sunshine International Aquarium also on the 10th floor.
Discover Tokyo in one day
All the themes of the city