Nikko National Park Travel Guide
日光国立公園

Excursion near Tokyo in a protected nature
Nikkô is very famous for its Tôshô-gu temple, but it is above all a very vast mountainous natural area, with multiple hiking trails. Ideal destination for a one or two day excursion near Tokyo.
Around the small city of Nikkô spread out the prefectures of Tochigi, Gunma and Fukushima. Here was created in 1934 one of the first national parks of Japan , 114,908 hectares of nature in a very mountainous region, riddled with volcanoes . A very rich and varied nature made up of valleys, ponds, marshes and waterfalls thanks to volcanic activity. Many historical sites around Nikkô are classified as World Heritage by UNESCO , making this area a place of harmony. In addition, access is very easy from Tokyo.
Nikkô-Kinugawa-Kuriyama side
Mount Nikkô-Shirane rises to 2,578 meters . From Marunuma Kogen station, a cable car takes you to an altitude of 2000 meters, from where you already have a beautiful panorama, with the bonus of a free onsen for the feet.
It is also the starting point of the hiking trail to get to the top. All the same, allow five or even six hours round trip for the ascent .
Lake Chûzenji , created by volcanic activity and the lava spill from Mount Nantai, is a huge lake at the end of which is the great Kegon waterfall . With its 97 meters of fall, the flow is very intense there especially in spring thanks to the snowmelt.
Also to be explored, the high plateau of Senjôgahara which includes a marshy area above which a promenade has been laid out for quiet trekking and appreciating all the diversity of the places, with some 350 kinds of plants and wild birds .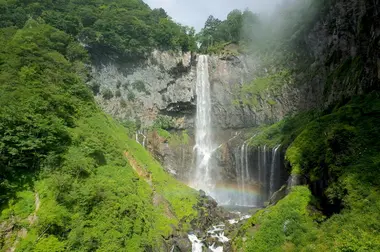 Mount Nantai is a 2,486-meter mountain known to be sacred. Indeed, it is at its summit that we find part of the Futarasan temple , the other part of which is located lower in the valley.
The temples classified Unesco . They are numerous towards Nikkô, including the famous and magnificent Shintô Tôshô-gu shrine built in these wild mountains more than 1,200 years ago , although extended by the Tokugawa family in the 17th century.
We also find the Rinnô-ji temple and the Futarasan shrine. These temples allow you to better appreciate the artistic techniques of the Edo period (1603-1868) .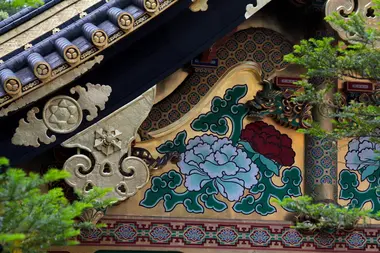 Kinugawa is a very beautiful valley crossed by the Kinu river. The site of Kinugawa-onsen , discovered in the Edo period, offers all the pleasures of hot springs that fully revitalize the body. Nikkô Yumoto Onsen resort, in addition to its onsen , allows you to ski all winter long.
Kuriyama is the highest swampy area in Japan, being located at 2,020 meters above sea level. Kinunuma is made up of about forty ponds , perfect for appreciating the local fauna and especially a very beautiful kôyô in autumn.
Nasu-Shiobara side
Mount Nasu , which rises to 1,917 meters, is an active volcano more commonly referred to as "Mount Chausu that smokes all the time". The Nasu cable car goes up to 1,684 meters, to take hiking trails suitable for beginners. Each season has its own happiness, the blooming of azaleas in spring, the variety of alpine plants for a little freshness in summer, or the dominant red of kôyô in autumn. A choice of outdoor activities is available on the Nasu Plateau, in Nasu Kôgen .
Nasu Heisei no Mori is a former imperial villa since 1926, with a vast natural area, including a beautiful forest of Japanese beech trees. The current Emperor of Japan has offered to cede half of his land to the Ministry of the Environment, which made it a park open to the public in May 2011 .
Découvrez les plus belles attractions de Nikko avec un guide !
---
Address, timetable & access
Address

Timetable

From Tokyo: Tobu Line from Asakusa to Nikko Tobu station (2h10)
All the themes of the city