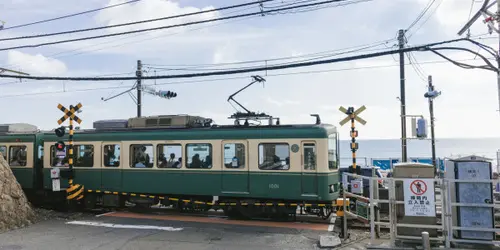 Kamakura Discovery, full day
Old Zen capital, nestled between the hills and the sea, enjoy the historical and seaside riches of Kamakura.
Kamakura, a haven of Zen Buddhism, near Tokyo
Scattered with temples, Kamakura has preserved the vestiges of its former glory. Located only an hour by train from Tokyo, far from the hustle and bustle of the megalopolis, the former seat of the Shogunate is cradled by the sound of the waves and the bells of the Buddhist temples. The Tokyoites will all agree that Kamakura has a very seductive charm. Among the must-sees, the great Buddha (Daibutsu) of Kotoku-in, which despite its 11 meters of height remains an example of grace and majesty, the temples of Hasedera and Hachimangu, and above all the multitude of small temples that each have their own history and can be appreciated only on a day out with a guide who knows the city perfectly. 
Kamakura, a seaside town
Kamakura also boasts long beaches along the Pacific Ocean. When summer comes, the beaches fill up with young people, families and pensioners, who enjoy the sun and sea with its surprisingly warm water. The ""sea houses"", temporary places to eat and drink, are there for those who prefer to sit back and watch the world go by while sipping a cocktail. Outside of bathing season, surfers come to enjoy the waves. Kamakura is also a place for sea sports: surfing, windsurfing, wakeboarding, yachting, etc.
Enoshima's charms
Boldly projecting into the ocean, the Enoshima Peninsulais also worth a visit. Steep stairs lead to a temple, and from here you can climb to the top of the peninsula. The view from here is breathtaking, and on clear days Mount Fuji rises majestically above the sea in the distance.
A flexible, personalised guided tour
The meeting point is in front of Kamakura station at 9:00. The group buys a pass for the day's transport and begins the tour.
As part of our discovery days, your guide will prepare the best itinerary for you, although we also offer the possibility of contacting your guide beforehand if you have specific requests (dietary restrictions, parts of the programme you would like to discuss, etc.).
Please let us know where you are staying so that your guide can meet you there.
Not included in the offer:
- Transport - Lunch - Paid admissions
Cancellation policy:
Up to 7 days before: 0%
Between 7 days before and 5:00 p.m.the previous day: 50%
After 5:00 p.m.the previous day and same day: 100%
Location
---
Kamakura Discovery, full day