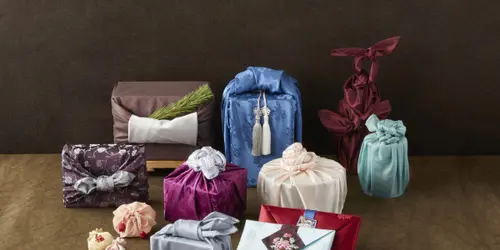 Furoshiki, sustainable packaging
The furoshiki is the emblem of Japanese ecology at its finest. In this workshop, learn how to fold and use furoshikis and incorporate this custom into your daily life.
An age-old Japanese packaging technique
Furoshiki is a Japanese cloth-folding technique to wrap up everyday objects.
Before paper and plastic wrapping, the Japanese used furoshiki to carry shopping or wrap gifts. This technique dates back to the Heian period (794-1192), then called hiratsutsumi, for carrying clothes when travelling. It lasted until the Meiji era (1868-1912), when the bag was imported from Europe!
The furoshiki is making a comeback as a way to fight against waste and reduce the consumption of plastic, as well as adding some aesthetic appeal and pleasure to everyday life. It is basically symbolic of the Japanese spirit: doing a lot with a little, and above all combining beauty and practicality.
The world's most ecological square of fabric
This simple square of fabric works wonders. Made of silk or cotton, 50 x 50 cm or 70 x 70 cm, it can be used as a bag, gift wrap, bottle cover, cloth for a picnic, scarf, etc. Once used, it folds up and becomes very small, and of course it is washable.
The other advantage of furoshiki is that it comes in a wide range of colours and designs. Japanese creativity is always expressed through furoshikis. In every colour, in geometric patterns, abstract, animals, etc. furoshiki can be elegant, kitsch, original, it can assert a taste or an identity, and everyone can find something suitable. Once you have discovered furoshiki, you can't get rid of it. 
In a traditional building in the heart of Kyoto
In this 1 hour 30 minute activity, you will learn up to 12 ways to fold the furoshiki!
The activity takes place in a traditional Japanese house that has been used for generations for Kyô Yuzen dyeing. Enjoy the atmosphere of craftsmanship and tradition, while becoming a master in the art of furoshiki.
At the end of the activity, you'll be able to choose your favourite furoshiki to take home and keep using in your home country.
Location
---
Furoshiki, sustainable packaging
$24 per person