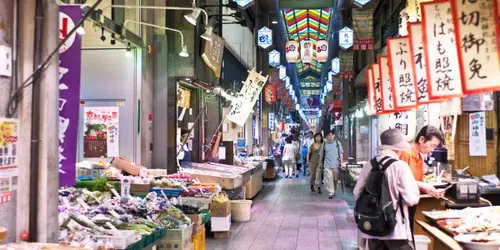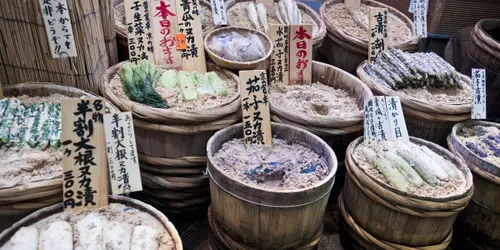 Nishiki market
Discovering a wealth of unfamiliar products while browsing the friendly Nishiki Street Market is both a fun and educational experience for any visitor who is a foodie or simply curious about Japanese cuisine.
Kyoto's historic market
The morning before the market opens, meet your guide at the end of the large shopping arcade in Teramachi. You can quietly get acquainted as you walk to the corner of the street which appears on your left, covered by a lovely coloured glass roof made in the early 1990s to provide shelter from the weather for shoppers strolling through the market.
The first shops sprang up here in the early 14ᵉ century and they originally sold mainly fish. Indeed, a spring with very fresh water collected underground made it possible to preserve the goods and facilitate their transport to the imperial palace by piping them. Later, at the beginning of the Edo period (1615 to be exact) a shogunate edict made the activity official and the "Nishiki Ichiba *" flourished. Other goods were soon added and today the market has more than 130 shops on both sides of the 400m long street.
Discover the secrets of Japanese cuisine
Although there are still many fishmongers, they are now followed by the manufacturers of "tsukemono", the famous vegetables that are pickled in vinegar after having fermented in a paste made of water, salt and whole rice husks. The variety of brines used gives the stalls a very particular colourful and shiny appearance and most of the shopkeepers will offer you a taste of their products presented in a small dish in front of the shop.
Here, the fresh vegetables sold are always in season and many of them will not remind you of anything. In Kyoto, a very elaborate vegetarian cuisine developed to satisfy the demand of the many Buddhist monasteries in the city and the surrounding area, so much so that some of them are now called kyo yasai or Kyoto vegetables!
Since 2015, the market traders have come to an agreement and offer visitors to the market the opportunity to sit in a renovated old house where they can enjoy the food they have bought at the market for a small fee."
Tour the market with a local guide
Our guides in Kyoto are all passionate about Japan and have lived there for years. Of course, no secrets remain for them in Japanese cuisine and its ingredients. They will be able to explain what you see, show you the best shops and guide you in your choice of purchases.
Meet at 9:30 am at the Shijo-Karasuma intersection in front of the LAQUE shopping centre for a 1.5 hour stroll that will fill your eyes, ears and nostrils. As this is a group activity, you will have the opportunity to meet other travellers.
Location
---
Nishiki market
$27 per person