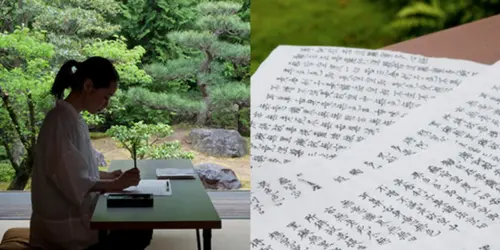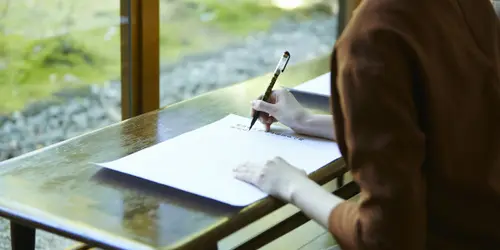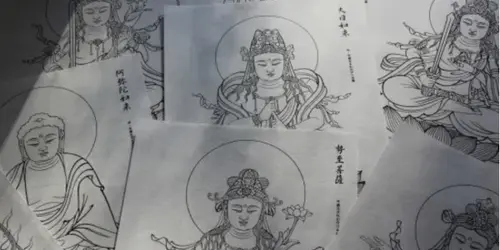 Shabutsu, Buddhist image meditation
Relaxation and spirituality in a Kyoto temple, thanks to shabutsu, or the transcription of the image of Buddha.
Shakyo, or the transcription of the sutras
Shakyo is the practice of transcribing sutras. Long transmitted orally in ancient India, the transcription of the sutras onto paper in the Sanskrit language allowed them to spread throughout Asia.
The primary purpose of the shakyo was to distribute the sutras geographically, as well as to communicate them to future generations. As technology has developed, this practice has outlived its purpose, yet it continues. Indeed, transcribing the sutras is a kind of spiritual training, a meditative practice that allows one to exercise one's power of concentration. Carefully tracing the characters allows one to calm the mind, to be in the present moment.
Shabutsu, the pictorial version of shakyo
Shakyo and shabutsu are part of Buddhist rituals in the same way as prayer, the fire ceremony, and zazen.Shabutsu is less well known than shakyo, which is widely practised, but is rapidly gaining in popularity with those who are not familiar with the Japanese language and for whom transcribing the kanji can be a headache (and therefore not particularly good for relaxing the mind). Instead of characters, the idea is to transcribe an image of Buddha.
A meditative practice through hand drawing
Easy even for those who are bad at drawing, thanks to the watermarked image that you just have to follow, with each line you draw, your mind and body calm down, and you feel good. There is no right or wrong way to do it, and the final result is not important. If you enjoy peace and feeling calm, you have had a successful experience.
The activity takes place in a temple whose atmosphere particularly encourages inner peace. You are on tatami mats, surrounded by beautiful Buddhist objects, and in front of a beautiful garden with carefully arranged arrangements.
At the end of the activity, you will be offered a matcha green tea with a Japanese delicacy, to complete this relaxing and spiritual moment.
Location
---
Shabutsu, Buddhist image meditation
$19 per person