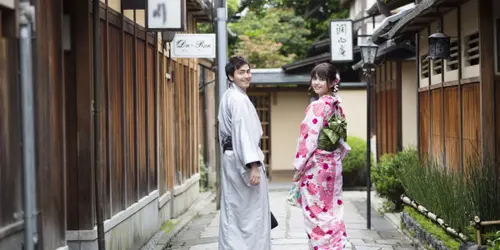 Kimono rental in Kyoto
Take on a local flair by renting a kimono for your stay in Kyoto.
Wear a kimono
In Japan, wearing a kimono is not part of folklore or tradition, it is a custom that still lives on. It is worn for happy occasions in life, weddings, commencement or graduation ceremonies, etc., or for cultural activities (tea ceremony, flower arranging, going to see a kabuki show or even a sumo match). Visiting historical places is part of these cultural activities, and in recent years it has become common again for both older and younger generations to wear kimonos to visit historical places.
The perfect outfit for Kyoto City
The custom is especially widespread in Kyoto. When walking through this city, which seems to have remained frozen in history, it is difficult not to want to show local colour and to dress up in a costume that matches the beauty of the city. The kimono is the perfect camouflage for the living tradition that is Kyoto. The couple or family photos you can take will be the perfect portrayal of your trip to Japan.
An activity for the whole family
Kimonos can be worn by adults and children (over 85 cm).
There is a small discount for couples.
In summer, ask for a "yukata" which is a cotton kimono lighter than the kimono and suitable for the warm seasons.
You just have to bring your own clothes and we will take care of dressing you. Allow 40 minutes to choose your kimono and to get dressed.
You can leave your bags in the shop for free if you prefer not to have any luggage during the tour.
The kimono must be returned to the shop on the same day before the closing time of 17.30.
If you cannot return to the shop on that day, please mention it to the staff, you can use a postal package to return the kimono.
You can also choose the photoshoot option, where you get a hair set, and a professional photographer will follow you through the streets of Kyoto.
Location
---
Kimono rental in Kyoto
$33 per person