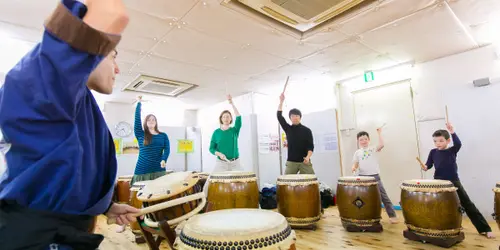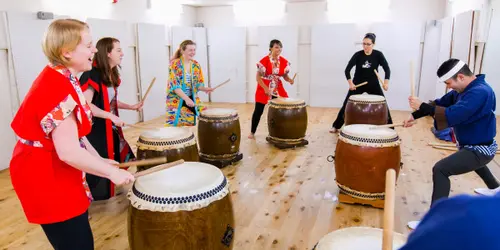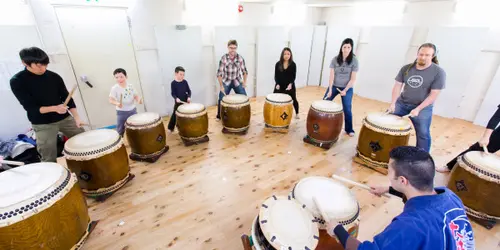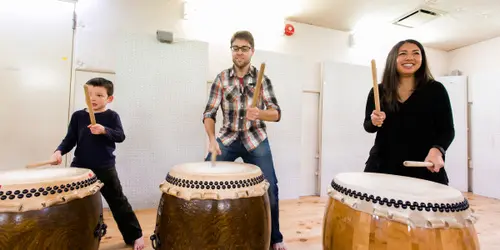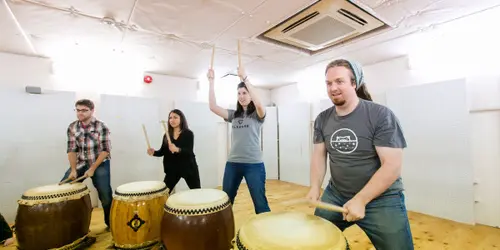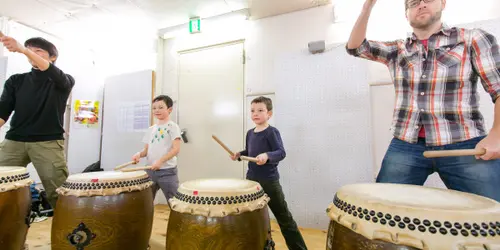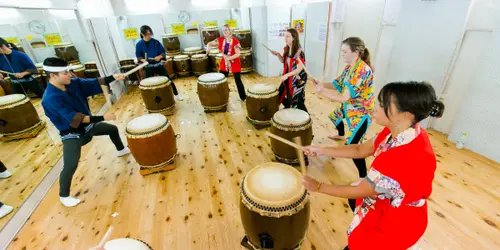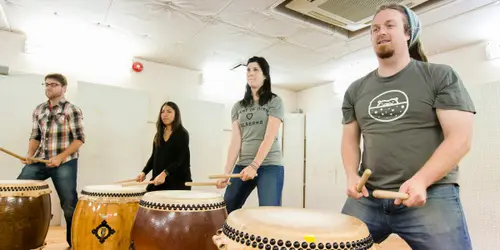 Taiko, the Japanese drum
Learn to play the taiko, the Japanese drum, highly popular in Japan and abroad.
Grab your sticks!
Of all the Japanese instruments, the taiko is probably the most accessible and popular. It can be played at any age and the stress-relieving effect is assured!
With this activity, specially designed to introduce the joys of taiko to travellers, grab your sticks and let your energy flow under the guidance of real taiko players. 
Taiko, more than just an instrument
Who hears the taiko being played for the first time and isn't moved? The deep, powerful sound, the enchanting rhythm, the perfect coordination of the players, and the way the whole body becomes involved in the creation of the sound. Indeed, while it is an instrument, taiko is sometimes also thought of as a form of meditation or dance.
The taiko craze is apparent in Japan, but also in other countries. On the island of Sado, a renowned group has formed, called Kodo, which means "heartbeat" or "child of the drum". The practice of the instrument is given the status of a way of life, even a martial art (with the suffix -do to designate the way, like judo or kendo), and performances by this group are widely acclaimed. 
An instrument that has always accompanied the events of Japanese life
The taiko, which literally means "big drum", although the Japanese prefer to call it Wadaiko (the wa being the prefix for everything Japanese), already existed in Japan during the Jômon period (-131 BC/- 4 BC) as proven by archaeological excavations.
During the Sengoku period (1467-1591), the taiko was used to encourage soldiers during battles, the heartbeat being said to synchronise with the rhythm of the drum to increase the strength of the warriors. Apart from its military use, the taiko was an instrument that gave rhythm to daily life at the time: it announced the return of hunters to the village, the arrival of typhoons, etc.
Even today, the taiko can be heard during festivals, sumo tournaments or as an accompaniment to Kabuki or Noh plays.
Location
---