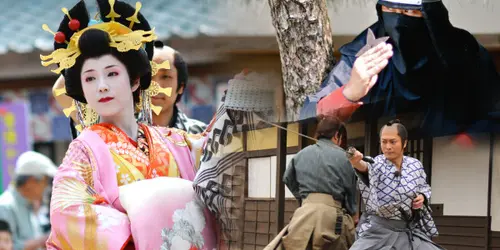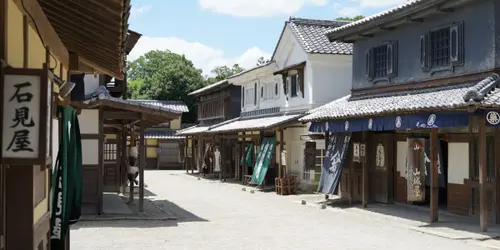 Toei Kyoto Studio Park
Who hasn't dreamed of becoming a samurai or a ninja for a day, and being transported back to pre-Western Japan? Toei Kyoto Studio Park is the place where you can make this dream come true.
30 minutes from Kyoto, Toei Kyoto Studio Park
The Toei Kyoto Studio Park (also known as Toei Uzumasa Eigamura), which was established in 1975, is a park where visitors are placed in a real cinema set used for the production of historical films. In addition to sightseeing, dressing up and taking pictures, the park also has many attractions. 
A film set from the Edo period
When you pass the park entrance, you will enter the Edo era (1603-1868). Along Meiji Avenue, you will find minka (traditional houses), soy sauce shops, rice vendors, etc. You will also find a period court and a police station. Don't miss the Nihonbashi Bridge, often featured in historical films. Sometimes filming takes place in the park, and visitors can watch if they wish.
There are also many exhibitions dedicated to Japanese cinema, television and the most famous actors. An opportunity to discover the stars and cult films of Japanese cinema and television.
A true journey through time
The best thing to do is to take advantage of the disguise options and experience the journey through time until the end. For an extra 6,000 yen, you can choose from 30 costumes, and walk through the park as a samurai, ninja or geisha. For a cheaper and quicker option, rent a kimono for 2,500 yen to wear over your clothes.
Ninja, Geisha, Samurai, Anime and Japanese ghosts!
In addition to the scenery, the park is home to numerous attractions. The Japanese imagination comes to life at Toei Kyoto Studio Park.
Don't miss the Ninja Show at Nakamuraza (a theatre built on the original Edo period model), the 3D cinema, and the haunted house, reputed to be one of the scariest in Japan. Or take a swordsmanship class and learn to wield the katana like a true samurai. Or enjoy the new Evangelion attraction (a bit anachronistic, but so cult). The list goes on...
Practical information
Some attractions require an additional entrance fee, but the tickets we have on sale give free access to the following 7 attractions:
◆Ninja Mystery House
◆The Haunted House
◆Ninja Training Dojo SWORD 'N GO
◆Lazer Mission 'Escape the Castle'
◆3D Maze, the Ninja Fort
◆Trick Art Museum
The park is a 5-minute walk from Uzumasa-Koryuji station on the Keifuku Arashiyama line, or a 15-minute walk from JR Hanazono station. You can also take buses 75, 71 or 73 from Kyoto Station, or buses 11, 91, 61, 63, 64 from Shijo Avenue.
Location
---
Toei Kyoto Studio Park
$35 per person