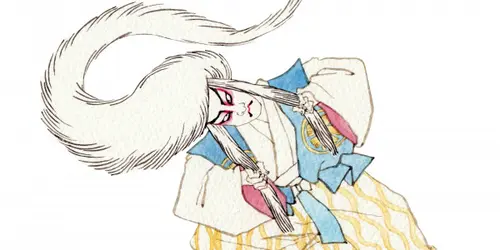 Kabuki, the Japanese popular theatre
A mixture of codification and extravagance, Kabuki theatre is one of Japan's favourite cultural activities. Go to the Kabuki-za in Ginza for a highly colourful show.
The most popular Japanese theatre
 Kabuki is an extravagant, colourful form of theatre dating back some 400 years. Of the four traditional classical forms of theatre (Noh, religious theatre, Bunraku, puppet theatre, Kyogen, comic theatre, and finally Kabuki), this is the most popular. People come to see the actors - some of whom reach rock star status - but also the plays. These range from comedy and drama to historical epics and ghost stories.
An all-male cast
Kabuki theatre actors are exclusively male. Historically, this is because of the excessive sensuality of the first women who created the genre. But this is precisely what the public likes, to be lured by the grace and elegance of the "onnagata", these actors specialising in female roles.
A mind-blowing show
 Although highly codified, Kabuki does not have the austerity of Noh. The costumes are dazzling, the sets colourful and often in motion, the gestures lively and dynamic, while the actors deliver their lines with great vocal resonance. Go to Japan's largest Kabuki theatre: the Kabuki-za in Ginza, Tokyo, to see the show. Tickets are valid for the entire show with reserved seating. You'll also have access to an interpreter once you're there so you can enjoy the whole thing just like a local.
The show is in Japanese. A Translation by screen into English is available as a paid option.
Cannot be cancelled.
※ The time of order is an indication only. Depending on the show chosen, this time may change. We will inform you of the exact time when we send you your tickets.
※ As the number of tickets available is limited, we reserve the right to offer you an alternative date if the date you request is not available. If we are unable to accommodate your request, we will cancel your order and issue a full refund.
Location
---
Kabuki, the Japanese popular theatre