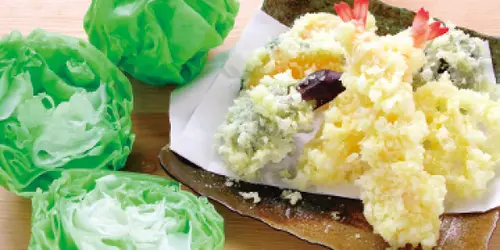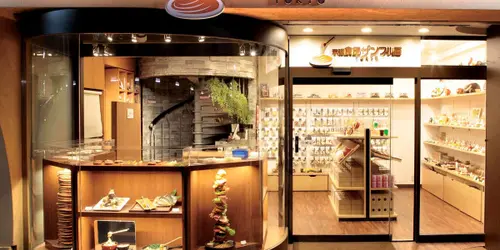 "Sampuru", food sample
Plastic dishes or "sampuru" in restaurant windows are one of the first things you notice in Japan. The realism and detail of the workmanship leave an impression on the observer. We encourage you to explore the secrets of "sampuru" making and make your own trompe-l'oeil dish with professionals.
Sampuru, sample food, a Japanese art
"In Japan, these fake dishes, this plastic food, can be found in almost every shop window. The purpose is to make people hungry and to show what the restaurant is serving. For travellers who have difficulty reading the menu, the presence of these fake dishes is a big help! All you have to do is point out what you want in the window.
Making these fake dishes is a serious business in Japan. Called ""Shokuhin sampuru"" (pronounced ""sampoulou"") or ""food sample"" in English, it has almost become an art. Originally from Japan, sampuru is now increasingly exported as restaurant owners around the world are beginning to appreciate its marketing value.
It's not just restaurateurs who are fond of sampuru, visitors from all over the world like to take home a sample as a magnet to decorate their fridge or as a keychain to remind them of the delicacies they ate on their trip, or as a real dish to put on the table and fool their guests. "
Make your own sample from Japan's most famous manufacturer
The largest plastic dish making company is called Iwasaki Be-I and has a 50-60% market share, and this is where we can take you to a workshop to learn the secrets and techniques of "sampuru".
Originally made of wax (which used to melt in the shop windows), the samples are now made of plastic and can be used to imitate all kinds of food, even drinks. During this 40-minute workshop, after watching an explanatory video, you will be able to make a salad leaf and a piece of tempura using wax just like in the past. 
Kappabashi Street, a must for professional and amateur cooks
The workshop will take place at the Ganso Shokuhin Sampuru shop on Kappabashi Street. Kappabashi Street, located between Ueno and Asakusa, is several hundred meters long and features dozens of shops for cooking and eating. You will find shops selling pots and pans, kitchen utensils, knives, ovens, tables and chairs, lamps and lanterns, ceramics, chopsticks, etc.
Take advantage of your visit to shop for kitchenware, especially if you want to cook Japanese food upon returning home. 
Practical information
6 years old and up. Children aged 6 and 7 must be accompanied by an adult.
You will participate in the workshop with other participants.
During the workshop, you can take photos of your group, but please do not take photos or videos of other participants.
Please wear clothes with sleeves that you can roll up. You do not need to bring anything, as aprons and other equipment will be provided.
Location
---