Japan Art Books III
Books on Japanese Art III: read book reviews of titles on Japanese art, Japanese gardens and fabrics.
Books on Japan - Japanese Art & Design Books III
Please note if you purchase something through a link displayed on the website we may earn commission.
Kimono Design: An Introduction to Textiles & Patterns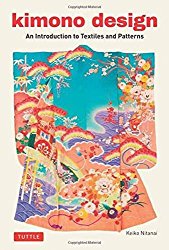 by Keiko Nitanai
Tuttle Publishing
ISBN: 978-4805-31428-9
Paperback, 304 pp.
This amply illustrated little volume is an excellent introduction to the motifs found on Japanese kimono and related accessories: obis, brooches, etc, but as such motifs are also found throughout other forms of Japanese visual and performing arts as well as in poetry, it also serves as a broader introduction to Japanese culture. The book is divided into four sections corresponding to the four seasons, a very common trope when dealing with Japanese customs and culture, and each season has chapters on the motifs associated with each season plus some others that don't fit with any particular season. Each motif is explained with its symbolism and meaning, and on what occasions kimonos with such motifs would be worn and also by whom. The text contains a wealth of information and detail that makes the book appealing to more than just those people interested in kimonos. The text, however, only occupies a small part of most pages, the bulk of which are filled with full color photos of the designs. There are some photos of whole kimono, but most are of the details that are woven, dyed, painted, or embroidered into the fabrics. Birds, plants, flowers, and landscapes are obviously well represented, but there are also abstract design elements, and surprisingly to me, numerous man-made objects like bridges, musical instruments, and ships. There are some obviously very old and expensive high-class kimono, but the vast majority seem to be dated to the early twentieth century and so would be classed as vintage rather than antique. There are also the designs that are likely to be seen worn nowadays. There are contributions by experts specializing in history and other subjects that explain how kimono and the designs on them have changed over the centuries including the influences felt since Japan "opened" to the world in the 19th century. The author is the founder and director of the Kyoto Antique Fabric Preservation Society, and so it's perhaps not surprising that the kimonos illustrated are the kind that can be found in that city's numerous antique and flea markets. It is not a coffee table book, and at 6 by 9 inches and an inch thick it's not a pocket book, but could easily be carries in a largish handbag or day pack while travelling or sightseeing or browsing flea markets. A useful guide and introduction that will appeal to designers, Japanophiles, cultural historians as well as those interested in kimono and traditional Japanese fashion.
Jake Davies
Japanese Design: Art, Aesthetics & Culture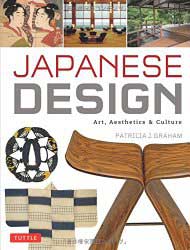 by Patricia J Graham
Tuttle Publishing
ISBN: 978-4-8053-1250-6
Hardback, 161 pp.
In this attractive mid-size hardback, neither two small nor too unwieldy, Graham has achieved the kind of yin-yang balance of information and visual delight, prose and images, worthy of a Japanese designer. It serves as an excellent introduction to Japanese design aesthetics and techniques that goes a step further into wider aspects of both Japanese and Western society.
Chapter One, The Aesthetics of Japanese Design, introduces key Japanese design terms  that characterise Japanese design, including the familiar, such as ma, the 'interval' that delimits Japanese ideas of time and space, and the less-familiar, like notan, the 'dark-light principle' inherent in much design that was actually identified by Westerners. It also features iconic places, including the magnificent Katsura Imperial Villa in Kyoto, that embody certain aspects of the Japanese aesthetic. Readers will be grateful for the short glossary of essential terms at the back, though providing the original Japanese characters would have been a helpful supplement for more advanced study.
Chapter Two explores the links between Japanese design and culture, considering design's interactions with religion, fine arts, technology, and of course the Japanese' seasonal sensibility. Chapter Three considers Japanese design's prime exponents, both in Japan and in the West: writers, art critics, philosophers, and architects. Readers may be surprised by some of the names, which extend far beyond the usual Frank Lloyd Wrights and Lafcadio Hearns associated with Japan.
As usual for a recent Tuttle art book, the presentation is impeccable: new high-quality photos of open spaces are set off by excellent reproductions of ancient Japanese artwork, with three-dimensional objects given special attention so that they seem to float off the page.
Richard Donovan
Tokyo Fashion City: A Guide to Tokyo's Trendiest Fashion Districts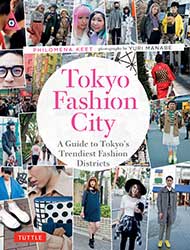 by Philomena Keet
Tuttle Publishing
ISBN: 978-4-8053-1339-8
Paperback, 144 pp.
Tokyo has been on the global fashion map for at least a couple of decades now, and few cities can rival Tokyo's fashion freedom and multifariousness. There has been little in English to lead the fashion fan through the streets of Tokyo, home to various fashion tribes and looks, but that lack has been expertly and entertainingly filled by Tokyo Fashion City: A Guide to Tokyo's Trendiest Fashion Districts by Philomena Keet, with photography by Yuri Manabe (Tuttle, 2016).
There is plenty here about Tokyo fashion itself, with conscientiously researched and deftly penned descriptions of everything from the trashy Shibuya gyaru look with its distinctive nail art, to the Lolita look, to the ins-and-outs of cosplay, to name a few. The high quality photographs that lavish every page bring these descriptions to even more vivid life by depicting Tokyo fashionistas whom the author and photographer have accosted on the street, photographed and talked to, finding out where they got their clothes from and what inspires them.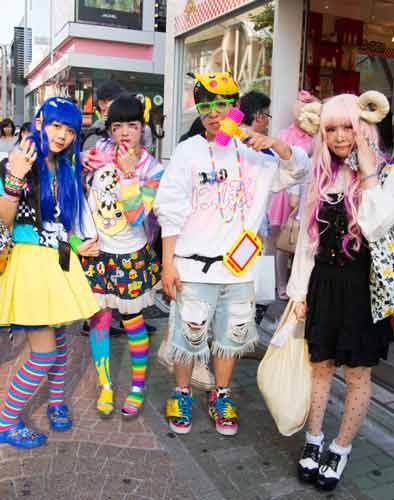 Tokyo Fashion City - off the wall in Harajuku
But, as the subtitle makes clear, this book is as much about where fashion in Tokyo happens, pinning the city's looks to its districts. The legendary fashion districts of Harajuku, Ginza and Shinjuku get the treatment that they of course deserve, but the author puts herself on the cutting edge, too, going out to smaller districts such as Koenji, Nakameguro and Kuramae that are underground and/or up-and-coming.
Each district is described first in broad brush strokes, then in more detail on successive pages where it is depicted from various different perspectives, including its (fashion-related) history and even store listings. Information this specific is incredibly valuable to the explorer wanting to browse, but of course it limits the use-by date for store information which, at the underground edge of fashion, in particular, can change very fast.
This breadth of coverage extends to topics on the edge of fashion, such as the costumes Tokyoites doll their pets up in, the kimono the ladies of Ginza typically wear, Tokyo shopkeepers' attire, and even the bicycles Tokyoites ride.
The author fully equips the reader with the vocabulary of Japanese fashion, from serekuto shoppu ("select shops") to the 1990s karaa gyangu ("color gangs") of 1990s Ikebukuro, to bishoujo ("pretty girl" simulated-dating games), to oshare ("stylish") to datsu-otaku ("quitting geek attire and going oshare") to shinise (the long-established family-run stores typical of east Tokyo) and lots more.
This is a handbook for fashion explorers, yet something of a textbook for fashion students, too. Reading it will expand your Tokyo fashion horizons, give you the tools to start talking about and making further discoveries in the world of how and where Tokyoites present themselves to each other - and even help you locate a great cup of coffee.
Japan's Master Gardens: Lessons in Space and Environment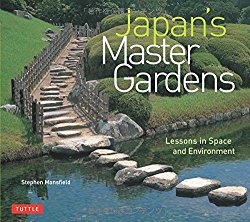 by Stephen Mansfield
Tuttle Publishing
ISBN: 4805311282
144 pp
Though they share certain design elements, all Japanese gardens are unique. The tradition and design of gardens in Japan is more than 1,000 years old. Designers work within the tradition, yet always add an element that makes their garden in some way different.
Stephen Mansfield's Master Gardens is an excellent primer on Japanese gardens. He discusses the fabulous creativity and breadth of design within Japanese landscaping.
Master Gardens is divided into five chapters, each of which introduces five gardens.
Chapter One, "A Sense of Nature," looks at for example Tokyo's Shinjuku Gyoen. The section on one of Tokyo's best-known and best-loved public spaces is handsomely photographed and well explained.
Chapters two to five - "The Modular Garden," "Landscape Gardens," "Requisitioning Space," and "Healing Gardens" - follow the same pattern.
The majority of the gardens are in Kyoto or Tokyo, but Mansfield introduces gardens from all over Japan.
From dry landscapes to the so-called stroll gardens, Mansfield highlights the beauty and variety of Japanese gardens.
An excellent work.
A Guide to the Gardens of Kyoto (revised edition)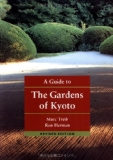 by Marc Treib & Ron Herman
Kodansha
ISBN: 4770029535
Softback, 202 pp. Black and white with some colour plates
Last revised in 2003, this reprinting is as relevant as ever for the tourist or foreign resident who has the time and inclination to get to know Kyoto's amazing gardens. Unlike many such publications, Marc Treib and Ron Herman's guide will remain useful as long as the gardens, some with many hundreds of years' history, greet their visitors with their enigmatic beauty. After reading, one will surely find the gardens less enigmatic, and more intriguing.
Another reason for the enduring success of this compact guide is the sound scholarship and practicality that inform it. While historian Treib and landscape architect Herman are based in the US, their hearts are firmly ensconced in Kyoto. They begin with an introductory essay entitled The Japanese Garden and Its Cultural Context, which, while academic in tone, provides an enlightening way to 'read' every Japanese garden that one may subsequently encounter, tracing the way that the social strata, religion and politics of every major historical period have shaped gardens and their surrounding architecture. The second essay focuses on Kyoto's unique 'landscape', again helping to direct the eye of the wandering visitor. Striking colour photos and black-and-white overhead plans serve to illustrate the points made.
The rest of the book is devoted to the iconic gardens in Kyoto's five main quarters: the string of temples to the North and South of its Eastern flanks; the central area including Nijo Castle and the Imperial Palace; the Northwest, with such highlights as the Golden Temple and Ryoanji's famous stone garden; and the Southwest, including Arashiyama. Both the front and end papers contain a handy map overview of these five quarters. Each section on a particular garden begins with practical information such as location and access times, before providing an insightful commentary complemented by black-and-white photos, area maps and detailed layout plans.
The guide is rounded off with a suggested four-day itinerary and division of gardens by features, as well as an index of historical periods, a helpful glossary of Japanese and landscaping terms, a plant guide, and finally suggestions for further reading. Finally, a general index makes it easy to locate a particular garden or topic.
Anyone who really wants to appreciate Kyoto's gardens, rather than simply admire them in passing, would be wise to obtain a copy of this guide and make good use of it both before and during one's visits.
Richard Donovan
Courtyard Gardens of Kyoto's Merchant Houses
by Katsuhiko Mizuno; translated by Lucy North
Kodansha International
ISBN: 4-7700-3023-1
152 pp; 150 color photos
Author and photographer Katsuhiko Mizuno leads you on a tour of the gardens located within Kyoto's machiya, or townhouses. The tsuboniwa - courtyard gardens - are distinct and subtle, and are rarely seen by tourists or even Kyoto residents themselves.
They were built by the merchant class that created the housing stock in what is now downtown Kyoto. This lavishly photographed book contains pictures of 81 gardens from 52 private homes, inns, restaurants, and teahouses.
The text also includes diagrams and explanations of the stones and other details that make up the gardens.
For those who love Japanese gardens or the unique architecture of the Kyoto townhouse, this is a perfect book.
The Fine Art of Kimono Embroidery
by Shizuka Kusano; translated by Gavin Frew
Kodansha International
ISBN: 4-7700-3024-x
112 pp; 100 color photos
The Fine Art of Kimono Embroidery is a gorgeous coffee-table book that showcases the art and genius of Shizuka Kusano. Kusano uses kimono and obi (kimono sash) as her canvas. She employs themes drawn from Japanese poetry, literature, art, and seasonal motifs (birds, flowers, streams).
Kusano works with silk threads and fabric, and is known as one of Japan's premier kimono embroidery artists. This text features the best of her works in stunning photos. Along with the photos, there are both commentary and explanatory notes from Kusana herself.
There is an introductory essay on the introduction of embroidery from China in the sixth century up through to the present day.
Kusana is a major textile worker in Japan. Her works are regularly exhibited in galleries and museums throughout Japan and Kyoto.
Shibori: The Inventive Art of Japanese Shaped Resist Dyeing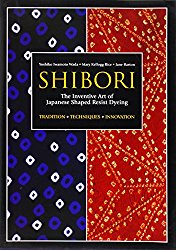 by Yoshiko Iwamoto Wada, Mary Kellogg Rice, Jane Barton
Kodansha International
ISBN: 4-7700-2399-5
303 pp
The textile arts as practiced in Japan are justly known throughout the world for their excellence and beauty. Among many methods, the traditional "resist" technique stands out. This involves shaping the cloth in various ways, then wrapping it, and finally securing the shapes by binding the material. This is known in Japanese as shibori (from the verb to wring out, squeeze).
The effect is spontaneous and lively. The cloth appears to be almost alive thanks to the design and the tie-dye. Shibori can be used for handkerchiefs, table cloths, clothing.
This amply illustrated volume showcases Japan's largest collection of traditional shibori fabrics. There is a detailed guide to the natural dyes used in Japan, the making and care of an indigo vat, and a glossary and bibliography. This is an excellent read and a wonderful resource that features many of the best-known crafts people and their work.
Warriors of Art: A Guide to Contemporary Japanese Artists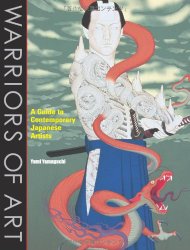 by Yumi Yamaguchi
Kodansha International
ISBN: 4770030312
175 pp
In the last decade or so the image of Japan has changed overseas. From faceless salarymen or overheated samurai/World War II soldier, "Japan" has now moved on to include the images that emanate out of food culture, manga (for adults and children), anime, popular film, and electronic gaming. Japan is no longer perceived of as merely a monolithic entity of bespectacled men intent on world economic domination.
Japan's visual culture has always been among the most varied and talent-laden in the world. Thanks to the recent trends noted above, that has become more widely disseminated abroad.
Tokyo art critic Yumi Yamaguchi in "Warriors of Art" hopes to further expand and spread the knowledge of Japan's visual culture to include its contemporary artists.
"Warriors of Art" showcases the work of forty working Japanese artists: painters and sculptors, photographers and performance artists.
Takashi Murakami is already an international star. His bright cartoonlike characters command hefty figures on the international art market. What though of Junko Mizuno's "grotes-cute" Lolita-like girls? Perhaps less familiar are the fighting machines of Kenji Yanobe, the bizarre disguises of Tomoko Sawada, the disturbing fairy tale landscapes of Tomoko Konoike, and others.
For each artist, Yamaguchi introduces the main themes of his or her work: from wartime nuclear destruction to an obsession with cute. The themes are at times highly disturbing, borderline pornographic.
An eye-opening introduction that is lavishly illustrated.
Kingyo: The Artistry of Japanese Goldfish
by Kanoko Okamoto (Author), Kazuya Takaoka (Author), Sachiko Kuru (Author), J. Keith Vincent (Author)
Kodansha International
ISBN: 4770023030
394 pp
Outside of Japan, the lowly goldfish is the idiot-proof pet, the unexceptional fish, an unfortunate participant in college fraternity initiation rites.
In Japan, however, goldfish enjoy a much more exalted place.
They were brought over from China in 1502 and originally were kept exclusively by the aristocracy as symbols befitting the status of their owner.
By the 19th century, however, keeping goldfish as pets had spread to other classes. The custom had, moreover, spawned a culture of breeders, collectors, and connoisseurs.
As with other Japanese obsessions, goldfish have over the centuries appeared in many forms of art.
Kingyo: The Artistry of Japanese Goldfish is the coffee table book to end all coffee table books. It is a fat book of photos of goldfish and of portrayals of goldfish in Japanese art and design.
At the end of the book are descriptions of the many species of goldfish pictured in the book.
Also, in the middle of the book is a novella, "A Riot of Goldfish," that was written in the 1930s. Kanako Okamoto's portrayal of pre-War class divisions in Japan tells the tale of the son of a goldfish breeder and a rich young woman. The working class breeder is obsessed by the daughter of a wealthy customer. To win the affection of the young woman, he attempts to breed a goldfish that will both reflect her beauty and capture her heart.
Kingyo: The Artistry of Japanese Goldfish is sumptuously photographed. It features many varieties of goldfish and many ornamental items with goldfish: ceramic bowls, wooden buckets, china plates, textiles and watercolor paintings.
Japanese Art & Design Books: 1 | 2 | 3
Note To Authors & Publishers
If you wish to have your title reviewed by JapanVisitor's team of Japan-specialist reviewers please contact us to arrange for a review copy to be sent to the editors.
JapanVisitor provides a thorough and professional review.
JapanVisitor works in cooperation with the following publishing houses: Kodansha International, Rough Guides, Lonely Planet, Penguin, Oxford University Press, Vertical, APA Publications, Columbia University Press, University of Hawaii Press, Dark Alley, ME Sharpe Inc., Tokyopop, Trafalgar Square Books, Houghton Mifflin Company, Grove/Atlantic Press, Tuttle Publishing, Yale University Press, Intercultural Press, Pantheon Books, Pan Macmillan, Faber & Faber, University of California Press, Harvard University Press.
All the themes of the city