Osamu Dazai
Osamu Dazai: read a short biography of Osamu Dazai, one of Japan's most famous 20th century authors, famous for his appeal to the ennui of the post-war generation.
Osamu Dazai 太宰治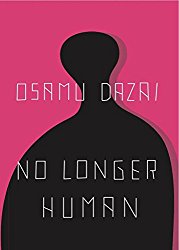 Osamu Dazai, penname of Shuji Tsushima (June 19, 1909 - June 13, 1948)
one of Japan's most famous 20th century writers
born in Aomori prefecture, northern Honshu
explored the themes of suicide, decadence and loss
made numerous suicide attempts
reached the peak of his success directly after WWII
Born, Shūji Tsushima, Osamu Dazai was a brilliant and prolific, and suicidal, writer of early 20th century Japan whose brutally honest, pessimistic, first-person fiction writing, mainly about his life of unrestrained passion, made him one of Japan's most popular literary figures ever.
The tenth of eleven children of a wealthy landowning family involved in national politics, he was born in the northern remoteness of Tsugaru (present day Goshogawara City) in Aomori prefecture.
Dazai showed his first real talent for writing at about age 17 and was heavily influenced by the writers Kyoka Izumi and Ryunosuke Akutagawa. However, he preferred the pleasures of the flesh to study. Uncomfortable with his privileged heritage, he also dabbled in forbidden leftist politics.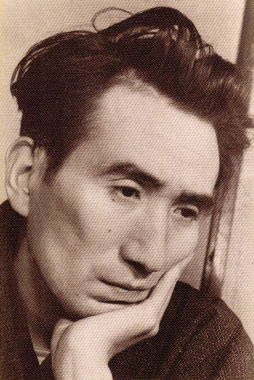 He survived his first suicide attempt at age 20 and eventually entered Tokyo Imperial University (now Tokyo University) to study French literature (without ever having studied French)!
Unable to cope with his studies, he began living with a geisha, Hatsuyo Oyama. Disowned by his family for it, he attempted suicide again, aged 21, with a bar hostess. She died, but he survived, compounding his feelings of guilt. Subsequently rehabilitated by the family, he married Hatsuyo.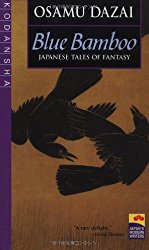 He was again disowned by his family only months later upon his arrest for membership of the Communist Party. Saved by his family connections, he settled down and wrote, publishing the seminal "Recollections (Omoide) in 1933. However, he failed to graduate from university, to find work, or to win the literary Akutagawa Prize that he coveted.
His response was, The Twilight Years, written as a parting work, before his third suicide attempt in 1935, followed by addiction to a morphine-based painkiller, Pabinal, that he only managed to quit by entering a mental hospital in October 1936. During his stay there, Hatsuyo had an affair with his friend Zenshiro Kodate, leading to a double suicide attempt with Hatsuyo, which, as usual, failed. He then divorced her.
He remarried, and daughter Sonoko was born in June, 1941. He continued writing throughout the '40s, mainly in the same autobiographical style, touching the themes of isolation, suicide and the power of the passions.
The Second World War, service in which he avoided by being diagnosed with tuberculosis, made no dent in his output, and he was one of the few authors of the time whose idiosyncrasies survived censorship intact.
Dazai's exquisitely written travel book, Return to Tsugaru: Travels of a Purple Tramp, about his birthplace, published 1944, earned him renewed fame.
His family narrowly survived the air raids on Tokyo. A son, Masaki, was born in 1944 and a second daughter, Satoko, in 1947.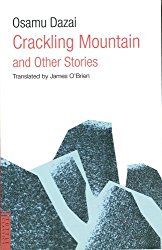 Encouraged by his mentor, Masuji Ibuse (famous for the novel Black Rain (1965), his popularity reached its height after the end of the war, particularly with his The Setting Sun (Shayo) of 1947, depicting the decline of a noble family, and appealing to the ennui of the postwar generation. His short story Villon's Wife (Viyon no tsuma), also 1947, is a classic, too.
By now Dazai was an alcoholic, had an illegitimate child, was declining in health, and eventually abandoned his family to move in with a beautician, and war widow, Tomie Yamazaki.
Along with the theme of decadence, Dazai maintained an interest in Christian themes, too. His quasi-autobiography, No Longer Human (Ningen Shikkaku), was published in 1948.
In June of the same year, at age 38, his fifth suicide attempt, a double one with Tomie, succeeded.
Book Hotel Accommodation in Tokyo Japan
All the themes of the city