Japan Festivals - March
March Japan Festivals 3月の祭り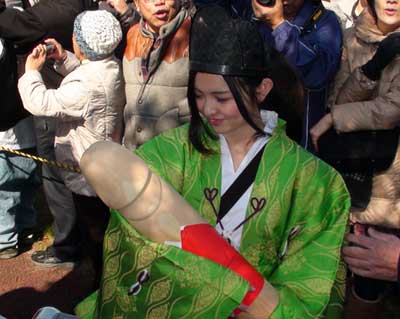 Awashima Jinja Grand Festival
1-3 March
Uto, Kumamoto Prefecture
At only 30cm tall, the torii gate of this shrine is the smallest in Japan. It is said that women who are able to pass through the gate will deliver children safely and not suffer women's illnesses.
Todai-ji Shunie
1-14 March
Todai-ji Temple, Nara
Festival of water and fire. Priests conduct a fire ceremony every evening from 6pm, swinging long torches in the air to ward off evil. At 2am on the 13th, water is drawn (お水取り) from the 1200 year-old well and offered to visitors.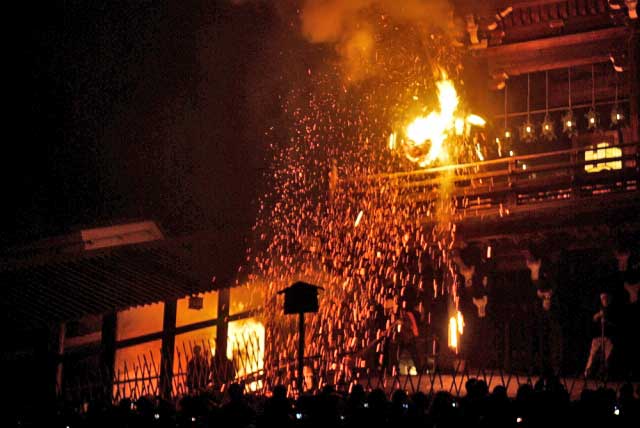 Water-drawing Ceremony
2 March
Jingu Temple, Obama, Fukui Prefecture
Water is drawn from the Onyu River and presented to the principal image of the temple. Said to represent the 'sending' of water to Todai-ji temple in Nara whose well is fed by the river according to legend. A ritual dating back over 1200 years.
Konomiya Hadaka Festival
January 14 of the lunar calendar (date can vary from late February to early March)
Konomiya Shrine, Aichi Prefecture
Hundreds of men around the inauspicious age of 42 don loincloths and try to tag a totally naked man -the shin-otoko before he reaches the safe haven of Konomiya Shrine, so they can pass off bad luck and ill-fortune. Boistrous, dangerous often stampede-like festival. Access to Konomiya Shrine from Konomiya Station on the Meitetsu Line or Inazawa Station on the JR Line from Nagoya Station. (Tel: 0587 23 2121)
Watch a movie of Konomiya Naked Festival
Kyokusui no Utage
2 March
Dazaifu Tenmangu, Dazaifu, Fukuoka Prefecture
Kyokusui no Utage recreates a popular leisure pursuit of court nobles in the Heian Period (794-1192). Poets dressed in Heian-style kimono sit amongst the plum trees at the Tenmangu Shrine in Dazaifu in Fukuoka Prefecture, composing poems on narrow strips of paper that they slip into sake cups floating by in the nearby stream.
Hina Matsuri
3 March
Hokyo-ji Temple, Kyoto
Hina Matsuri (Doll Festival), held every year on March 3, has its roots in an ancient Chinese purification ceremony in which evil was transferred to doll surrogates (katashiro) which were then cast away on a river. Hokyo-ji in Kyoto is often referred to as the 'Doll Temple' due to its extensive collection of dolls.
Read more about the Hina Matsuri (Doll Festival)
Hina Matsuri
3 March
Ichihime Jinja, Kyoto
Participants dress in models of dolls' clothing.
Hina Matsuri
3 March
Shimogamo Jinja, Kyoto
Dolls are cast adrift on the river that runs through Shimogamo Shrine in the Demachiyanagi district of Kyoto to pray for children's health.
Hina Nagashi Matsuri
3 March
Awashima Jinja, Kada, Wakayama
Women and young girls dedicate dolls to the shrine deity. The dolls are brought to the sea at Kada beach and cast adrift on a boat to take away the evil and sicknesses that afflict women.
Hadaka Oshiai Matsuri
3 March
Bishamon-do Temple, Yamato, Niigata Prefecture
Various rituals start early in the morning and continue throughout the day. In the late afternoon, loincloth-clad youths have ice-cold water poured all over them and jostle in deep snow as a prayer to Bishamonten, the evil-banishing god of arms. Yamato is a small town south west from Niigata city.
Jindai-ji Daruma-ichi
3-4 March
Jindai-ji Temple, Choufu, Tokyo
Annual festive market selling all kinds of Daruma dolls for good luck in Chofu, western Tokyo.
Shimabara Hatsuichi
3-10 March
Shimabara, Nagasaki Prefecture
Festive market to commemorate the construction of Shimabara Castle in Shimabara, Nagasaki Prefecture. Ceramicware, plants, food and much more on offer.
Ogose Plum Festival
Early to mid-March
Ogose, Chichibu, Saitama Prefecture
The ume no hana festival closest to Tokyo is the Ume Matsuri in Ogose Town in the mountainous Chichibu Region of western Saitama Prefecture. It is easy to reach from Ikebukuro Station in Tokyo: take the Tobu Tojo Line to Sakado, change there to the Tobu Ogose Line, get off at Ogose Station.
Kirishima Jingu Otaue-sai
6 March
Kirishima Jingu Shrine, Kirishima, Kagoshima Prefecture
Ceremonial rice planting festival to mark the beginning of Spring. Features time-honored kagura dances and bugaku court music.
Takaosan Hiwatari Matsuri
9 March
Hachioji, Tokyo
A chance to witness the rigorous ascetic exercises of the mountain priests of Takao-san such as walking on hot coals. Visitors are welcome to take part.
Shiogama Jinja Hote Festival
10 March
Shiogama, Miyagi Prefecture
Lively mikoshi parades and Shinto music and dance all day in Shiogama north east of Sendai.
Honensai Festival
15 March
Tagata Jinja, Inuyama, Aichi Prefecture
Bizarre fertility festival where the sake flows and a freshly carved 3m wooden phallus is paraded around the area of Tagata Shrine. Infertile couples come to pray for a child by touching the monster phalluses. Tagata Shrine is just outside the castle town of Inuyama, north of Nagoya.
Watch a video of the 2007 Tagata Jinja Hounen Matsuri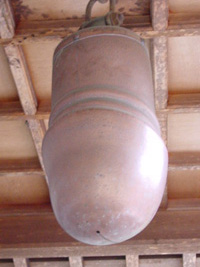 Phallic symbols abound at the Honensai Festival, Tagata Jinja near Inuyama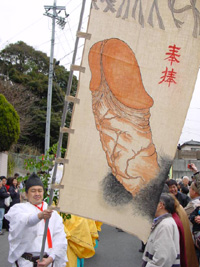 Honensai Festival takes place on March 15 at Tagata Jinja near Inuyama
Hatsuuma Taisai
16 March
Takekoma Jinja, Miyagi, Iwanuma
Mikoshi parades and a procession of 700 participants in period dress at Takekoma Shrine in Miyagi Prefecture.
Oumihachiman Sagicho Matsuri
15-16 March
Oumihachiman Shrine, Hachiman, Shiga Prefecture
Gaily decorated floats parade around the city streets before being ritually burned to the accompaniment of dancing and music.
Oidematsuri
18-23 March
Hakui, Ishikawa Prefecture
Horse-back archery (yabusame) contests and a parade in ceremonial dress.
Aizu higan shishi
21 March
Aizu wakamatsu, Fukushima Prefecture
Lion dances are performed around the city marking the end of the long winter and the Buddhist services of the equinoctial week.
Kirishima Nanohana Flower Walk
Late March
Kirishima Jingu, Kagoshima Prefecture
Taking place on the last Saturday of March, you are welcome to join in this exploration of Kirishima's beautiful flora.
Tel: 0995 57 1111
Kirishima Guide
DISCLAIMER Festivals may be cancelled or postponed without much warning. Check with your local tourist office for confirmation.
Naked Festival, Konomiya Shrine, Aichi Prefecture
Japanese Festivals March. See a listing of Japanese festivals (matsuri) by prefecture for March.
All the themes of the city