Mount Takasaki Monkeys (Takasakiyama Monkey Park)
Takasakiyama Monkey Park: read a guide to visiting the Japanese macaque monkeys at Mt. Takasaki near Beppu in Oita Prefecture, Kyushu.
Monkeys of Mount Takasaki (Takasakiyama Monkey Park) 高崎山
Johannes Schonherr
Mount Takasaki (Takasakiyama), located right on the Beppu Bay shore about halfway between Beppu and Oita city is one of the dominating features of Beppu. It's steep, densely wooded slopes abruptly mark the southern end of the hot spring town.
Actually, the 628 meter high mountain is already beyond the Beppu city line and is part of Oita city. But culturally, it is much more closely related to the manifold, sensuous attractions of Beppu than to the mostly industrial properties of Oita city.
The whole mountain is a nature sanctuary protecting one of Japan's largest populations of perfectly wild Japanese Macaque monkeys. There, the monkeys rule.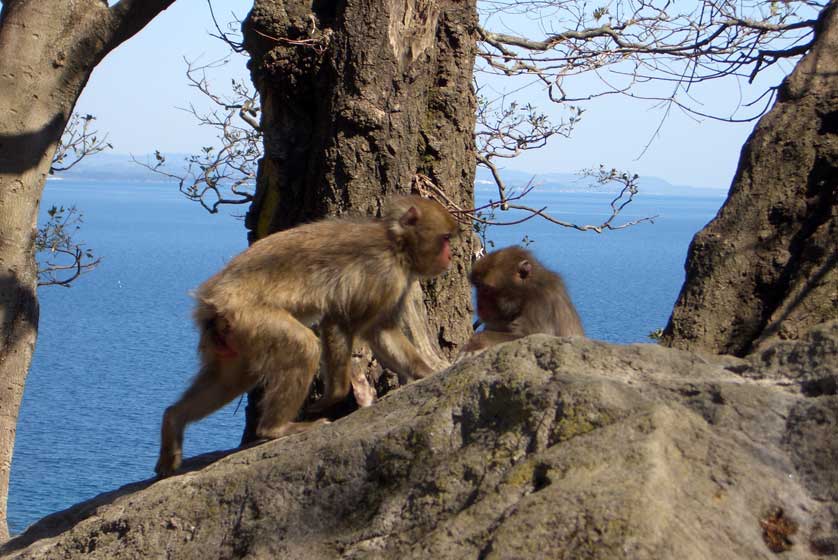 Mount Takasaki (Takasakiyama), Oita Prefecture
Hostile
I met a German traveler once who told me, "Well, it's a mountain. So, I've got to hike to the top, I thought. Midway, a group of monkeys surrounded me and they were damn hostile. We stared at each other. I know you shouldn't stare into a monkey's eyes. But they stared into my eyes. I stared back but slowly retreated. They had clearly forced me out of their territory. Never made it to the top of that mountain."
Fortunately, there are much more visitor-friendly ways to not only see the monkeys but to mingle with them at Mount Takasaki.
Just take the Oita Kotsu bus bound for Oita Station to the Takasakiyama bus stop. The bus stop serves both the giant Umitamago Aquarium on the seaside and the monkey reserve uphill.
Cross busy Highway 10 via the pedestrian bridge and after a few minutes' walk, you arrive at the entry gate of the Takasaki Monkey Reserve. You can choose between a walk-up ticket or a monorail ticket. The monorail takes you straight up the short distance to the main monkey meeting place while with the cheaper ticket, you have got to hike up a few steep, stone steps.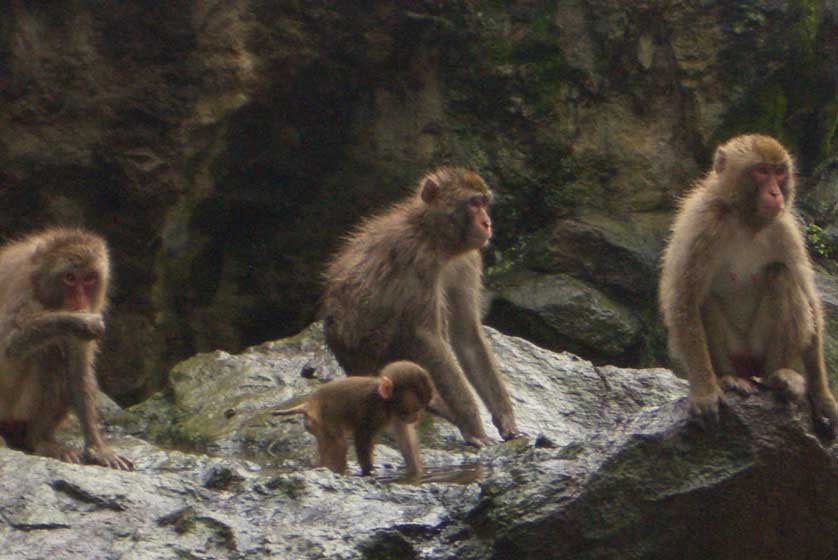 Monkeys on Mount Takasaki (Takasakiyama), Oita Prefecture
Meeting the Monkeys
The latter is the way that provides you with much more of an acquaintance with the place you are to visit. While you step up the stone steps through a light forest, you will soon encounter the first macaques.
They run around, they chase each other, they delouse each other. You will soon find that delousing must be the highest form of monkey tenderness. Searching each other's pelts for parasites is how they show affection - and they do that a lot.
The monkeys seem totally oblivious to visitors and don't care about their human relatives at all. As long as you don't disturb them.
Large signs warn you not to stare a monkey straight in the eyes (don't want to repeat the experience of that mountain hiker, do you?), not to touch them, not to feed them. Feeding them sweets or the like would make them sick, if you touch them, they are likely to bite back.
Finally, you reach the plateau that serves as the main meeting ground between monkey and man. The monorail also makes its upper stop here - it comes here straight from the gate.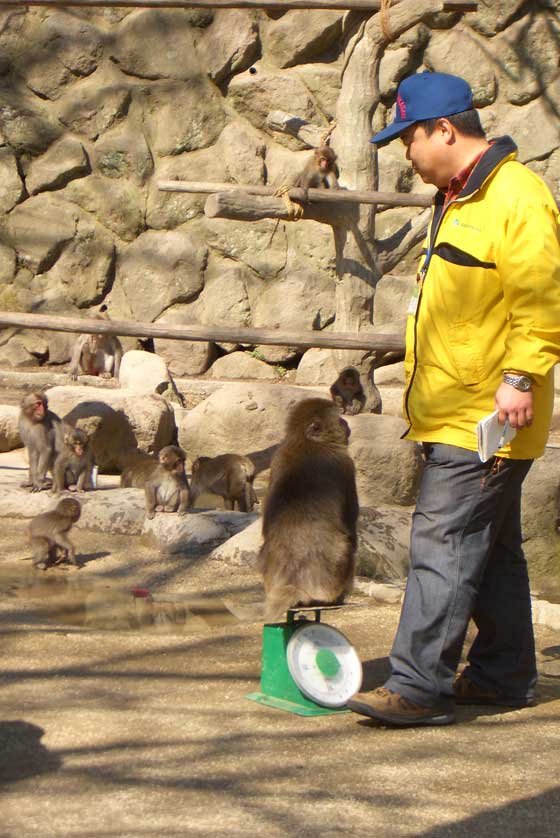 Monkey on a scale, Mount Takasaki, Oita Prefecture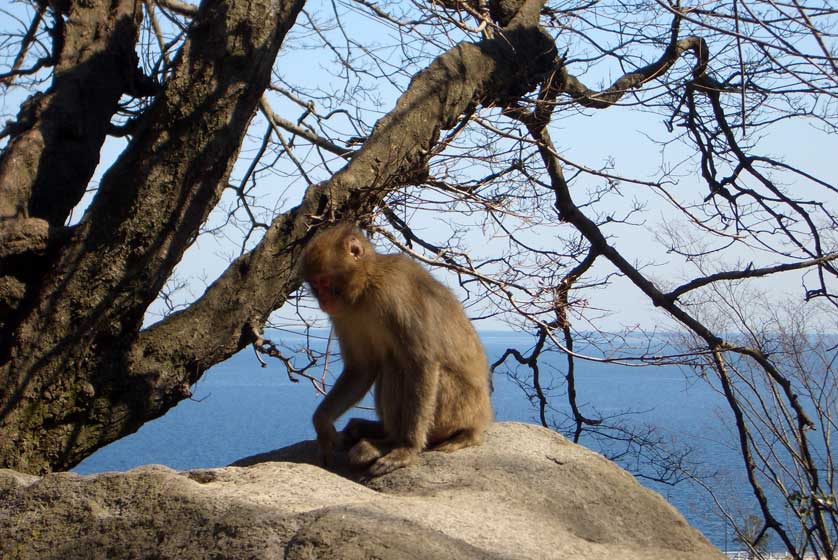 Monkey overlooking the ocean, Oita Prefecture
Monkey Playground
Out front and towards the rocks leading further up the mountain, you see a sort of playground built for the monkeys. There are always monkeys there, chasing each other around. The playground and the square in front of it are only separated by a chain - designed to keep the humans out of the playground. The monkeys are free to move everywhere. They run next to the visitors, they might even make a dash between their legs.
To the right, you see some modern utility buildings for the park rangers. Monkeys play on the roofs. Next to those buildings is a temple-style iron bell overlooking Beppu Bay. Monkeys climb its wooden frames.
Every hour is small feeding time. Noon and 3pm are the big feeding times. At those times, hundreds of monkeys will come down from the mountain. How many, depends on the season, of course. There will be more coming in the winter and spring when nuts and acorns are harder to find than in autumn when there is plenty of food for the monkeys further up Mount Takasaki.
In any case, expect a hungry mob of hundreds of monkeys hurrying for the playground where the food will be given out. They are fast and reckless and as a friend once remarked, "They look like an invasion of rats in a horror movie."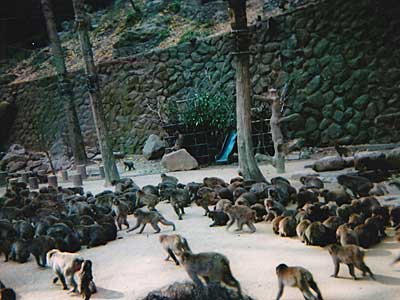 Feeding Time, Takasaki Monkey Park, Oita Prefecture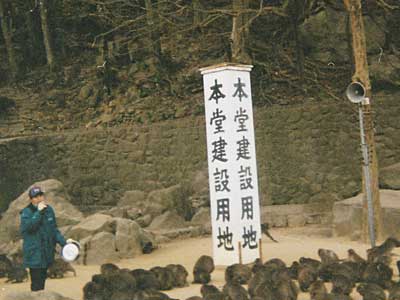 Feeding Time, Takasaki Monkey Park, Oita Prefecture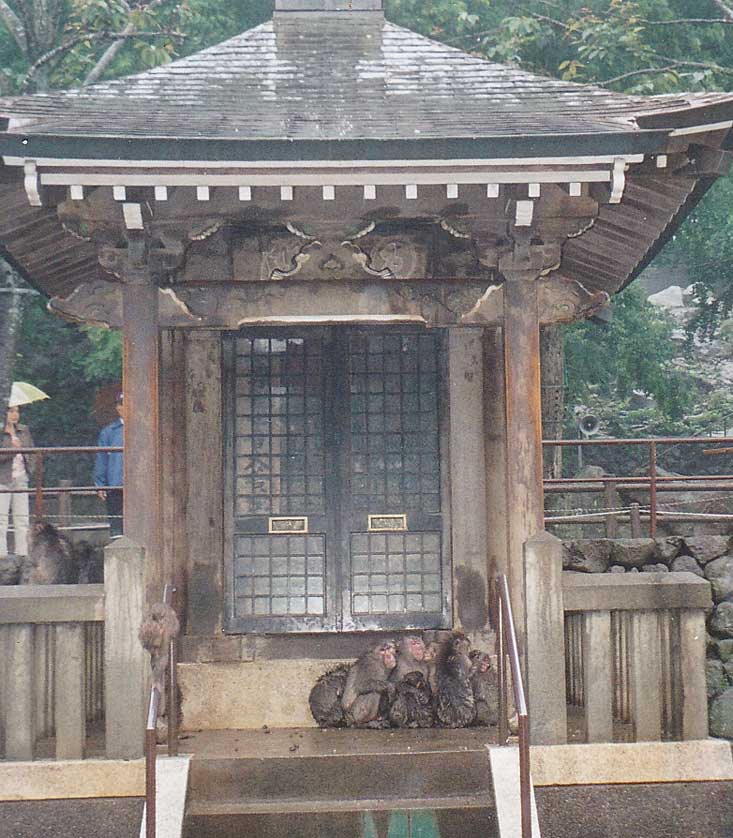 Monkeys sheltering from the rain
Feeding Time
Unperturbed by the incoming masses, the park rangers slowly walk about with their metal buckets of grain and throw it to the wildly scrambling monkey mob. All the while, they find the time to calmly talk to the gathered visitors via the speaker system.
The monkeys on the other hand, try to catch every thrown wheat grain. This is not the time for delousing. Everyone is competing for as much of the food as they can get. There is plenty for everyone but everyone is in a feeding frenzy.
Monkey Groups
Three separate groups of macaques are living on Mount Takasaki, labeled as group A, B and C. Group A used to come down here for its food rations up to about 2002, then they suddenly retreated back up to the mountain for unknown reasons. They never came down again.
Group B and C however are still regular customers at the grain hand-out. Group B consists of about 550 animals, group C of about 820. When they come for the food, they clearly outnumber the human visitors.
At any given feeding time, however, only either group B or C show up. They never mix.
Signs will tell you which group it is at any given time. If it's group C, look out for that gray-haired large guy who clearly behaves like he is the boss of them all. That's Benz and he is the most famous monkey here on the mountain.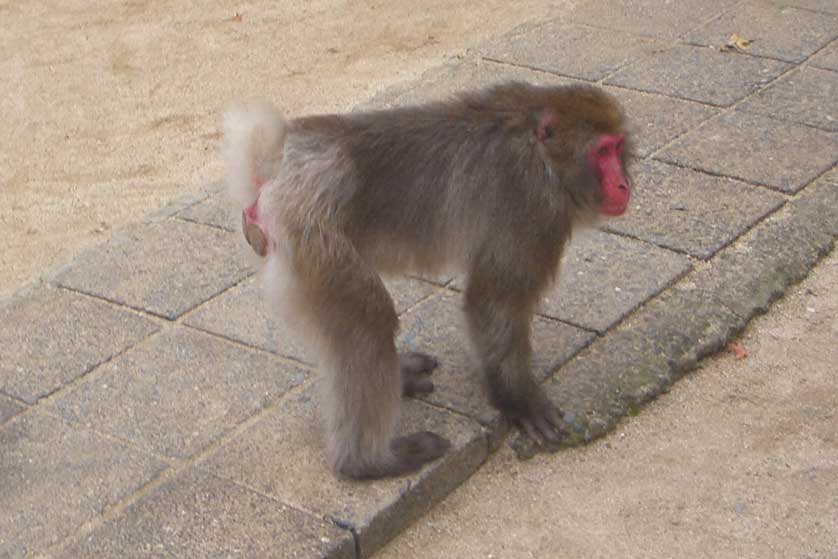 Benz, leader of the pack
That doesn't mean that he is only the most popular among the apes. He has been also very popular in the Japanese press lately. They reported that Benz had become the uncontested leader of group B and with that position came of course a large harem of willing females. But Benz had his eyes on a particular girl from group C and because of her he gave up his position of group B monkey king and joined the C's.
There, he was at first barely able to enter at the lowest rank. But Benz proved to be tough and persisting and so he rose up again and now he is the leader of ape gang C.
A Japanese media story inspired by American ghetto gang movies? Sounds very much like it but actually, no. The park rangers confirm that that was the real path Benz took.
After feeding time, most of the monkeys retreat to the higher reaches of the mountain. But plenty remain, going back to their more relaxed custom of delousing each other.
If one of them manages to steal a PET bottle of tea from a visitor he will proudly carry it around as a special prize though he can't open it. The monkeys here are free to do their monkey business.
Access - Getting to Mount Takasaki
Takasakiyama Monkey ReserveAddress: Oita-shi Kouzaki 3098-1Tel: 097 532 5010
Open daily from 8.30 am to 5 pm
Tickets: Adults 510 yen, children (Junior High School, Elementary School) 250 yen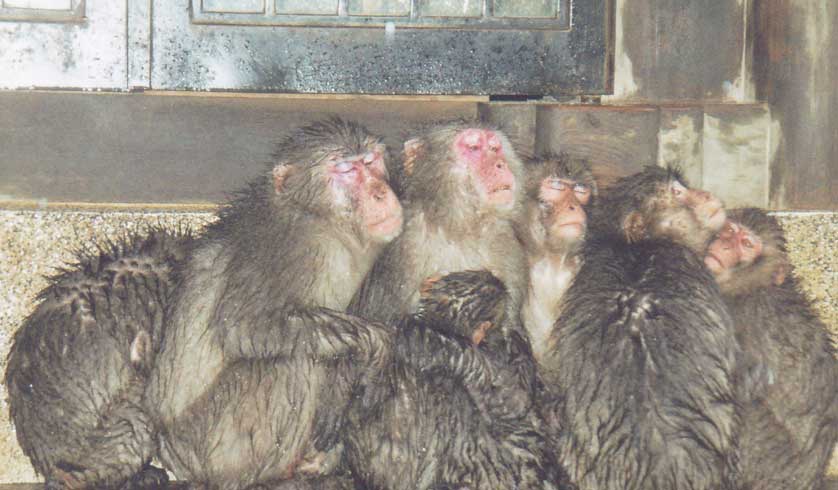 Takasaki Monkey Park, near Beppu, Oita Prefecture
Monorail: 100 yen (round trip or one way is the same price)
Bus: Take the Oita Kotsu bus from either Beppu Station or Beppu Kitahama bound for Oita Station. Get off at the Takasakiyama bus stop.
Car: Plenty of parking available, 410 yen parking fee per car.
Related Articles
African Safari BeppuKeishoji Temple Heaven & Hell Caves
All the themes of the city