WWOOF Japan Volunteering
Experience rural Japan and organic farms by volunteering with WWOOF Japan in Oita Prefecture, Kyushu, southern Japan.
Experience Rural Japan by Volunteering with WWOOF Japan
Greg Goodmacher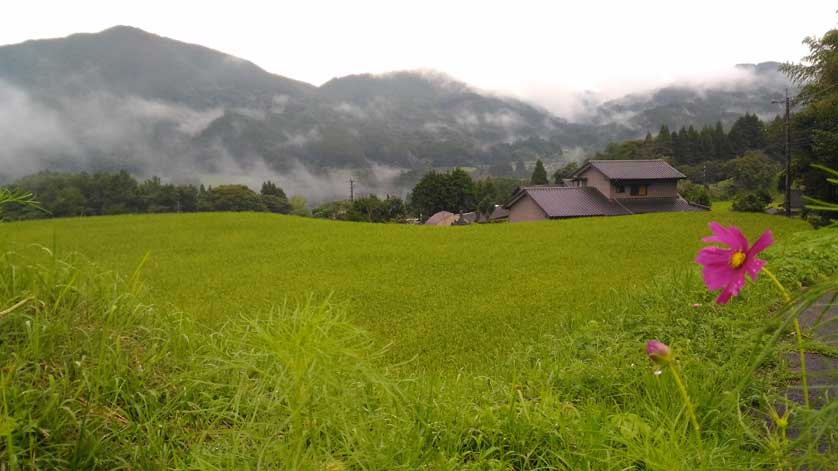 Asono Village in Oita
Many travelers to Japan hope for friendships and meaningful encounters with many locals.
The chances of these happening are almost nil for tourists staying in hotels and strolling the classic tourist routes.
But those who are willing to volunteer in remote areas can build unforgettable intercultural relationships. WWOOF Japan provides a path into the homes and hearts of locals.
WWOOF Japan means World Wide Opportunities on Organic Farms in Japan. Having just returned from volunteering on the organic farm of two WWOOF hosts in Kyushu, I can vouch that WWOOFing (performing volunteer activities) bonds hosts and volunteers.
My hosts were Marie-Josée Laforest, a French-Canadian-expat organic herb enthusiast and farmer, and her husband Jun Kudou, a fireman and farmer.
Both are middle-aged multicultural gourmet cooks and nature lovers. They passionately promote organic farming and the natural splendors of remote, tiny Asano Village, Yufuin city, Oita Prefecture. Jun and Marie say they want people to experience their lives.
WWOOFers who stay at their home wake to the sights of flowers, fog, fields of vegetables and fruit trees as well as the sounds of moving water and bird conversations.
In the evenings, after a hot bath in water heated by a fire, they drift into sleep listening to the chirps of nocturnal insects and the ribbits of frogs.
Farming demands early rising, and WWOOFing is not for lazy vacationers. You'll get up, eat, and assist your hosts. Marie advises WWOOFers to "be a part of the family, which includes doing family chores and following the family schedule."
Depending upon the season and your skills, chores could include preparing soil, seeding, braiding garlic, selling produce at markets, weeding, picking vegetables, packing herbs, drawing pictures for advertising, cooking, cleaning tools, planting rice, harvesting aromatic herbs, vegetables, and fruit (Marie says they grow over one hundred species of plants). Blueberry picking was my favorite. Mysteriously, some kept falling into my mouth.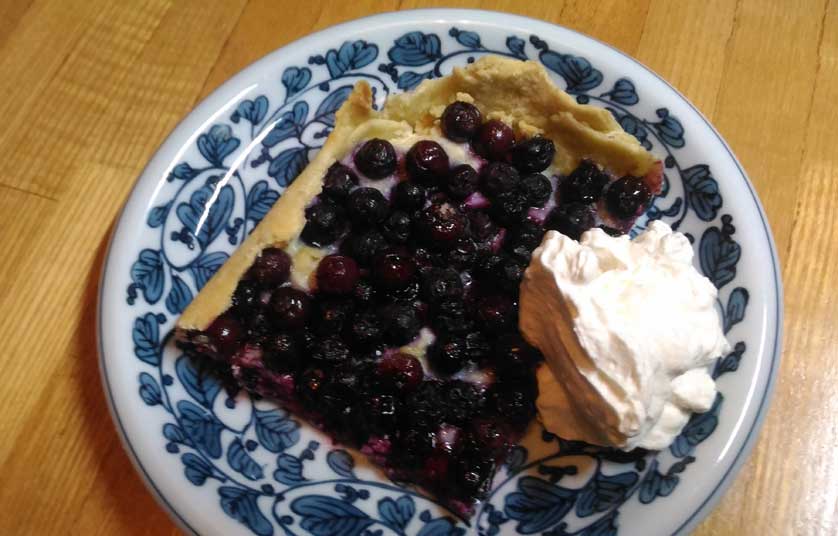 Blueberry Happiness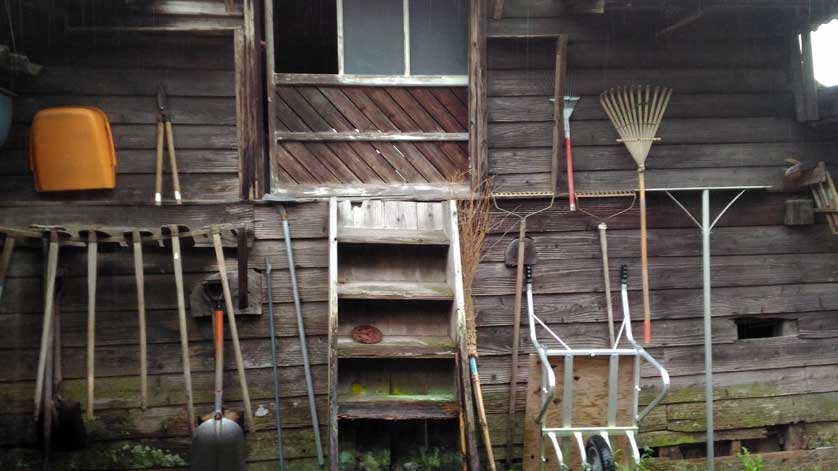 Jun and Marie's Barn
Going to Marie's and Jun's House
The route I took from Fukuoka Airport to Jun and Marie's home in Asono Village was scenic. Soon after leaving Fukuoka, traffic disappeared, replaced by green stalks of bamboo, thick green forests, and green rice fields. Leaf-heavy tree branches turned roads into tunnels. Fog drifted across the mountain tops.
Narrow roads turned down into a valley of scattered old Japanese homes surrounded by small irregular-sized patches of rice and vegetable gardens.
Bright red and orange flowers grew along pre-harvest rice fields, shifting in color from green to gold. Mud and rock walls built generations ago separated farms. Dragonflies hovered. A hawk screeched in the dawn sky above. I had arrived in Asono.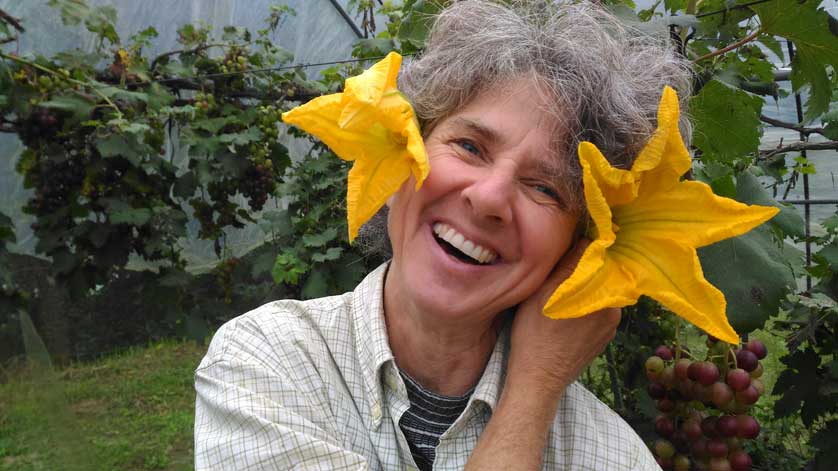 Happy WWOOF Host in Remote Oita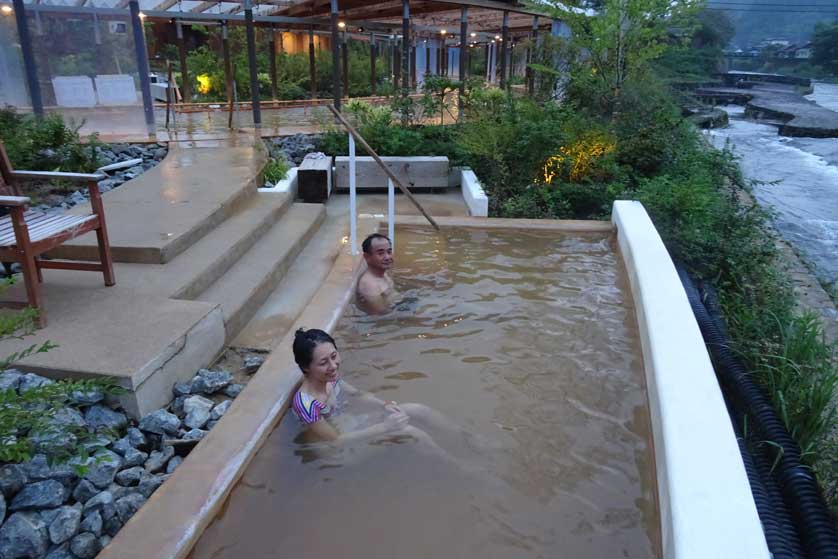 Bathing at a Nearby Modern Hot Spring in Nagayu, Oita
Why I Chose to Learn about Organic Farming in Kyushu
Kyushu lacks the hordes of tourists overwhelming famous areas. Asono is not far from an uncountable number of hot springs in the famous hot-spring cities of Yufuin and Beppu.
But in Asono, besides Marie, I did not encounter any foreigners. One afternoon, Jun brought me to a hot spring in the nearby Nagayu Village, where we soaked in an onsen next to a river. Again, I did not see any other tourists.
The environs around their farm offer hiking trails, mountains, waterfalls, and streams in abundance, as well as tiny rock-carved monuments and ancient wooden farming buildings.
I knew that Marie had mastered permaculture and other sustainable agricultural practices. She could teach me how to increase the yields of my garden.
Speaking Japanese with Marie, who is trilingual, and her husband would help my Japanese. They also have an adorable dachshund, and I am a nut about dogs. I was seeking relaxation, nature, friendship, and knowledge, all of which I found.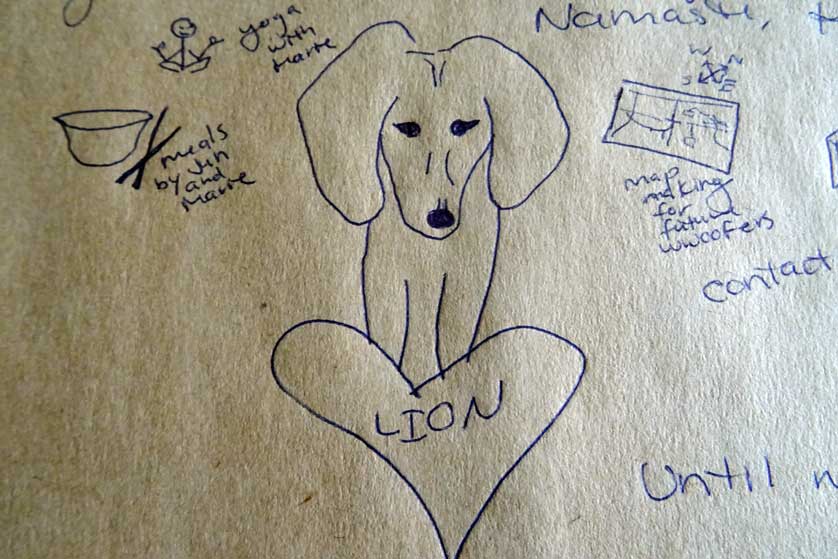 Drawing and Comments by a Volunteer

Comments and Drawings Left by Previous WWOOFers
Often WWOOFers who have stayed with Jun and Marie write comments or draw pictures in a guest book. Their remarks and images resonated with my feelings and experiences. The figures showed meals, yoga, waterfalls, hiking maps, leaves, hot springs, and Lion Chan, their loveable dog. Selected comments are below:
"I wanted to WWOOF in Japan to experience rural Japan. I didn't think it would be so beautiful or that I would also experience French-Canada.""I will never forget our working day with the locals - It was fun to do something positive for the locals. Of course, the party after was fun as well.""From the moment I walked in, I already felt at home - You taught me so much from farming to general life things.""You guys didn't only make me feel welcome. You made me feel like family!""The smells from herbs, full moon, tastes of blueberries, the clean and clear coldness of the water at Oike (a local cold water spring). Many things I've felt with my five senses, I will remember.""I am thankful you took the time to explain Japanese customs, traditions, cuisines, and farming.""Your love of the land, life, and each other is inspiring and empowering for me."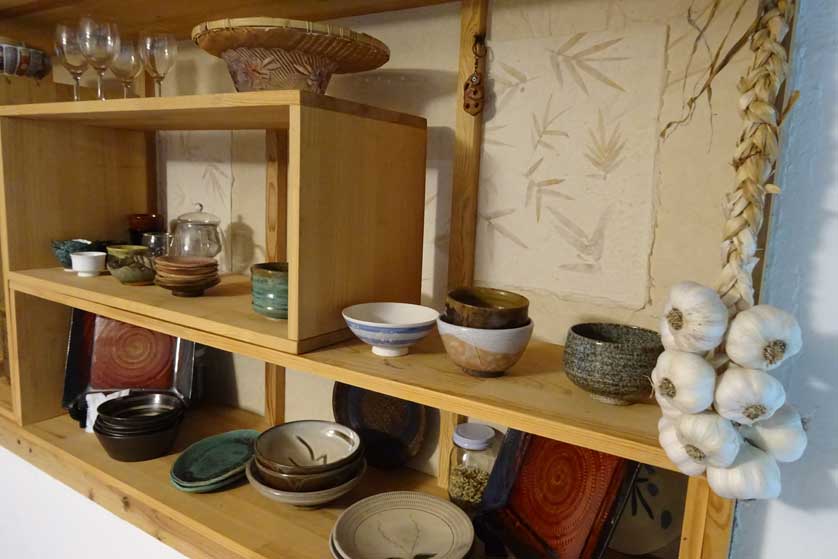 Inside Their Rustic Home

Essential Information about WWOOF
Hosts and WWOOFers do not exchange money. Hosts provide accommodation, meals, and their time, information, labor, and friendship. Woofers provide their time, information, and friendship. WWOOFers pay a membership fee of 5,500 yen only to WWOOF Japan.
After paying the membership fee, you will get a list of hosts all across Japan.
WWOOF hosts tend to be people who recognize the importance of food and sustainable lifestyles. Hosts seek like-minded individuals.
WWOOF Japan serves to connect people from diverse cultures. Probably, it may be the easiest and best method to build deep friendships with people in rural Japan.
WWOOFing involves giving and taking. The more you give, the more you are likely to receive.
Japanese language skills are not necessary. Interacting with your hosts will involve language learning. Be willing to learn. Many hosts speak English or other languages to a certain degree.
Not all hosts are organic farmers. However, they are all supposed to promote sustainable lifestyles. The list of host sites includes pottery studios, language schools, small hotels, nature centers, food stores, and others.
Most WWOOFers are solo travelers. To ensure the safety of hosts and volunteers, the WWOOF Japan office monitors the reactions of participants. Some hosts welcome families.
Lengths of visits vary. Read the hosts profiles carefully. One week is usually the shortest. Some content WWOOFERs stay for months.
Your work/educational WWOOFing schedule varies from host to host and season to season. The WWOOF website states that "WWOOFers help hosts - usually for up to 6 hours a day for up to 6 days a week."
You can visit as many WWOOF hosts as you wish. Last year, I met a Swiss couple who had WWOOFed their way across Japan from North to South. They said it had been the best vacation of their lives.
Click to access the official WWOOF Japan site.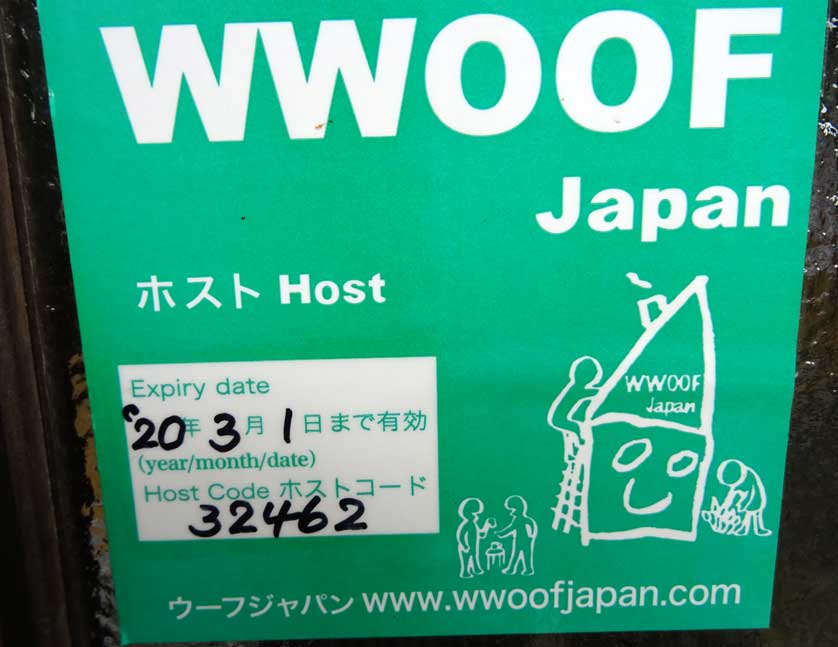 Official WWOOF Host Identification Sticker

Where is the Best Place to WWOOF in Japan?
Japan is an archipelago with thousands of islands. The entire landmass of Japan is a bit smaller than the state of California, but Japan is more than 1.5 times the size of the UK.
WWOOFers have a lot of choices. Consider your interests and the seasons in Japan. If you are a Japanese tea enthusiast, work at a tea farm. Arrive in spring if watching cherry blossoms is your thing. Come in autumn to be blown away by fall foliage and harvest festivals.
Marie and Jun's host code on the Kyushu WWOOF page for Oita is 32462.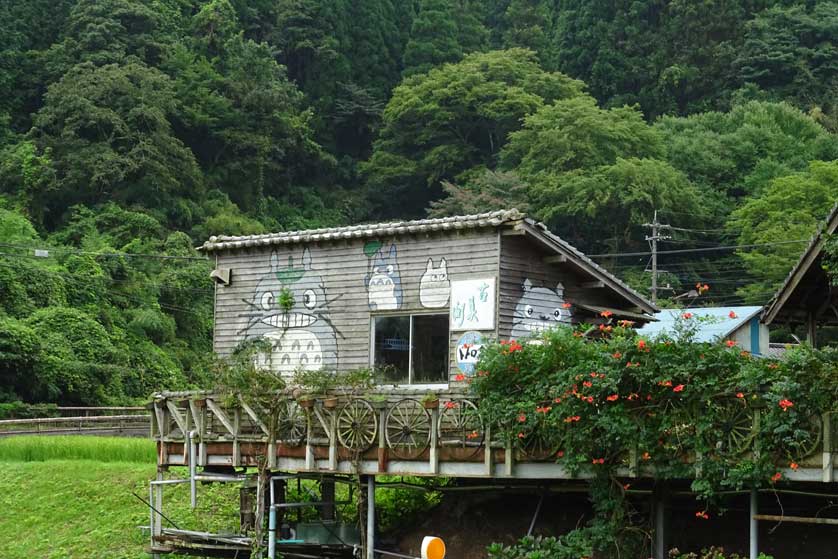 One of Many Interesting Sites in Rural Kyushu

Useful WWOOF Links
facebook.com/WWOOFinJapaninstagram.com/wwoofjapan
Videos Made by Visiting WWOOFers
A short video made by two WWOOFers who visited Jun and Marie.
One WWOOFer with a drone made this video. The drone camera captures Jun on his tractor and then films the beauty of other parts of their property and Shonai.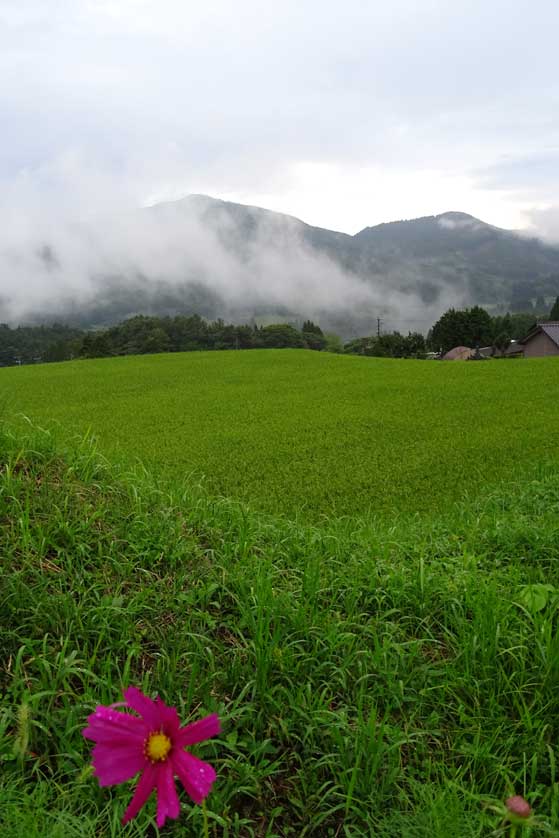 Welcome to Oita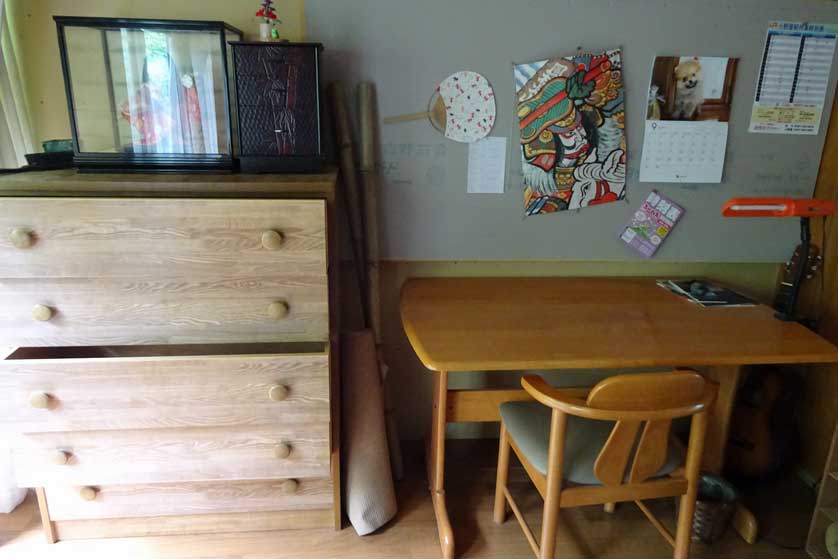 Room for a volunteer

All the themes of the city