Hara Station Nagoya
原駅, 名古屋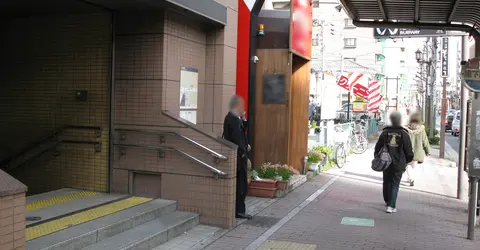 Hara Station is a subway station in the east of Nagoya on the Tsurumai Line. Hara is one stop after Hirabari going west; the next stop is Ueda Station.
Hara Station (T18) is a subway station in the east of Nagoya on the Tsurumai Line of the Nagoya subway system. Hara is one stop after Hirabari Station going west and one stop from Ueda Station going east. The Tsurumai Line's eastern end is at Akaike Station, two more stops. At Akaike Station the Tsurumai Line becomes the Meitetsu Toyota Line to Toyota-shi. Many trains run through to Toyota. If you are coming from Nagoya Station take the Higashiyama Line to Fushimi and change to the Tsurumai Line or the Sakuradori Line to Gokiso and change to the Tsurumai Line there. Journey time via Fushimi is 35 minutes and costs 310 yen.
Around the Station
Close to Tori Komachi is a branch of Tsutaya for book and DVD rental as well as a large branch of the discount pharmacy Sugi. Also nearby are the Ueda River, a Nepalese restaurant, several clinics, a number of juku (cram schools), an optician in addition to a branch of the JTB travel agency.
Furthermore, a FamilyMart convenience store is located adjacent to entrance No.2. There is a popular cafe and bakery at this exit too. At entrance No.1 there is a paid-for bicycle parking area. Tenpaku Bunka Ko Gekijo (天白文化小劇場; Tenpaku Hara Theater; Tel: 052 806 8060) is part of the building above the station. This small 350-seat theater puts on theater, music and other performances.
City Buses from the Station
Several Nagoya city buses leave from outside the station. These include, first of all, the 原11 to Tokushige Station on the Sakuradori Line of Nagoya subway as well as the 原12 to Midorigaoka Park via Tokushige. The 平針12 bus runs in a circle from Hirabari Station through Akaike past the Nagoya Agricultural Center on to Hara Fire Station and then to Hara Station. The station is a 15 minute walk from Tenpaku Park.
All the themes of the city