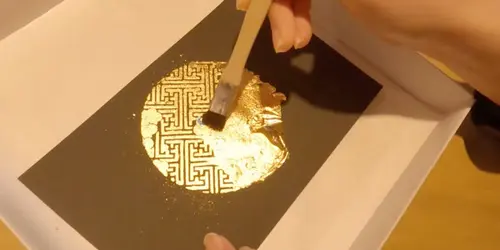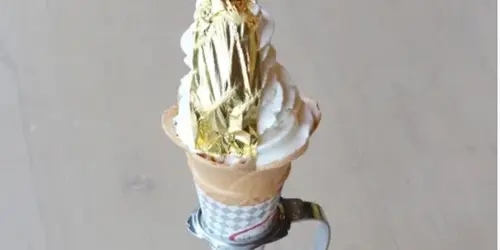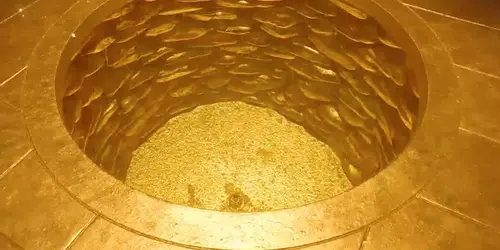 Kinpaku, gold leaf craft
The tradition of Kinpaku gold leaf is the symbol of Kanazawa. An experience not to be missed.
A centuries-old tradition in Kanazawa
Kanazawa, which literally means "golden marsh", lives up to its poetic etymology.
Indeed, "Kinpaku", the most famous craft from Kanazawa, a town renowned for its flourishing traditional crafts, is a Japanese term for gold leaf. This is an extremely fine pure gold leaf used for decorative purposes in many traditional Japanese art forms.
It is meticulously crafted by hammering gold into extremely thin sheets, often only a few micrometers thick. The delicate "Kinpaku" gold leaf produced here covers architectural and sculptural wonders throughout the archipelago, the most famous being the aptly named Kyoto Golden Pavilion. The manufacturing technique is part of UNESCO's intangible cultural heritage.
And you can't leave town until you've tried it.
Many uses, including... cooking!
Kinpaku can be used in many different contexts.
Arts and crafts: Kinpaku is frequently used in traditional Japanese arts and crafts, such as painting, calligraphy, lacquerware and pottery, to add a luxurious, decorative touch to the surface of objects.
Architecture: kinpaku is used in traditional Japanese architecture, inside temples, shrines and other historical structures. It lends opulence and spirituality to the space.
Cosmetics: Gold leaf is used in some traditional Japanese cosmetics, particularly high-end products. It is considered beneficial for the skin and is used in facial masks and beauty treatments.
Gift wrapping: Kinpaku is sometimes used to wrap gifts or special presents, as it represents luxury and elegance.
Cuisine: Kinpaku is also used as a garnish for special dishes in Japanese cuisine. It is edible and is sometimes used to enhance the visual appeal of foods and sweets.
Imai Kinpaku, the best place for an authentic Kinpaku experience
Imai Kinpaku was established in Kanazawa in 1898 and has been carrying on the tradition of gold leaf for over 100 years. Throughout this time, it has preserved the tradition and charms of gold leaf craftsmanship, as well as the skills of its craftsmen.
The store also offers a wide variety of experiences for enjoying Kinpaku by touching, seeing and... eating gold leaf.
The thickness of gold leaf is around 1/10,000 mm, and its thinness makes it difficult for beginners to handle. But even young children can take part in the gold leaf experience, as it is designed to be very user-friendly for everyone.
A variety of experiences to enjoy Kinpaku craftsmanship
You can try your hand at Kinpaku with a variety of everyday items, such as cups, bags and pouches.
The motifs used as decoration during the workshop are called "Kaga Kamon". Originating from the samurai's kamishimo (ceremonial garments), the patterns used for festive occasions were dyed onto ceremonial garments. It is said that people competed in fashion by dyeing motifs that changed frequently.
During the Edo period (1603-1867), the pattern spread to the wives of samurai families and was also used by ordinary women as a motif for clothing and yukata (summer kimonos).
The motif is also represented in the Maeda family (the Maeda clan being one of the most powerful warrior houses of ancient Japan, which continues to leave its mark on the Kanazawa region to this day).
Golden ice cream
After the workshop, you'll also be invited to taste Kanazawa's specialty: the golden ice cream.
You'll place your own gold leaf on your ice cream (beware, it's very light and can fly off in the slightest breeze...) and then enjoy your golden ice cream seated around the well in the center of the store. The "Kinpaku Reisen" is a well modeled after the "Kinjo Reisawa" from which the name "Kanazawa" is said to have originated.
The entire enclosure is covered in gold leaf, and pure gold dewdrops are scattered at the bottom of the well.
At the end of the workshop, you can also browse the many Kinpaku items sold in the store. You will have 10% discount on all items. Each more beautiful and innovative than the last, you're sure to find your perfect Kanazawa souvenir here.
Close to Kanazawa's main attractions
Your Kinpaku experience is located close to the 21st Century Museum of Contemporary Art, Kanazawa, Kenrokuen Garden and D.T. Suzuki Museum, allowing you to drop in on your day out in Kanazawa.
So choose the object you'd like to make - cup, pocket or badge - and make your reservation.
Location
---