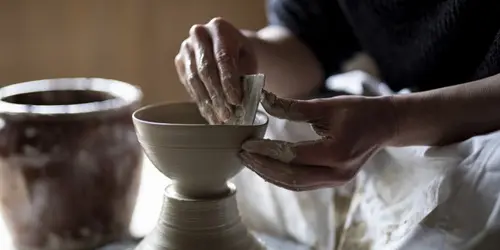 Kutani Ware
Visit a kiln that has continued the tradition of Kutani ware for five generations, and experience yourself the making of it on a potter's wheel
What is Kutaniyaki pottery?
Kanazawa is a city renowned for its long history of craftsmanship. One of them is Kutanuiyaki pottery.
The Kutani region of Kaga, which is now a part of Ishikawa Prefecture, is where the Kutaniyaki () style of Japanese porcelain and pottery first appeared in the country of Japan in the late 17th century. It is prized for its artistic beauty and is highly sought after by collectors due to its well-known vibrant and intricate hand-painted designs.
The Japanese government designated kutaniyaki as one of the country's traditional crafts in 1975, and it is now protected as a geographical indication (GI) to guarantee the products' reliability and caliber.
A tradition rooted in the Ishikawa area
The origins of Kutaniyaki can be traced to the early Edo era (17th century). It was initially created in the Ishikawa Prefecture's Kutani village, later renamed Kaga. Kutaniyaki was initially made for the feudal lords of the Kaga domain, but it gradually gained popularity and was also used for trade and export.
Kutaniyaki has been used for various purposes, including the creation of tea sets and utensils for the Japanese tea ceremony. The craftsmanship and beauty of these tea sets make them very valuable.
You will discover when you visit Kanazawa that Kutaniyaki is deeply ingrained in the tea and culinary customs of the city and that Kutaniyaki bowls and tea cups are ubiquitous.
A rare chance to go to a kiln that has continued the tradition for five generations
With this opportunity, we provide you with a once-in-a-lifetime chance to see an illustrious old kiln where the Kutaniyaki tradition has been upheld for five generations. Since its founding in 1870 (the start of the Meiji era), it has produced ceramics entirely by hand, from clay blending and wheel shaping to final coloring.
As a member of the Japan Craft Association and a recipient of numerous awards, it has received recognition from the visits of prime ministers and… the emperor.
You can tour the facilities, including the wheel room and the kilns, during the visit, and even try your hand at turning pottery on the wheel. After that, given that kutaniyaki is a lengthy process, your piece will be finished and shipped to your home address.
A long production process
It takes several months for a piece of Kutaniyaki pottery to be finished. Here are the steps:Molding: Water-grinding and shaving by a potter's wheel
Unfired: After complete drying, firing at about 800 degrees Celsius
Glazing: Glazing the vessel to make the surface glassy
Main Firing: Firing at about 1,300 degrees Celsius (30 hours in the kiln, 5 days before leaving the kiln)
And finally overglaze painting: Firing in a painting kiln after painting and coloring
A vibrant color scheme
Kutaniyaki is well known for using a variety of colors, including vivid and striking shades. The designs frequently feature gold or gilt accents, which enhances the ceramics' elaborate and opulent appearance.
The distinctive styles of kutaniyaki can be broadly divided into the Ko-Kutani (Old Kutani) and Saiko-Kutani (New Kutani) periods.Ko-Kutani, the earliest form of Kutani ceramics, is distinguished by its strong and vivid overglaze enamels, which frequently use the hues of red, green, yellow, and purple. Usually, these items feature intricate designs with landscapes, animals, and conventional motifs.
The Saiko-Kutani, on the other hand, is distinguished by more subdued and intricate painting and dates back to the 19th century. The colors are typically softer and more refined, and the designs often incorporate intricate patterns and floral motifs.
While modern Kutaniyaki artists and potters experiment with new designs and forms, fusing traditional and modern aesthetics, traditional styles are still produced.
In addition to their artistic value, Kutaniyaki ceramics are prized for their historical, cultural, and social significance. Collectors from all over the world are drawn to the beauty and craftsmanship of these exquisite ceramics, and tourists to Japan frequently purchase Kutaniyaki items as souvenirs.
Do not pass up the chance to visit this kiln if you happen to be in Kanazawa. It is unusual to find a remnant of such a tradition right in the middle of the city because kilns are typically found in more rural, outlying areas, far from major cities.
Location
---
Kutani Ware
$101 per person