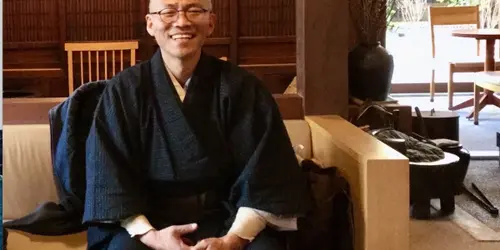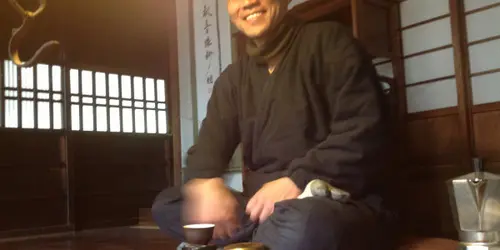 Kyoto with a Buddhist monk
For travellers who are interested in religions and would like to understand the peculiarities of Japanese Buddhism, with the best person to tell you about it.
Buddhism in everyday life with Kidoh-san
Kidoh-san, your guide, is a Buddhist monk and the manager of a small temple in Kyoto called Fumonken. He was a salaryman before becoming a monk, and his interests range from Buddhism and Eastern philosophies in general (Taoism, Confucianism) to social issues, cinema, linguistics, and architecture. He and his wife Clara, a Frenchwoman, share their daily life between managing the temple, Zen meditation and wellness workshops, and raising their two small children.
What Kidoh-san will show you is the Buddhism of everyday life, that of the jizô-san (small statue protecting children and travellers) of the neighbourhood and of the inhabitants who assiduously clean their houses. 
The different facets of Japanese Buddhism in context
Kyoto Prefecture has about 1,600 Buddhist temples, both large and small, and just over a dozen are listed as UNESCO World Heritage sites. What better place to study this religion in context? Introduced to Japan between the 5th and 6th centuries, Japanese Buddhism is essentially based on two concepts: faith in Buddha (Amida Butsu) and Zen. It is largely influenced by Shintoism, which was already present on the archipelago and has similarities.
The tour will focus on temples of different branches to show the diversity of the schools. From Sanjusangendo, Roku-haramitsuji or Zenkyoan (a small temple attached to Kenninji, very syncretic), to Toji or Ninnaji (which also allow the Buddhist pantheon to be presented in all its diversity), via Ryoanji (conceptually revolutionary), you will be able to see with your own eyes how wide the range of Buddhist doctrines is. However, at the beginning of your visit, you can tell him which district or temple you would like to visit.
A philosophy accessible to all
But don't worry, Kidoh-san is an educationalist and is able to simplify and make accessible the at times obscure philosophical concepts. He will also know how to lighten up the temple visits with some pleasant ramblings so that you don't get a headache!
He will emphasise the fact that in Japan, the barriers between religions are not fixed. That is to say that to practice one religion does not mean to reject the others, and that "practices" often take the form of customs. He will explain how in Japan one can be completely Buddhist and Shintoist at the same time by showing you the temples/sanctuaries in Kyoto characterised by syncretism. "
Practical information
If you are interested in the cuisine of the monks, it is possible to arrange for a Shojin Ryori (vegan cuisine traditionally served in temples) meal. Please inform us in advance and budget between ¥3,000 and ¥5,000 per person (plus Kidoh-san's share) in addition to the tour price. Alternatively, you can simply have lunch on the tour with a plate of soba (buckwheat noodles) or any other food you like.
Please meet with your guide at the corner of Shijo and Karasuma streets in front of LAQUE Shijo Karasuma mall at 9am in order to start the guided tour, which will last about 8 hours. Travel will be by public transport.
As he is not a native speaker, the English used will be international English, but all should be able to understand.
Cancellation policy:
Up to 7 days before: 0%
Between 7 days before and 5:00 p.m. the previous day: 50%
After 5:00 p.m. the previous day and same day: 100%
Location
---
Kyoto with a Buddhist monk