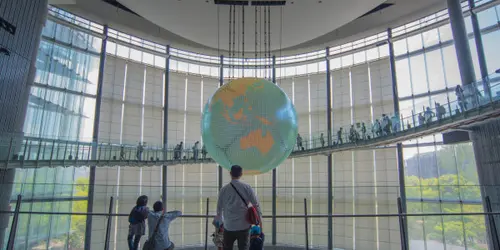 National Museum of Emerging Science and Innovation
Also known as "Miraikan" (the house of the future), this interactive museum showcases Japan's cutting-edge technology, information, environmental science and robotics.
One of the best museums in Tokyo
In Japanese, Miraikan means "the pavilion of the future". At the entrance, floating between the ground floor and the second floor, there is a huge globe where you can see climatic variations and human movements on the planet. You will immediately feel the mood. The museum's 5 floors will feature exhibitions on science, the future, the Earth, the universe, the human body, etc. in a fun, interactive and often visually striking way.
Earthquakes and robots
There is a section devoted to natural disasters (both natural and man-made), a topical and unfortunately familiar subject in Japan, and demonstrations of Asimo , the friendly little white robot created by Honda and symbolic of the advances in Japanese robotics.
A museum for children and adults
A museum for children and adults alike, to learn, enjoy or learn. (At the Miraikan all explanatory panels are in Japanese and English, and there are also audio guides in English).
Cannot be cancelled.
Location
---
National Museum of Emerging Science and Innovation
$8 per person