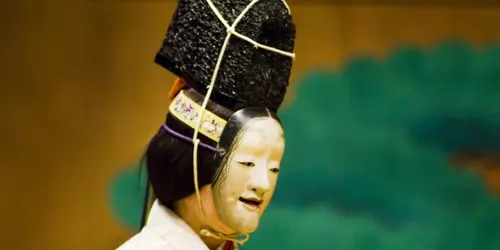 Noh, Ancient Japanese Theatre
Noh theatre is a national treasure for the performing arts. Come and see a performance.
Masks and songs
Noh is one of the oldest forms of theatre in the world. "Noh" means "talent" and Noh performances are more visual metaphors than faithful representations of a story. The actors, masked and dressed in generally cryptic costumes, instead of acting, use their bodies and songs to convey a message. 
Ancestral religious theatre
Noh was originally a religious form of theatre that was performed in Shinto shrines. Although this is still the case, in Tokyo you can see performances at the National Theatre. It is usually a surreal experience, something you will never forget. A must-see for lovers of the performing arts.
Important information:
The show is in Japanese. A synopsis in English is available in the paid brochure.
Cannot be cancelled.
※ The time of order is an indication only. Depending on the show chosen, this time may change. We will inform you of the exact time when we send you your tickets.
※ As the number of tickets available is limited, we reserve the right to offer you an alternative date if the date you request is not available. If we are unable to accommodate your request, we will cancel your order and issue a full refund.
Location
---
Noh, Ancient Japanese Theatre