Hakone's Volcanic Activity
箱根の火山活動状況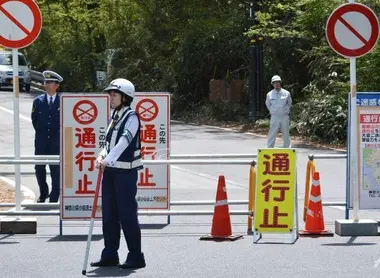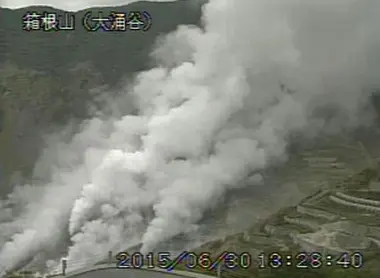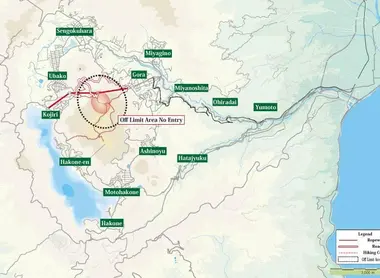 Risks and Tourism
Since April 2015 the Hakone region, famous for its onsen and views of Mount Fuji, has been affected by renewed volcanic activity in the sources of Owakudani. Here's a summary of the risk to visitors.
What are the risks?
The risks are minimal. "Volcanic activity" doesn't mean that there is molten lava, eruptions, or risk of catastrophe. However, the area of Owakudani and its hot springs were closed. The geysers have become too large and gases escape from vents, which is a health risk.
The danger zone is estimated at around 1km around Owakudani and, as a precaution, a 3km diameter surveillance zone was established - forcing some residents to evacuate in June. Beyond this restriction zone, life hasn't changed except for local businesses, who face a decline in sales.
What does that change for visitors?
The establishment of the restriction zone has led to the closure of Owakudani, known for its cable car that continued to Gora, and its black eggs. Consequently, the usual hiking in Hakone is impossible. Several bus lines passing through the restricted zone have been suspended, but these were generally less used by tourists anyway.
You can always go to Togendai via the cruise ship on Lake Ashi, but the return will be by bus or via the same boat.
On the other side of Mount Hakone, visitors will still have access to Sounzan by railway, situated on the boundary of the area. You can possibly see the fumaroles, but it will then go through the same path as on the way.
Unaffected areas
Any visits south of Lake Ashi to Gora, to the open-air museum and the Tokaido road are not affected and can be taken normally.
The famous onsen hot springs of Hakone have face different situations. Those of them being fed by water from the danger zone have been closed. Others have seen their waters dry up. Most Gora onsen located before and around Moto-Hakone that are unaffected can still accommodate holidaymakers.
In short, a visit to Hakone can still go ahead safely, excluding the area surrounding Owakudani. Hikes on the Tokaido road are no problem, as well as spending a night in a ryokan or a visit to most museums.