Street food in Osaka
屋台の食べ物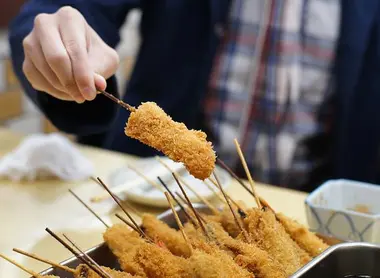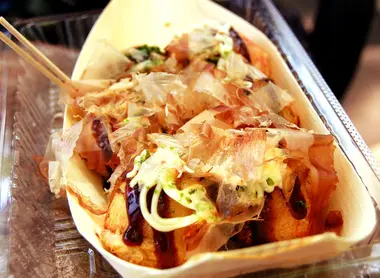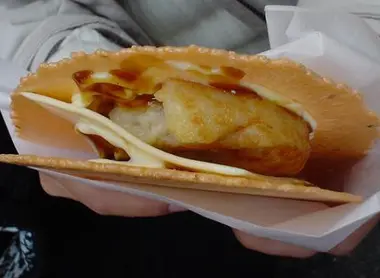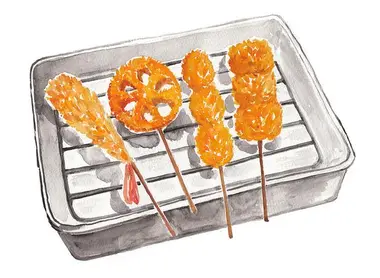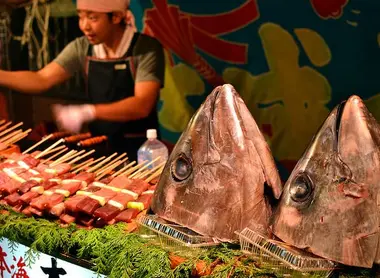 À emporter !
Osaka foisonne de spécialités culinaires. Une gourmandise survoltée qui fait de la troisième plus grande ville du Japon une véritable capitale de la street food, idéal pour manger pas cher ! Passage en revue des petits plats bon marché à déguster au gré de vos balades urbaines.
In the district of Dotonbori in Osaka, the streets are full of neon lights and colors, but mostly restaurants, izakaya, and take away food stands. Huge model crabs, dragons and giant octopuses are there to guide you!
This kind of octopus donut is the street food of Osaka. These fried dumplings filled with small pieces of octopus are served covered with a delicious savory sauce, mayonnaise, seaweed powder, and dried bonito fish flakes, quivering in the heat! Beware, takoyaki are served very hot! Don't miss the spectacle of preparing the balls, the expert chefs turn them in their molds with incredible dexterity!
Read: The district of Dotonbori
A variation on a theme: takosen
To make a change from the tray in which takoyaki are traditionally served, there is the takosen. This is an amazing 'sandwich' made up of two senbei (rice crackers) filled with one or more takoyaki.
The squid pancake: ikayaki 
In Osaka, an ikayaki is a thick pancake made from cuttlefish and eggs, served with a brown sauce similar to that of okonomiyaki, another specialty of the city.
You'll have no trouble finding these skewers of meat, fish and vegetables fried in Osaka! Pork, chicken, shrimp, octopus, crab, asparagus... Kushikatsu are suitable for both carnivores and vegetarians. Their crispy breadcrumb coating is soaked in a dark, sweet sauce. Purists may prefer their kebabs in the south of the city, in the Shin-sekai district, where kushikatsu were first created.
Read also: The Shin-sekai neighborhood
Octopus, scallops, grilled meat, or mochi for those with a sweet tooth: almost everything is eaten on skewer in Osaka! One of the best places to go is Kuromon Ichiba market, an address well-known to gourmets. It's the ideal place to experience the expression used to describe the greediness of the inhabitants of the city: "kuidaore" or "to ruin oneself by extravagance in food".
---
Interested? Read more:
All the themes of the city