Women only cars on trains
女性専用車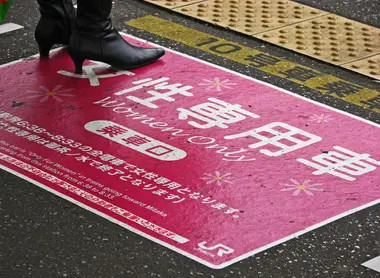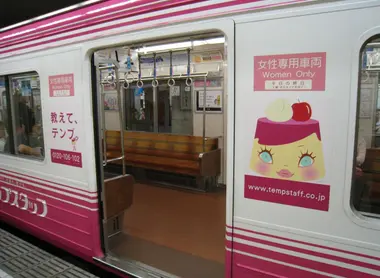 Women Only
To protect female passengers from unwanted attention when they travel, some Japanese rail companies have started designating women-only cars in their trains.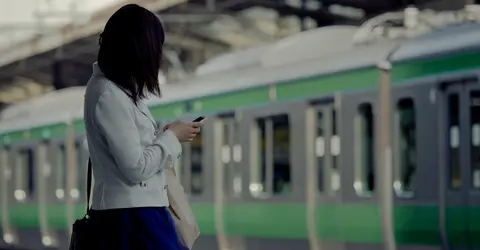 Train cars for women: a history
As early as 1912, the Tokyo Chuo line introduced women-only cars to separate female students from rush hour students until the Second World War broke out. In 1920, it was Kobe city's turn to reserve entire trams for ladies, while in the 1930s, Hankyu company had trains reserved for schoolgirls who traveled from Kobe to Nishinomiya, a town about fifteen kilometers away. After the Second World War, many railway companies reserved cars for women and children because it was extremely difficult for them to board the crowded trains. These cars were replaced in 1973 by the system of priority seats.
A system to stop perverts
While the cars reserved for women and schoolgirls disappeared in the middle of the twentieth century, travelers with "wandering hands" unfortunately remained. In a survey conducted in the early 2000s by Tokyo Metropolitan Police and JR Railway Company, two-thirds of women aged 20-40 reported being touched, called chikan (a term in Japanese for both the guilty person and the act of touching someone without their consent), in crowded trains. These results prompted some companies to take action and they started to designate whole cars for female rush-hour passengers, or others all day, but only on weekdays. In 2000, the Keio Line, which connects Shinjuku to the dormitory communities of West Tokyo, was one of the first to offer ladies' cars. It first offered this service for late hours and then during evening rush hours on express trains.
In 2001, JR East followed the example of late hours on the Saikyo line, which connects Tokyo to Saitama Prefecture, which was notorious for the many riders who took advantage of the anonymity of the crowds and the long distances between the stations to perpetrate their attacks. The following year, the same system was applied during rush hours in the evening.
Read : Public transport in Japan
In Osaka, since 2002, the Midosuji subway line has had cars reserved for ladies. Carrying passengers at certain times at 160% of its capacity, this line was known as the worst for the chikan problem. The system proved to be very effective (complaints having decreased by a third in just one year), so it was applied on trains all day, and not just at peak hours. The Hankyu line has also followed suit by offering "women only" cars all day long. In 2002, it was the turn of JR WEST company to designate some cars for ladies at rush hour.
Since 2005, most of the companies operating lines in Tokyo have ladies' cars. Some of them also allow access to young boys, the handicapped, and caregivers (male or female) if they are accompanied by a woman.
Signs on the platforms indicate which cars, days and hours they are reserved for women.
Chikan: punishable by law
The chikan problem is taken very seriously by railway companies and the authorities, and anyone found guilty of groping is liable to imprisonment or a fine of up to 500,000 yen ($4,500). Numerous signs in the train stations remind us that groping someone is a crime punishable by law. But like everywhere in the world, most women who are victims of such acts don't dare to react and, if they do it by shouting "chikan!", it's sometimes difficult to stop the culprit, who flees before anyone can stop them.
The opposite problem also occurs: some women have allegedly accused men of having touched them in order to receive monetary compensation. This issue was featured in a 2007 film: "Sore de mo, Boku wa yatte inai" ("I didn't do that") based on the true story of an innocent young man accused of touching a student on a train. Some men have even requested cars reserved for men, so as not to be accused wrongly, and others are offended that all men are treated as potential perverts. But surveys reveal that the majority of passengers - both women and men - are for this system of segregation.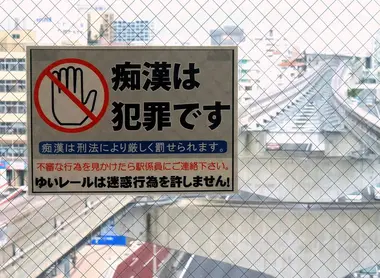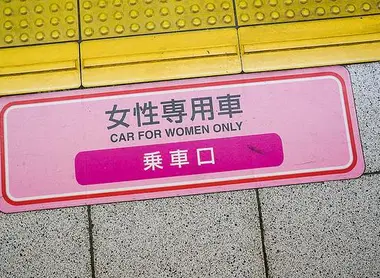 All the themes of the city
Comments
C'est grave I wondered well and truly down the rabbit hole in this place.