Coming of Age Day
Coming of Age Day Ceremony: on Adult's Day in January 1000s of young 20-year-olds attend a Seijin Shiki ceremony in traditional kimono.
Seijin Shiki (Coming of Age Ceremony) 成人式
Guillaume Marcotte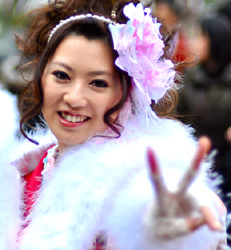 Seijin Shiki or 成人式 could be translated as 'Coming of Age Day Ceremony' in English. Seijin-no-hi (Coming of Age Day) is a Japanese national holiday that occurs on every second Monday of January.
Coming of Age Day or Adult's Day honors every person that has turned 20 years old over the past year. When young people reach twenty they officially become adults in Japanese society and they now have responsibilities as well as newfound liberties: such as being able to drink, smoke, go to hostess bars, gamble and to drive legally. The voting age was lowered from 20 to 18 in 2015.
The girls always wear gorgeous and very expensive kimono, although most admit to having rentals as the outfit is worth up to 1,000,000 yen. The boys usually wear a regular suit and tie but a few will wear traditional Japanese dress.
Ceremony
The ceremony takes place in every city ward around Japan; everyone can attend the event at their local city office at around 11:30am. Though the day starts much earlier for these young adults, especially the girls who spend countless hours fixing their hair and makeup, and never mind the time it takes to slip into a kimono! After many tireless hours of primping, they can then join up with others at a select location where dozens of photographers are waiting for them.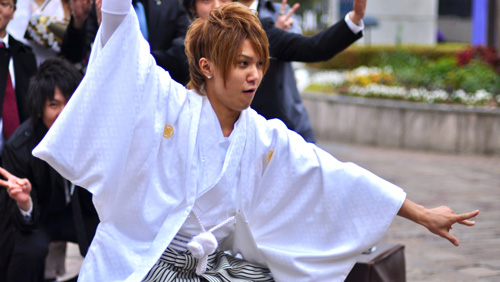 Shibuya
I went to the Shibuya ward office, one of the biggest and most popular Seijin Shiki spots in Tokyo. New adults were greeted by a horde of families and photographers, as well as big television networks such as NHK and CNN who were there to report the event. It was my first time covering the Coming of Age Day, and while I was there I spoke with a few other photographers and was surprised to hear that there were many less 20 year-olds in comparison to the previous year.
The reason for this is because of the decreasing birth rate in Japan, a rate that has been decreasing steadily for the last 30 years. After doing a little bit of research, I discovered that five years ago there were exactly 1917 new adults in Shibuya and 15 years prior to that the number exceeded 4300. This year there were barely 1300 who had turned twenty in the same ward, that is almost a 70% drop over the last two decades.
After spending a few hours outside the city offices, the young adults were invited inside the C.C. Lemon Hall where they took part in a presentation given by the mayor of the city to congratulate them on becoming adults and to remind them that they now have the right to vote. Afterwards, they had the chance to watch a live taiko drum performance starring 7 talented drummers.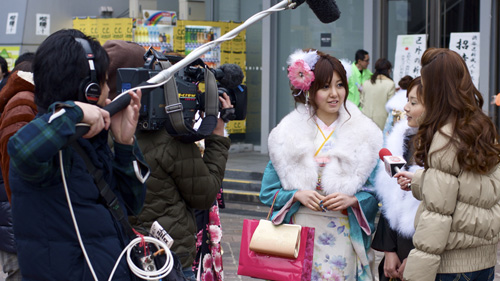 Later that afternoon, everyone went their own way to continue the celebration. Some girls would go shopping around Shibuya while others preferred going back home with friends and family to have fun and drink. During this holiday a lot of people have the day off, giving them the time to take part in the many events going on around Tokyo. As expected the popular food-on-a-stick stands can be found everywhere, many major arteries are also closed and cars are in turn replaced with street performers.
If ever you are in Japan next year in early January, Saijin Shiki is a great way to have fun and to see some young Japanese people in traditional clothing. I suggest visiting some of the bigger city wards like Shibuya, Shinjuku or Nakano and be sure to know the exact time and location of the gathering otherwise you might miss the event entirely considering there are less and less attendees every year!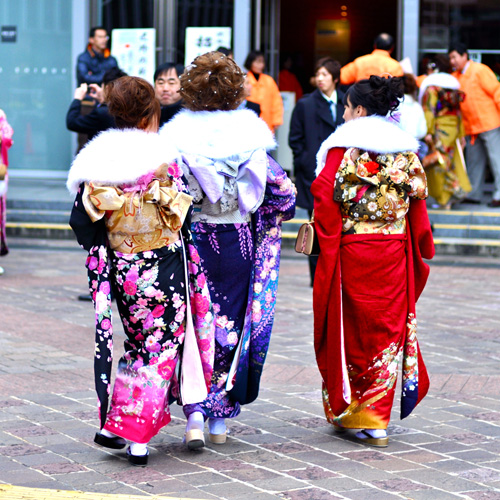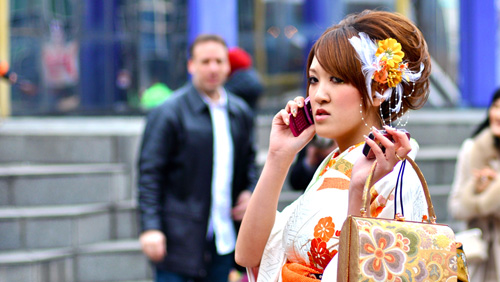 Words + images Guillaume Marcotte
See more images of Japan by Guillaume Marcotte
All the themes of the city