Hiroshima Transport
Hiroshima Travel 広島交通
Hiroshima, the prefectural capital of Hiroshima Prefecture, is one of Japan's most visited cities.
Tourists are drawn by Hiroshima Peace Park, Hiroshima Castle, Hiroshima's many fine museums along with the sacred island of Miyajima, with its iconic torii gate standing in the sea.
Find information on getting to and around Hiroshima by public transport.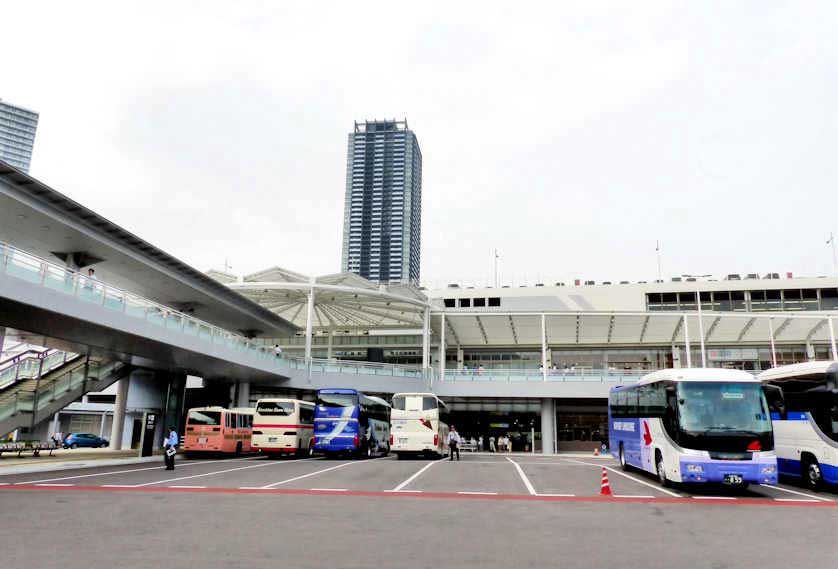 The recently remodelled and refurbished Shinkansen Exit (north side) of Hiroshima Station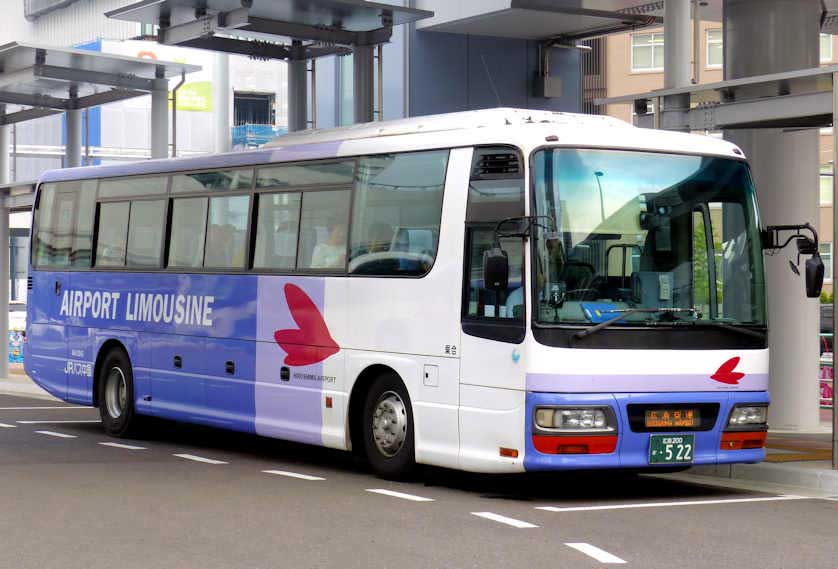 Airport Limousine from Hiroshima Station to Hiroshima Airport
Hiroshima Station
Hiroshima Station is the main point of access for arriving in the city, with shinkansen trains coming from Tokyo, Yokohama, Nagoya, Kyoto, Osaka, Shin-Kobe and Okayama Station in Okayama to the east and Fukuoka and Yamaguchi to the west.
As well as taxis and a few local buses all the inter city highway buses and Airport Limousine buses start from Hiroshima Station before making a stop at Hiroshima Bus Center in the Sogo Department Store, north east of Hiroshima Peace Memorial Park. A new ticket office for the Airport Limousine can be found in front of the station and there are ticket vending machines when the office is closed.
There are also long-distance buses to Tokyo (Tokyo Station, Shinjuku Bus Station), Yokohama, Universal Studios Japan (USJ), Fukuoka, Okayama, Kurashiki, Kobe, Kochi, Kyoto Station, Osaka, Nagoya Station, Nagasaki (with a change in Fukuoka), Matsue, Hamada, Imabari, Takamatsu, Tabuse, Yanai, Izumo, Tokushima, Yuda Onsen and Yonago.
There is free internet access within Hiroshima Station including in the smoking room.
Hotels are clustered close to both the North and South exits of Hiroshima Station: places to choose from include the Hiroshima Garden Palace, the 90-room APA Hotel Hiroshima Ekimae, the Hiroshima Intelligent Hotel, Hotel Granvia Hiroshima, the 238-room Sheraton Hiroshima Hotel, the 250-room Hotel New Hiroden and Business Hotel Yorishiro.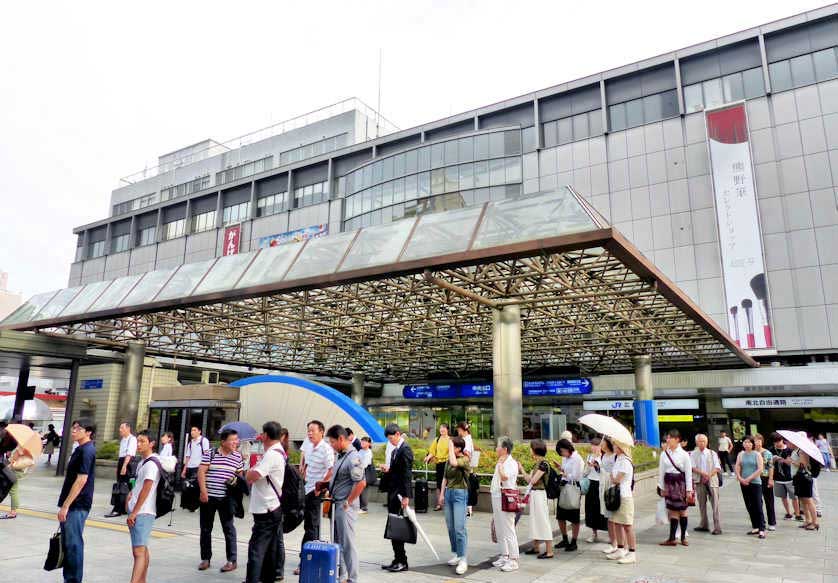 Main Entrance (south) of Hiroshima JR Station. Taxis, buses, and the main terminus of the tram system are found here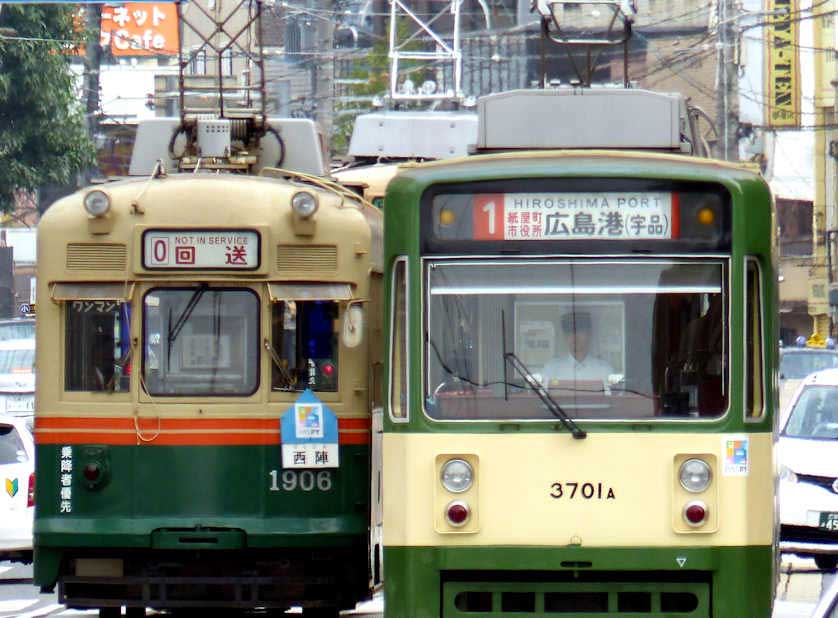 Hiroshima trams are operated by Hiroden
Hiroshima Trams
The Hiroshima Electric Railway or Hiroden runs the trams (streetcars) in Hiroshima city and Hiroshima Prefecture, the longest and most used streetcar network in Japan.
There are six tram lines in central Hiroshima and over 270 trams from all over Japan as well as some from Europe, which makes a ride on Hiroshima's trams a popular tourist activity and a must-do while in the city. The Green Mover Max tram that runs on the network is the first tram wholly built in Japan. Hiroshima's trams were imported from overseas beforehand. Two antique streetcars that survived the 1945 atomic bombing of the city still run on the network.
The eight numbers for the trams are:
# 1 (Orange) runs from Hiroshima Station to Hiroshima Port
# 2 (Red) runs from Hiroshima Station to Miyajima-guchi
# 3 (Blue) runs from Nishi-Hiroshima Station to Hiroshima Port
# 5 (Green) runs from Hiroshima Station to Hiroshima Port
# 6 (Yellow) runs from Hiroshima Station to Eba
# 7 (Dark Green) runs from Yokogawa Station to Hiroden honsha-mae
# 8 (Pink) runs from Yokogawa Station to Eba
# 7 (Gray) runs from Hachobori to Hakushima
PASPY is the local IC card valid on all local transport. The flat fare on the tram within Hiroshima city limits is 180 yen and 280 yen to Miyajima.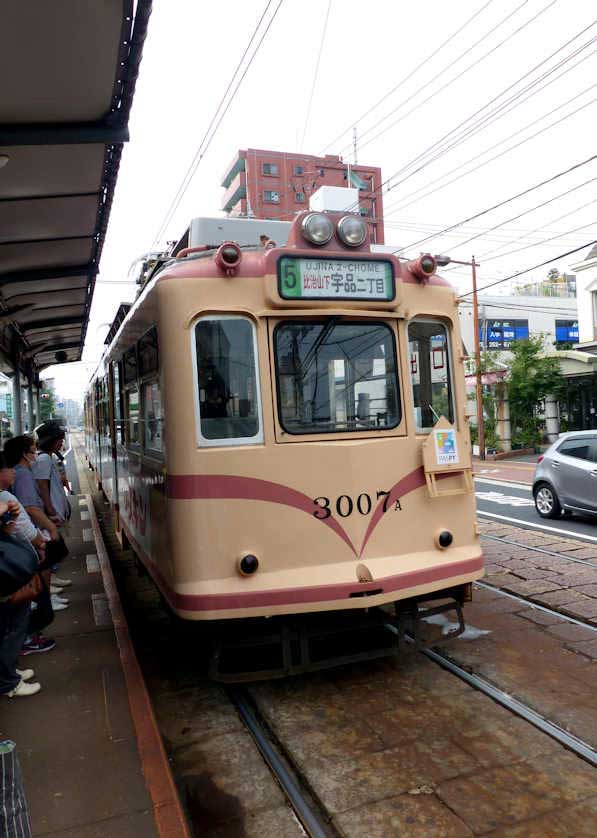 Hiroden trams in Hiroshima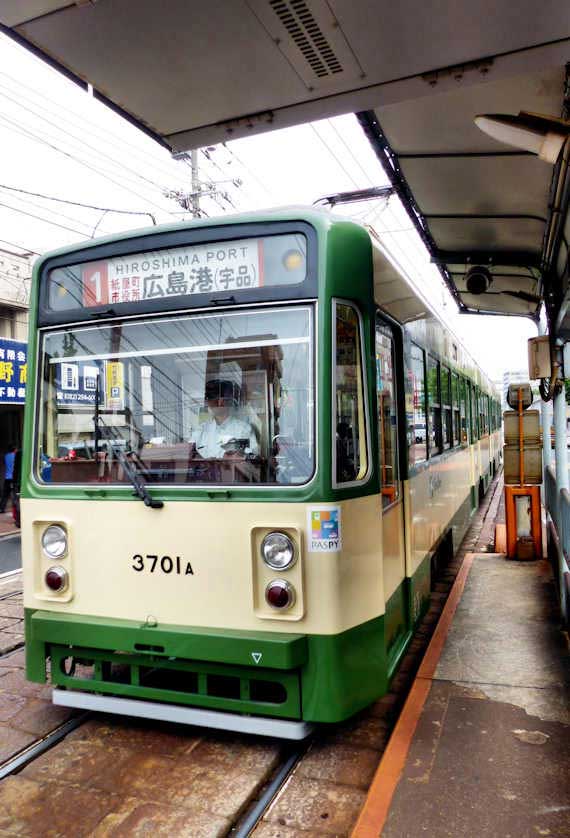 Hiroden tram to Hiroshima Port
Astram
The Astram Line (アストラムライン) is a rubber-tired transport system that runs 18km from Hondori Station in downtown Hiroshima to Koiki-koen-mae Station near to the Big Arch Stadium. The Astram Line was built to bring visitors to the Big Arch - the venue for the 1994 Asian Games.
The Astram is useful for getting to the Hiroshima City Transportation Museum - a fun museum located close to Chorakuji Station on the Astram Line in Asaminami-ku.
The Astram Line connects with the Hiroden at Hondori and Kencho-mae stations, the JR Kabe and Sanyo lines at Shin-Hakushima Station and the Kabe Line again at Omachi Station.
The present fare to Koiki-koen-mae Station from Hondori is 480 yen.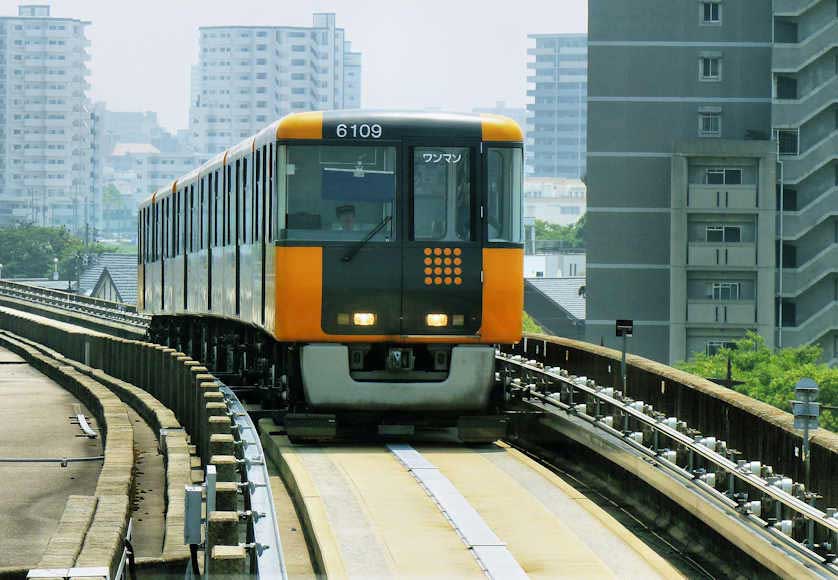 Astram, Hiroshima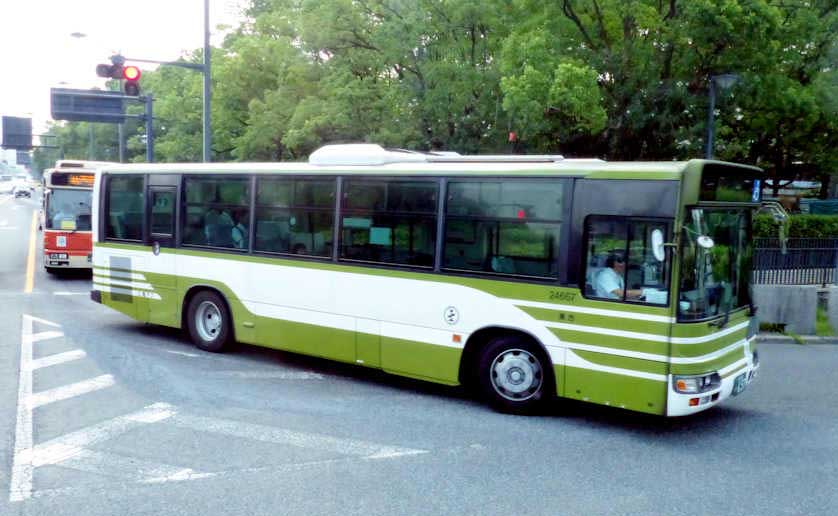 Hiroden Bus. The biggest local bus company in Hiroshima is Hiroden who also operate the tram system and run inter-city express buses. Their buses have olive green and white livery
Hiroshima Buses
Hiroshima city buses are operated by two companies: Hiroden and Hiroshima Bus Company (Hiroko).
Hiroden is the biggest local bus company in Hiroshima and also operate the tram system and a number of inter-city express buses. Hiroden buses have an olive green and white livery.
Hiroshima Bus Company (www.hirobus.co.jp) buses have a red and white livery.
Local city buses radiate out from both Hiroshima Station and Hiroshima Bus Center.
Enter the bus through the middle door and exit via the front door. The name of the next stop and the fares are displayed on a monitor at the front of the bus. Press the bell before you get off at your desired stop. There is a change machine next to the driver for 1000 yen notes and 500 yen, 100 yen and 50 yen coins. The fare to Hondori from Hiroshima Station is 160 yen and 220 yen to Hiroshima Peace Park.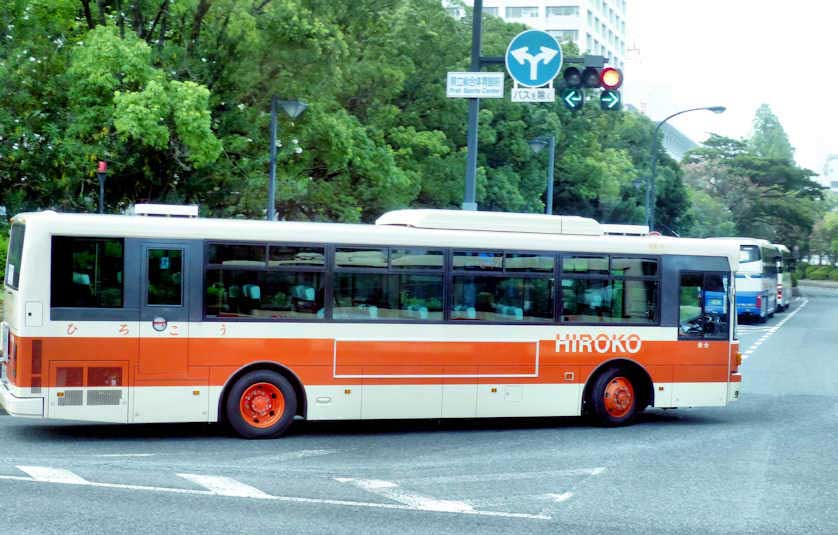 Hiroshima Bus Company (Hiroko) with their red and white livery are also a big local bus company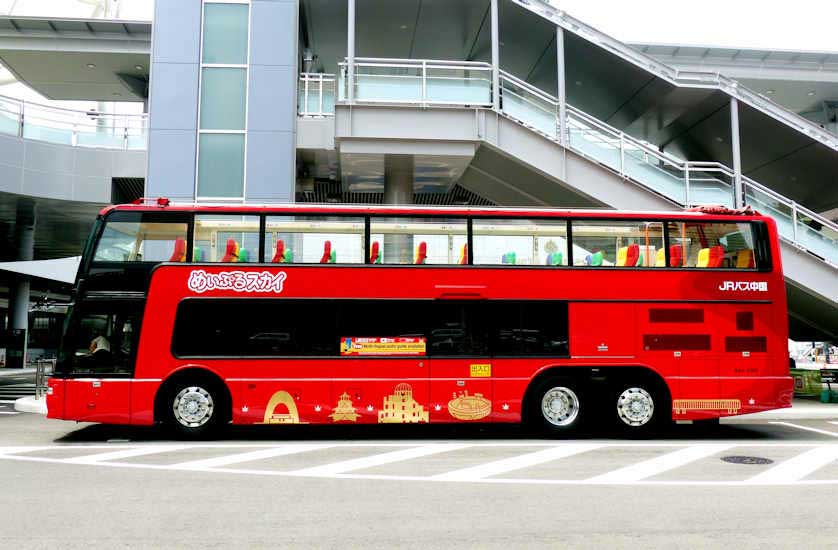 Maple Sky Tour Bus
Maple Sky Tour Bus
The Maple Sky open double-decker tour bus takes 90 minutes to visit most of the major tourist attractions in Hiroshima, including Hiroshima Castle, the Atomic Bomb Dome, Peace Park, Mazda Stadium and includes views of the outlying islands and the sea.
The cost of the Maple Sky bus is 2,000 yen for adults and 1,000 yen for kids under 12. A free audio guide in either English, Chinese or Korean is available. For the same price a second course includes a walking tour of the Peace Park and misses the sea views, but takes two hours.
The Maple Sky Tour Bus runs throughout the year on Fridays, Saturdays, Sundays, National Holidays, Golden Week and through the summer vacation. The bus departs from the Shinkansen gate on the north side of Hiroshima Station at 10.10am. An afternoon departure at 1.10pm does not operate in winter, and an evening departure at 7.10pm operates only in the summer. In the winter a special evening service operates to view Hiroshima Dreamination, the city's illumination event.
www.chugoku-jrbus.co.jp/teikan/meipurusky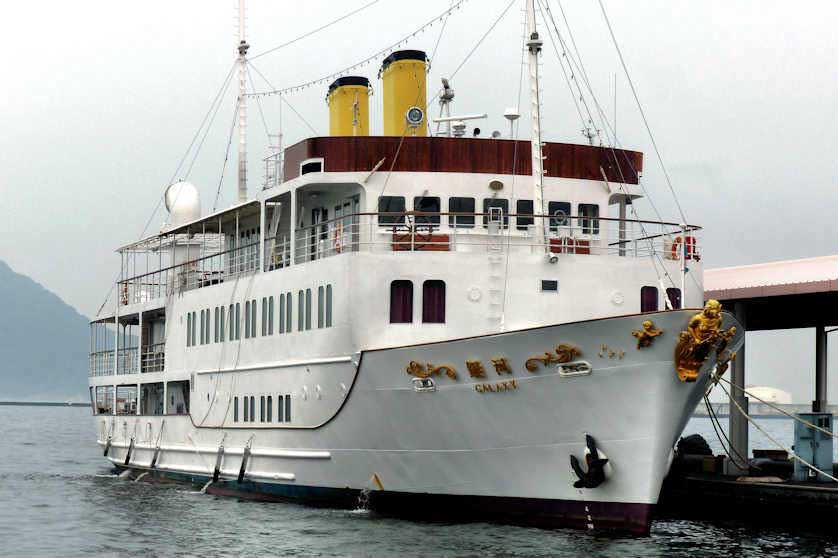 Galaxy, the dining cruise boat
Ferries
There are ferry connections from Hiroshima Port (Ujina Port) to various outlying islands in the Inland Sea and Shikoku.
These include boats to Miyajima, Innoshima, Okunoshima and Etajima for the Old Japan Imperial Naval Academy.
Boats to Miyajima for Itsukushima Shrine cost 180 yen from Miyajimaguchi Port with either JR Miyajima Ferry or Miyajima Matsudai Kisen.
Boats to Etajima cost 1,060 yen from Hiroshima Port; ferries to Innoshima are 620 yen from Mihara Port and Okunoshima is 310 yen from Tadanoumi Port in Takehara.
Hiroshima - Matsuyama Tourist Port in Matsuyama with Ishizaki Kisen (www.ishizakikisen.co.jp) and Setonaikai Kisen (setonaikaikisen.co.jp) in 2 hours, 40 minutes by car ferry or 1 hour, 8 minutes by direct high speed boat.
More information including full timetable and fares for Hiroshima-Kure-Matsuyama ferries.
There are lunch and dinner cruises in the Inland Sea offered by Hiroshima Bay Cruise Ginga (Galaxy) - Tel: 082 253 1212.
Taxis
Taxis ranks can be found at Hiroshima Station and Hiroshima Peace Park. Flag fall ranges between 580 yen-640 yen. Taxi companies operating in Hiroshima include:
Hiroshima Kintetsu Taxis: 082 253 2235
Hiroshima Taxis: 082 292 2121
Hiroshima Daiichi Kotsu: 082 278 5511
Tsubame Kotsu: 082 221 1955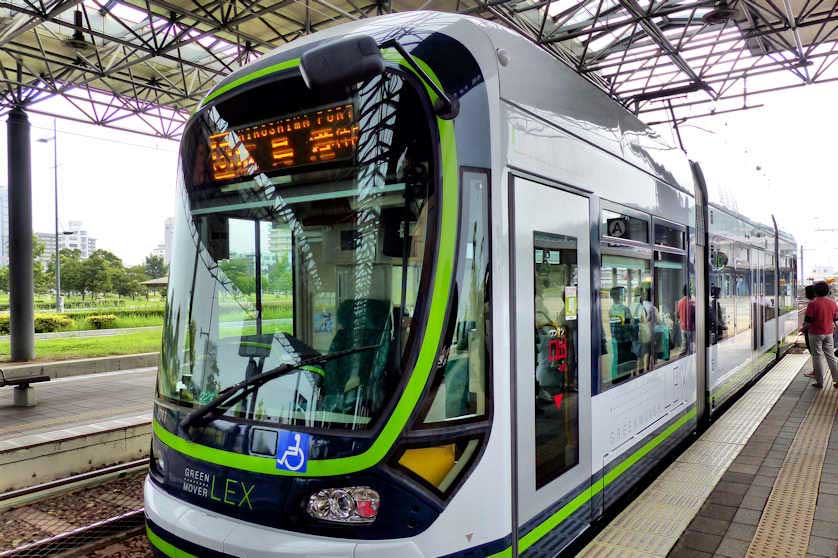 Green Mover Hiroshima tram to Hiroshima Port
Visit Hiroshima Tourist Pass
The various Visit Hiroshima Tourist Passes offers foreign visitors to Hiroshima unlimited travel on Hiroshima's transport systems for a limited period.
There are four passes available: the Small Area Pass, covering Hiroshima city and Miyajima (1,000 yen for 3 days), the Small Area with Airport Limousine Bus Pass (4,000 yen for 5 days), the Wide Area Pass which covers all of Hiroshima Prefecture (3,000 yen for 3 days) and the Wide Area with Airport Limousine Bus Pass (6,000 yen for 5 days).
Hiroshima transport: read a guide to transport in Hiroshima including Hiroden trams, city buses, the Astram Line, ferries and taxis.
All the themes of the city