Japan Trams
Japan trams: read a guide to the tram (streetcar) lines in various cities in Japan including Hiroshima, Nagasaki and Kumamoto.
Trams (Streetcars) in Japan 路面電車
Trams (streetcars), known as romendensha in Japanese, were ubiquitous in Japan's major towns and cities from the early 20th century to the 1950's and 1960's.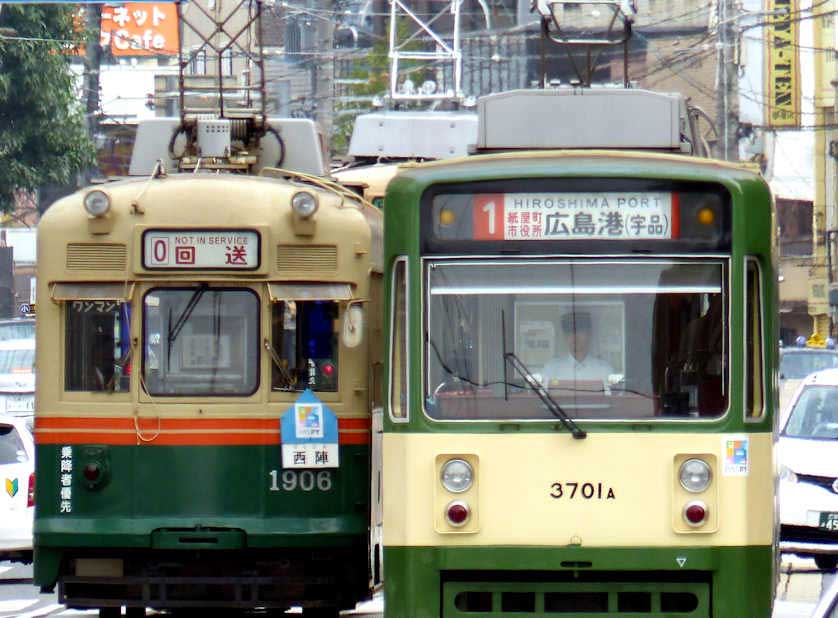 Hiroshima trams are operated by Hiroden
With the expansion in subways and the prevalence of the family car from the 1960's onwards, trams have become a thing of the past in many places in Japan. Tram lines were torn up across the nation to pave the way for the all-conquering motor car.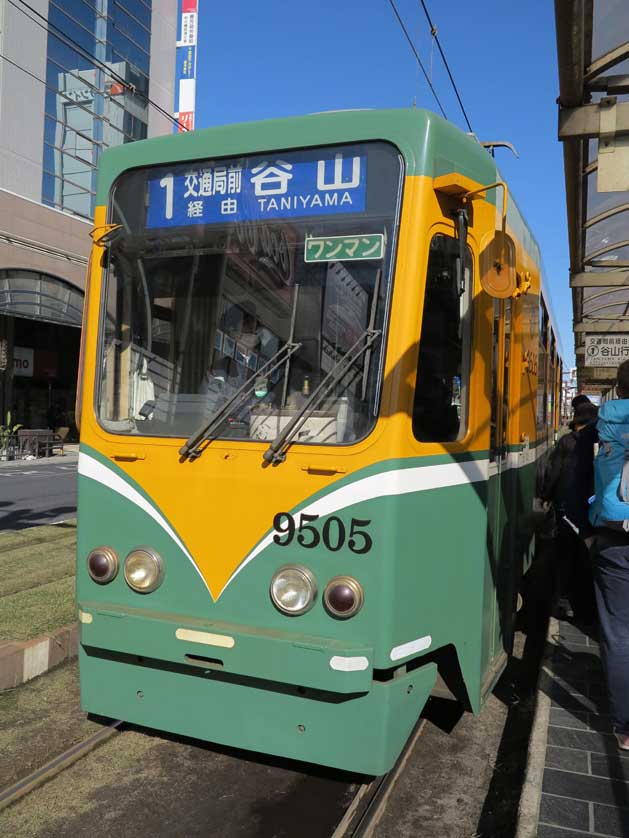 Streetcar in Kagoshima
Tokyo still has one tram line, the Toden Arikawa Line, running from Waseda Station to Minowabashi Station. Osaka maintains the Hankai Uemachi Line from Tennoji to Sumiyoshi-koen in the south of the city. The Randen tram in Kyoto, the ancient capital's last remaining tram, runs from Shijo Omiya to Arashiyama. However, these are mere skeletons of the once large tram networks that crisscrossed these three important cities.
Some towns have completely removed all their tram lines including Shizuoka (1974), Nagoya (1974) and nearby Gifu (2005).
Fortunately many Japanese cities have kept their trams and promoted their use as a tourist attraction for visitors. The trams in Nagasaki, Hiroshima, Kumamoto and Kagoshima are examples of this practice.
If you are visiting Japan make a point of riding a tram to capture something of Japan's history of urban transport and a fleeting experience of a bygone age.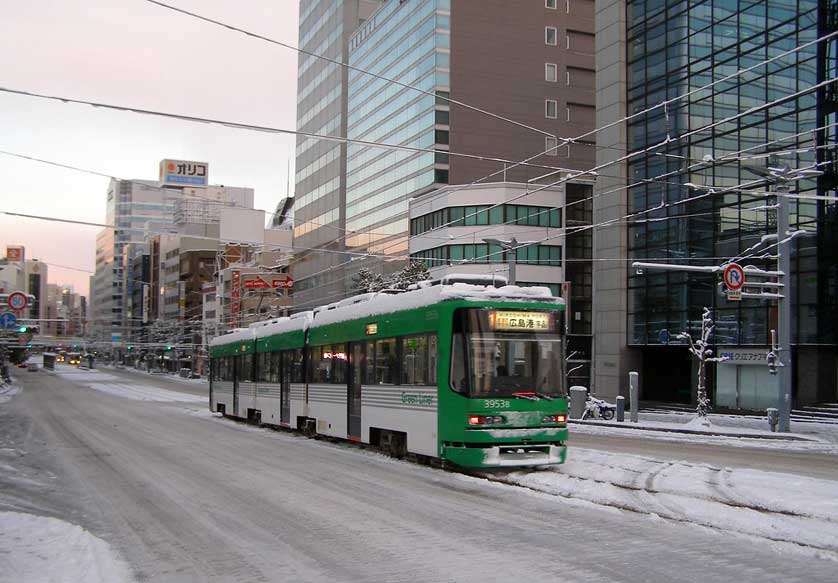 Hiroshima's streetcar system is a good way to get around the city and out to Miyajima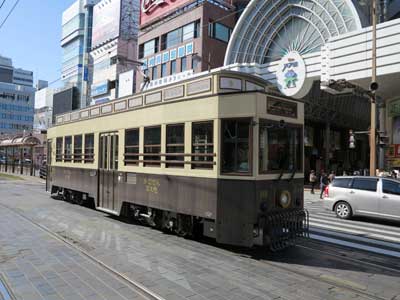 Kagoshima retro tram, Kyushu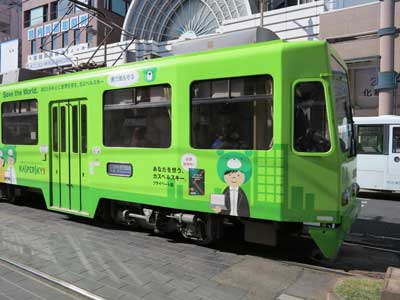 Kagoshima Streetcar, Kyushu
Tram Systems in Japan
Enoden Line - the Enoshima Electric Railway (Enoshima Dentetsu in Japanese) is a scenic railway line connecting the cities of Fujisawa and Kamakura, both located on the Sagami Bay coast, a short ride south of Tokyo.
Trams in Fukui - Fukui's trams are operated by Fukui Railway and run 24 km from from Echizen-Takefu Station in Echizen to Tawaramachi and Fukui-Ekimae stations in Fukui. Services are infrequent 2 or 3 an hour.
Trams in Hakodate - Hakodate's tram network is much reduced since its heyday but still consists of two routes covering 10.9 km. Tram #2 goes from Yunokawa to Yachigashira while tram #5 goes from Yunokawa to Hakodate Dock. Both trams go via Matsukazecho, Hakodate-Ekimae and Jujigai.
Trams in Hiroshima - Hiroden runs the trams (streetcars) in Hiroshima city and Hiroshima Prefecture, the longest and most used streetcar network in Japan. There are six tram lines in central Hiroshima and over 270 trams preserved from all over Japan as well as some from Europe, which makes a ride on Hiroshima's trams a popular tourist activity. The Green Mover Max tram that runs on the network is the first tram wholly built in Japan. Hiroshima's trams were imported from overseas beforehand. A tram that survived the atomic bomb in 1945 was restored to run on the network for the 70th anniversary of the event in 2015.
Trams in Kagoshima - Kagoshima has four tram lines running on two routes. Route 1 (blue) runs from Kagoshima-Ekimae to Takamibaba to Takenohashi to Korimoto to Taniyama and Route 2 (red) from Kagoshime-Ekimae to Takamibaba to Kagoshima-Chuo-Ekimae to Korimoto.
Trams in Kumamoto - Kumamoto shiden - has two main routes running on five lines. The tram system in Kumamoto has been in operation since 1924 and is one of the oldest continuously running streetcar networks in Japan.
Trams in Kochi - the Kochi streetcar network begins at Kochi Station and has trams from all over the world including Germany, Norway and Portugal. The network at over 25 km is the longest in Japan after Hiroshima and has 3 lines: the Sanbashi Line from Kochi-Ekimae to Harimayabashi to Sambashidori-Gochome, the Ino Line from Harimayabashi to Ino and the Gomen Line from Harimayabashi to Gomenmachi.
Trams in Kyoto - the Randen (Keifuku) Line runs out to Arashiyama in western Kyoto from Shijo Omiya and Kitano Hyakubaicho stations.
Trams in Matsuyama - Iyotetsu runs 5 tram lines numbered 1-6 omitting the unlucky "4".Line 1 (Loop Line): Matsuyamashi-Ekimae to Minami-Horibata to Komachi to Kami-Ichiman to Minami-Horibata to Matsuyamashi-Ekimae (Only operates in this direction.)Line 2 (Loop Line): Matsuyamashi-Ekimae to Minami-Horibata to Kami-Ichiman to Komachi to Minami-Horibata to Matsuyamashi-EkimaeLine 3: Matsuyamashi-Ekimae to Kami-Ichiman to Dogo-OnsenLine 5: Matsuyama-Ekimae to Minami-Horibata to Kami-Ichiman to Dogo-Onsen. Line 6: Honmachi-Rokuchome to Minami-Horibata to Kami-Ichiman to Dogo-Onsen.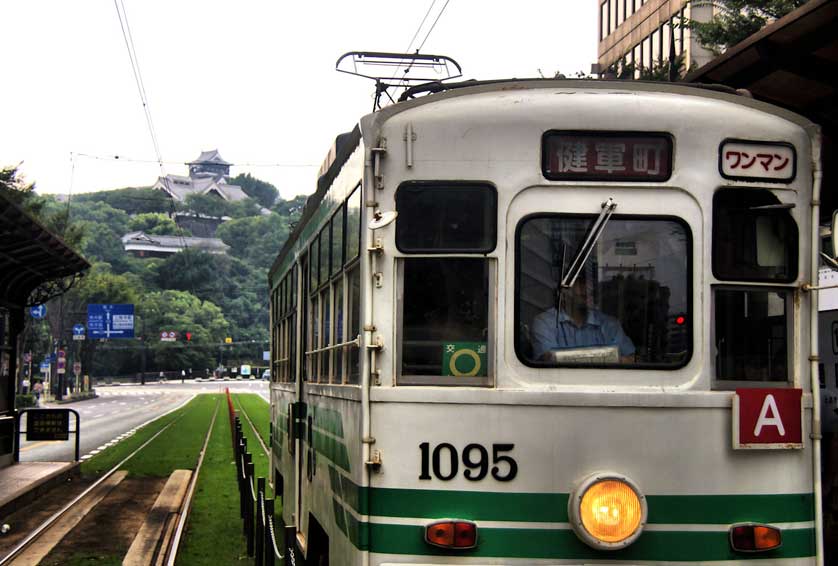 Streetcar in Kumamoto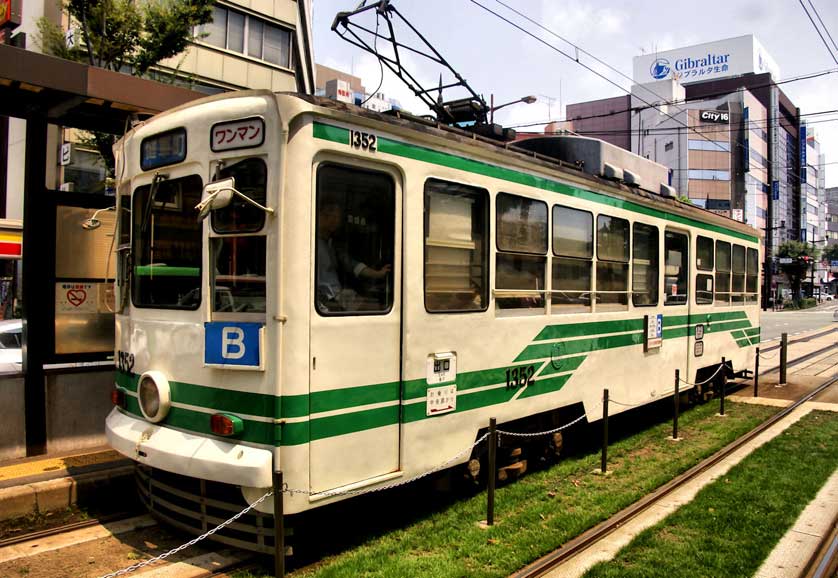 Streetcar in Kumamoto, Kyushu
Trams in Nagasaki - Nagasaki has four streetcar (tram) lines operated by Nagasaki Electric Tramway: Line 1 (blue) from Akasako (Ohato) to Shokakuji-shita, Line 3 (red) Akasako (Sakura-machi) to Hotarujaya, Line 4 (yellow) Shokakuji-shita (Nishihamano-machi) to Hotarujaya and Line 5 (green) Ishibashi (Nishihamano-machi) to Hotarujaya.
Trams in Okayama - the streetcar system is a good way to get around Okayama though there are just less than 5 km of track. There are two lines: the Higashiyama Line from Okayama-Ekimae to Yanagawa to Higashiyama and the Seikibashi Line from Okayama-Ekimae to Yanagawa to Seikibashi.
Trams in Sapporo - the Sapporo shiden operates trams on three lines covering about 8 km covering the route from Nishi-Yon-Chome to the entertainment quarter of Susukino.
Trams in Toyama - Toyama on the Japan Sea coast has a small tram network from Minami-Toyama-Ekimae to Daigaku-mae. A few streetcars operate between Minami-Toyama-Ekimae and Toyama-Ekimae.
Trams in Toyohashi - Toyohashi in Aichi Prefecture runs a modern street car service from Toyohashi Station to the Akaiwaguchi and Undokoenmae stops to the east. Street cars have been in operation in the city since 1925. Fares are a flat 150 yen for adults or passes can be purchased.
Toden Arakawa Video
All the themes of the city