Komaki Airport
Komaki Airport: See flight arrivals and flight arrivals at Komaki Airport in Nagoya.
Komaki Airport Arrival & Departure Information 小牧空港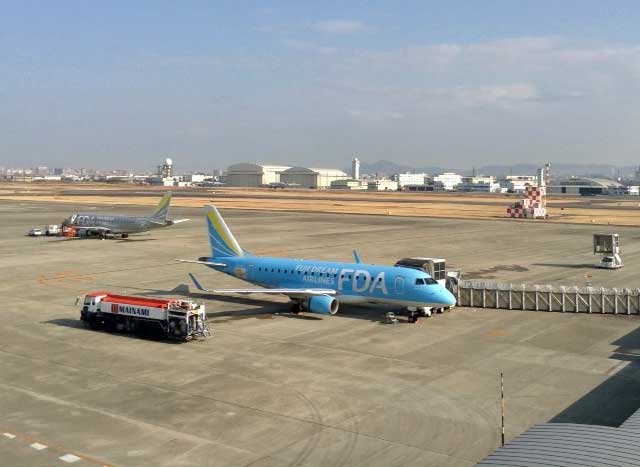 Komaki Airport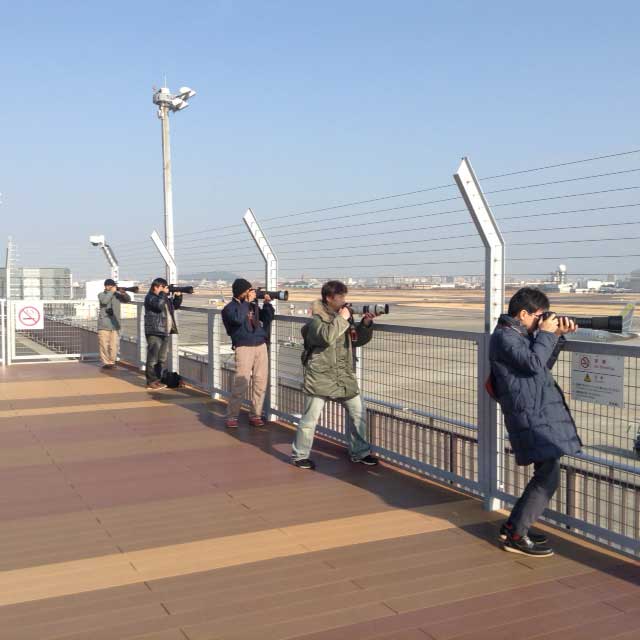 Plane spotters at Komaki Airport
Komaki Airport (小牧空港), aka Nagoya Airport, north of Nagoya was formerly the international airport serving the region.
Now Chubu International Airport (NGO), constructed on an offshore artificial island south of the city in 2005, is the major international airport serving the central (Chubu) area of Japan.
Komaki Airport (NKM) has a growing number of domestic flights and the airport is shared with the Japan Air Self-Defence Force.
Fuji Dream Airlines operates flights in a code share with JAL to Kumamoto, Fukuoka, Aomori, Hanamaki, Izumo, Kochi, Kitakyushu, Niigata, Chitose Airport in Sapporo and Yamagata.
There are several different bus connections to Komaki Airport from various places in and around Nagoya.
A bus from outside the Midland Square building at Nagoya Station runs to Komaki Airport with the first bus at 6.20am and the last bus at 9.20pm. The last bus from Komaki to Midland Square is 10pm. The fare is 700 yen for adults and the journey time is 25 minutes.
There is also a Meitetsu bus to Komaki Airport from Nishiharu Station on the Meitetsu Inuyama Line, one stop from Kami Otai on the Tsurumai Line of the Nagoya subway.
Buses to Komaki Airport also run from Meitetsu Bus Center via Sakae Bus Terminal (Oasis 21) to Komaki Airport.
Aoi Bus Company (aoi-komaki.jp) operates buses from Kachigawa Station on the JR Chuo Line via Ajiyoshi Station on the Meitetsu Komaki Line to Komaki Airport. Buses run from 6.02 am from Ajiyoshi Station until 10.10 pm. The journey takes about 25 minutes.
Aoi Bus Company also operates a bus to Komaki Airport from Sakae that also stops outside Nagoya Prefectural Office (near Nagoya Castle). The buses are roughly hourly and begin at 9.25 am with the last bus at 6.40 pm. The journey takes about 25 minutes.
There is a Tourist Information desk at Komaki Airport and K's Cafe offers good food including an excellent morning set.
JAL Domestic Reservations: Tel: 0570 025 071
FDA Domestic Reservations: Tel: 050 3786 0489
The Aichi Museum of Flight at Komaki Airport opened in 2017. The museum displays a YS-11, a turboprop produced in Japan during the 1960's and the MU-2 a twin-engine turboprop manufactured by Mitsubishi. Admission to the Aichi Museum of Flight is 1,000 yen for adults. It is closed on Tuesdays.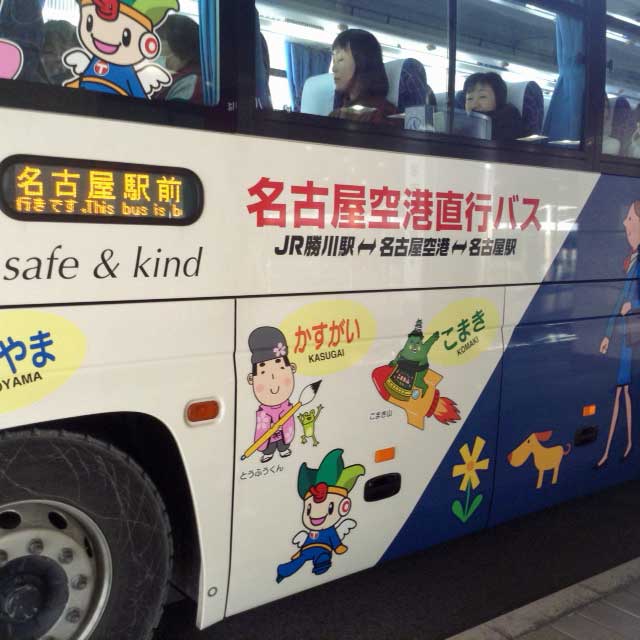 Aoi Bus arriving at Komaki Airport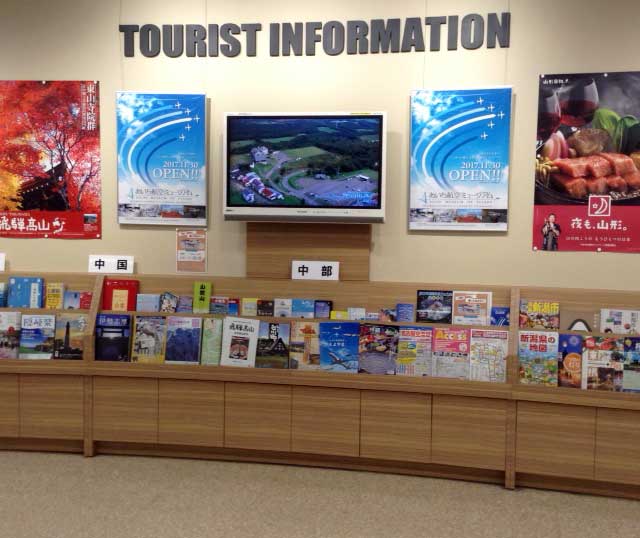 Tourist Information Office at Komaki Airport

Komaki Arrivals & Departures
Flight information is provided by FlightStats, and is subject to the FlightStats Terms of Use.
All the themes of the city