Shikoku Guide
Shikoku guide: read a travel guide to Shikoku including Tokushima, Takamatsu, Kochi and Matsuyama with information on Shikoku hotels and transport links
Japan's Regions: Shikoku 四国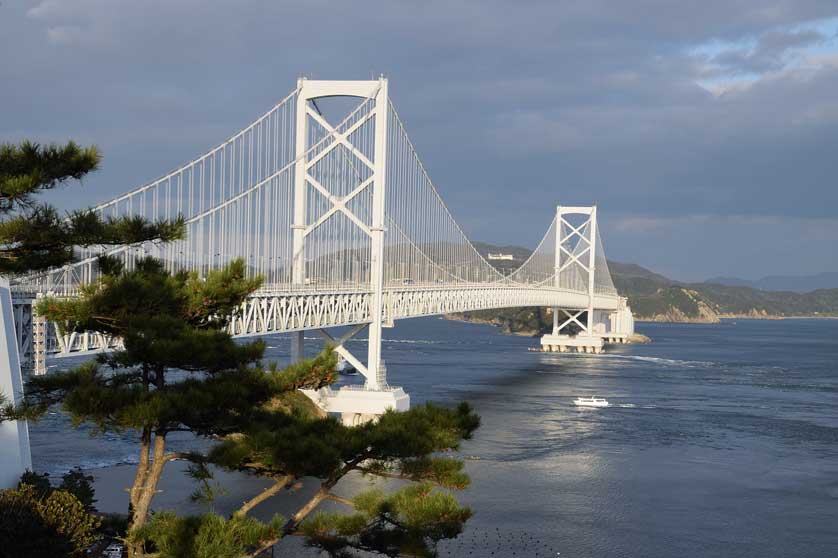 Naruto Suspension Bridge (Onaruto Bridge; 大鳴門橋)
main cities are Tokushima, Takamatsu, Matsuyama & Kochi.
smallest of Japan's four main islands.
excellent hiking in the rugged interior.
rugged seascapes on the coast.
population just over 4 million.
four prefectures of Kagawa (Sanuki), Ehime (Iyo), Tokushima (Awa) & Kochi (Tosa).
large areas of National Parks, hot springs (onsen) and natural forest
most famous festival is the Awa Odori in Tokushima in August.
Shikoku is probably the least visited of Japan's main islands, but this tranquil region has much to offer. Highlights are the 88 Sacred Temples pilgrimage following in the footsteps of the Buddhist priest Kobo Daishi, the castles in Kochi and Matsuyama, the Awa Odori street dance in Tokushima, the 1346 steps of the Kompira-san shrine and the mountains of the Iya Valley and the Oboke Gorge.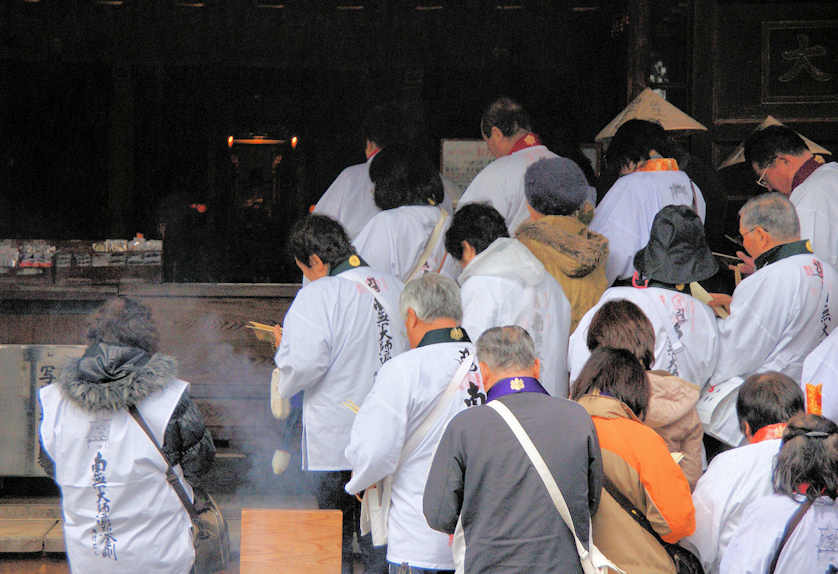 Groups of pilgrims travelling by tour bus are often seen at the temples on the Shikoku Pilgrimage
Shikoku also includes the interesting islands of Shodoshima and Naoshima in the Inland Sea.
The region has very different climates and landscapes. The weather on the Pacific coast remains warm and wet in winter with high temperatures around Kochi in summer with heavy snow in the Iya Valley in winter. In fact, Kochi recorded Japanese second highest ever temperature of 41 degrees Centigrade in the summer of 2013.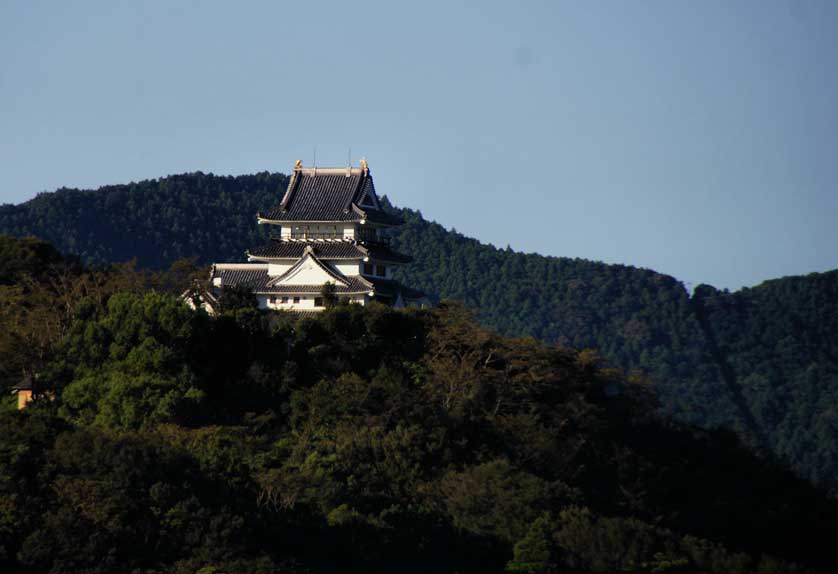 Hiwasa Castle in Tokushima Prefecture has wonderful views of Hiwasa town below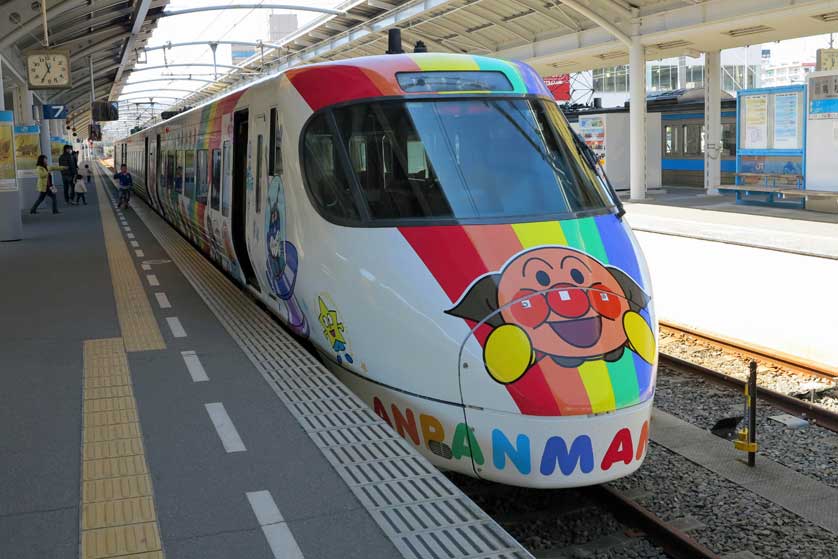 Yosan Line Anpanman Train
Shikoku History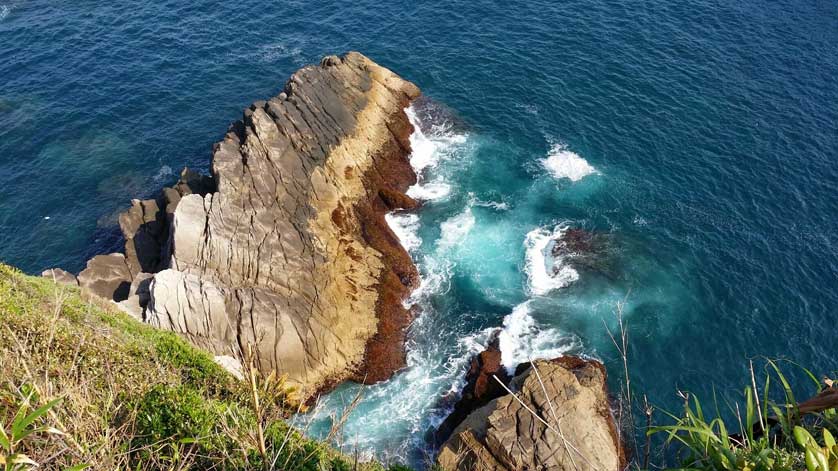 Shikoku Coastline
Shikoku's history was shaped by its relative remoteness from the main island. In the 12th century the defeated Heike (Taira) clan fled here to escape their Genji (Minamoto) enemies after the decisive sea battle of Dannoura near Shimonoseki in western Honshu. Still Shikoku has produced some of Japan's most influential historical figures including Kobo Daishi (Kukai), Sakamoto Ryoma, Itagaki Taisuke and the botanist Makino Tomitaro.
There are also excellent onsen and opportunities for hiking in Shikoku as well as swimming on the southern coast around Kochi.
Shikoku's main towns and places of interest are:
Tokushima, the prefectural capital of Tokushima Prefecture and arrival point for many flights to the region and ferries from Wakayama. Most famous for the huge Awa Odori street dance festival.
Kochi, a surprising cosmopolitan place and perhaps Shikoku's most pleasant city.
Matsuyama, Shikoku's largest city with a beautiful castle and the historic Dogo Onsen.
Takamatsu, Shikoku's gateway to Honshu over the Seto Ohashi Bridge.
Marugame Castle in the port city of Marugame, known for its huge stone walls.
Oboke Gorge, an area of astonishing, unspoiled beauty.
Iya Valley, a remote, breath-taking valley in the center of the island.
Shikoku Museums, Shikoku and the islands of the Inland Sea have have a number of outstanding museums.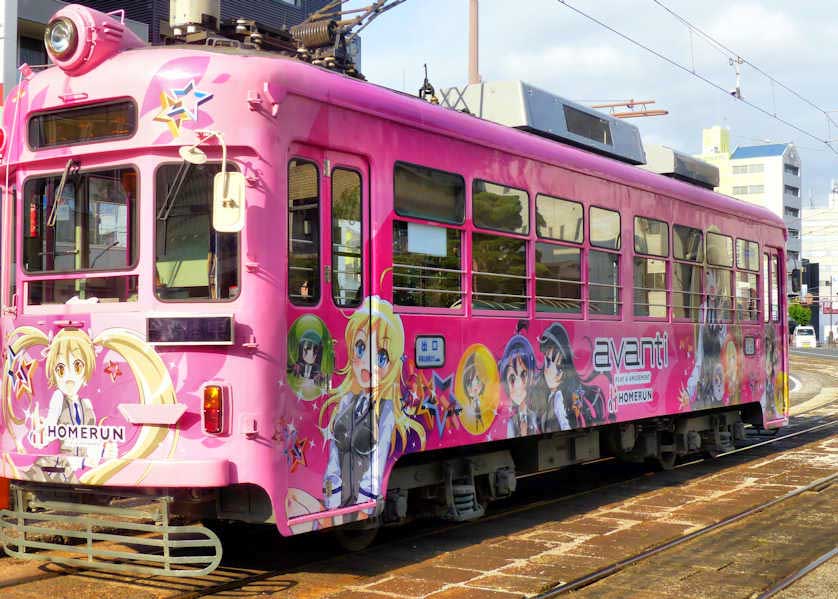 Kochi Tram
Shikoku Map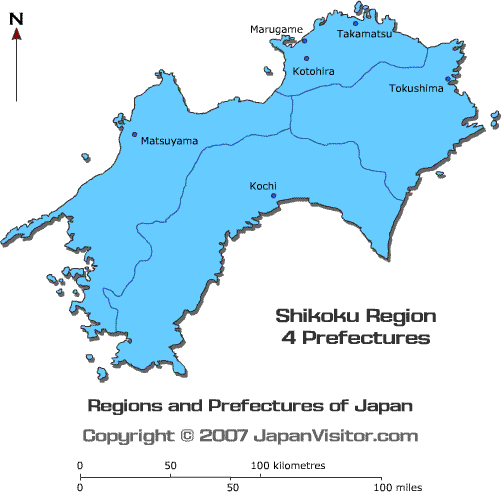 Map of Shikoku

Access - getting to Shikoku
Air
There are airports in Tokushima, Kochi, Matsuyama and Takamatsu with connections to Tokyo and other major urban centers. Takamatsu has a flight to Seoul in East Asia.
Ferry
There are a number of ferry services operating to and from various ports in Shikoku.
Tokushima to Wakayama in Kansai.
Takamatsu to Kobe, Okayama and to Naoshima, Shodoshima, Megishima and Ogishima (aka Megijima & Ogijima) in the Inland Sea.Matsuyama and Ehime Prefecture to Beppu, Hiroshima and Osaka and a hydrofoil to Hiroshima.
Matsuyama-Kure-Hiroshima ferries - timetables & fares.
Train
Takamatsu is the main rail hub connecting Shikoku to Honshu over the Seto Ohashi Bridge. From Tokyo take the Tokaido shinkansen to Okayama and change for Takamatsu. The four main cities are connected by train and highway buses. The All Shikoku Rail Pass offers unlimited travel on all Shikoku trains and urban transport systems for foreign visitors on a 90 day or less visa.
Bus
The four major cities on Shikoku all have overnight highway bus connections to Tokyo.
Shikoku Maps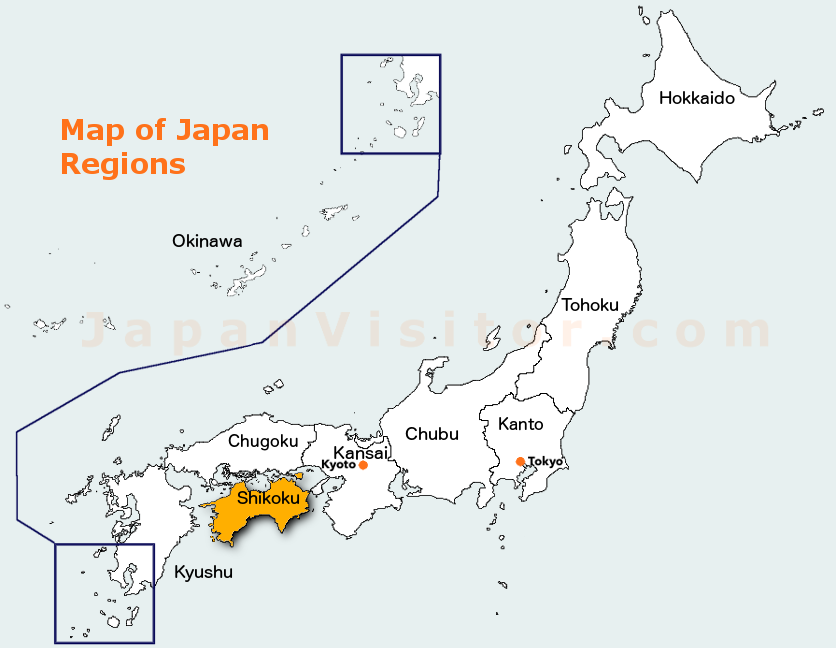 Map of Shikoku

Book Hotel Accommodation in Japan
All the themes of the city