Shizuoka Prefecture
Sunny Shizuoka Prefecture, in central Honshu, Japan, is home to Mt. Fuji, Japan's main source of tea, and has many famous vacation resorts.
Japan's Regions: Shizuoka Prefecture 静岡県
Shizuoka Prefecture is in the Chubu region of central Honshu, on the Pacific coast a couple of hours travel time south-west of Tokyo. Shizuoka's best known features are the iconic Mt.Fuji and the Izu Peninsula with its many onsen hot spring resorts with a sea view. Shizuoka Prefecture is also Japan's biggest provider of tea, but renowned, too, for its musical instrument and motorcycle industries.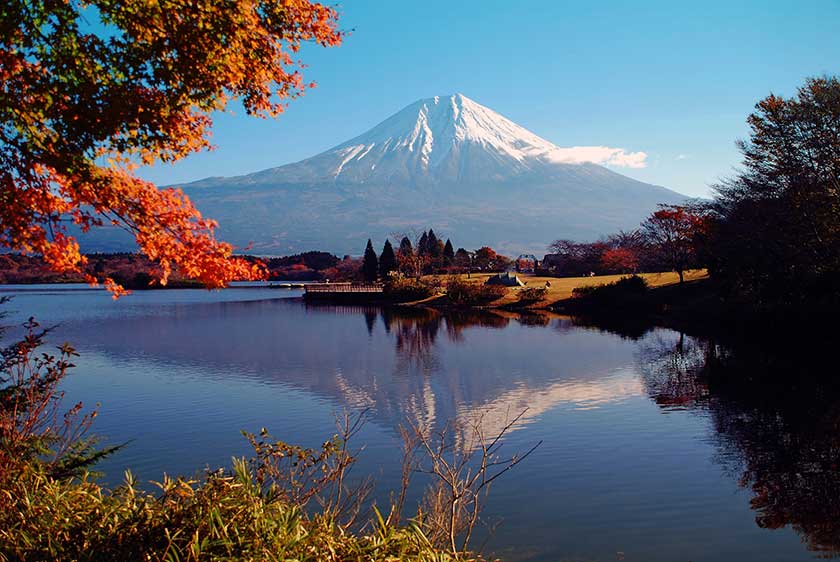 Mt. Fuji beyond a lake, Shizuoka Prefecture, Japan
Shizuoka Climate
Shizuoka is blessed with one of the best climates in Japan. Hamamatsu City and environs, facing the Pacific Ocean, get the most sunshine hours per year of anywhere in Japan. This stretch of coast and adjacent Suruga Bay, in which Shizuoka City is located, are therefore warm, with an annual average temperature of 15 to 16 degrees Celsius, These temperatures drops to a still mild 11 to 12 degrees further inland.
However, Shizuoka is also the prefecture with the biggest altitude differences, so the lowland and highland climates are very different, with a lot more rain in the higher altitudes like Mt. Fuji, the Mount Amagi range in the middle of the Izu Peninsula, and the upper reaches of the Oi River.
This very pleasant weather, yet with no shortage of rainfall, is reflected in the verdure that covers Shizuoka Prefecture, giving Shizuoka some of Japan's most naturally luxurious landscapes.
Shizuoka City
Shizuoka City faces onto Shimizu Port, one of Japan's most scenic ports, graced on fine days by the star of the prefecture, Mt. Fuji. Shizuoka City has the exquisite Sumpu Park with its partially reconstructed castle built in 1586 by the warlord, Tokugawa Ieyasu. Shizuoka Station is a stop on the Tokaido Shinkansen (but not for the super-express Nozomi). 7 kilometers east of the station is Kunozan Toshogu Shrine, one of the most prominent and opulent of the many Toshogu Shrines throughout Japan, that venerate Ieyasu. Shizuoka City restaurants put the finishing touch on any stay in Shizuoka.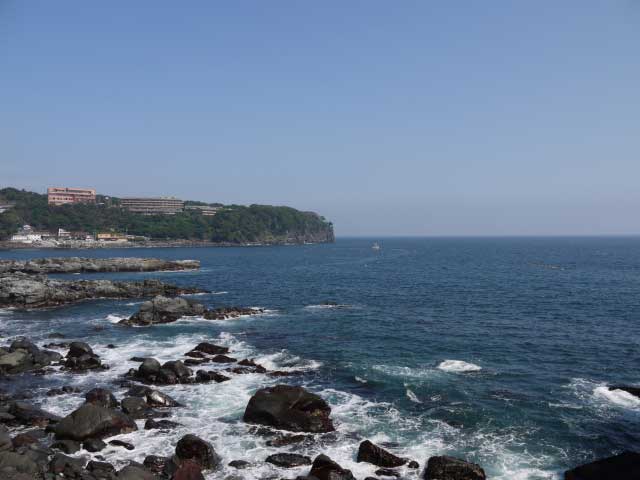 A craggy stretch of the Izu Peninsula coast, Shizuoka
Izu Peninsula
The Izu Peninsula to the west of Shizuoka City is the prefecture's best-known resort area, featuring numerous onsen hot spring towns and plenty of man-made attractions for holidayers' pleasure.
Toi, a resort town on the Izu Peninsula, is the port for the ferry from Shizuoka City and combines resort delights with the history and mystery of its old gold and silver mine.
Shimoda, at the top of the Izu Peninsula is a birthplace of modern Japan by being where Japan's long period of politically imposed isolation ended with the arrival of Commodore Perry. Some of the town is preserved, there is a beach, aquarium, boardwalks, public footbaths, and more.
Atami is a small, traditional fishing town and hot spring resort on the Izu Peninsula: a seaside resort with a reputation for great seafood restaurants, its own castle, a ropeway, herb and rose garden, erotica museum, and much else to while away sunny days in.
The Anjin Festival in Ito City on the Izu Peninsula is a mid-summer celebration of the historical launching of Japan's first Western-style ships, featuring fireworks and some powerful Japanese drumming (taiko) performances.
Heda on the west coast of the Izu Peninsula offers not only spectacular views of Mount Fuji but is also Japan's center for the fishing of spider crab, the largest crab on earth.
Ito is a hot spring resort town on the eastern shore of the Izu Peninsula, with a population close to 70,000.
Numazu is a city of about 200,000 inhabitants located at the north-western end of the Izu Peninsula in Shizuoka Prefecture.
On its seaside, the city straddles Suruga Bay which in turn opens up to the Pacific Ocean.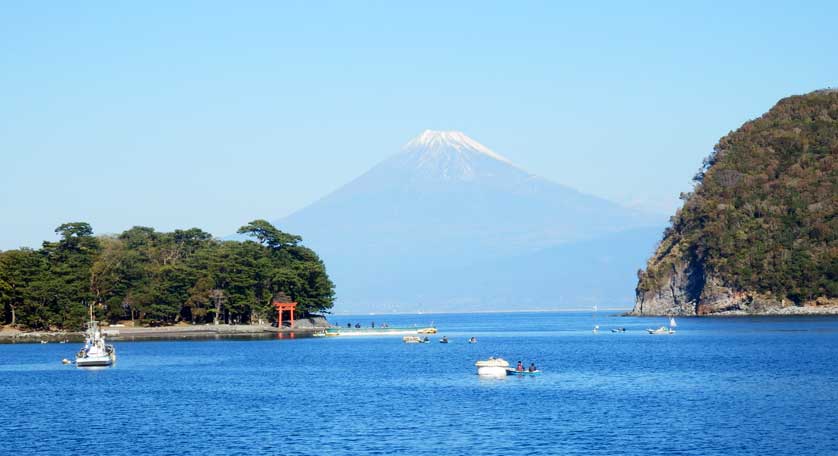 Mount Fuji seen behind Mihama Peninsula, Heda, Shizuoka Prefecture
Mount Fuji
Mt. Fuji, in Fuji-Hakone-Izu National Park, is the highest mountain in Shizuoka Prefecture - and in Japan - at 3,776 meters. Fuji-san is Japan's most internationally recognized natural feature. Climbing Mt. Fuji is the dream of great numbers of Japanese and overseas tourists alike, and the Fuji climbing season, from about July to October, sees its slopes crowded with thousands of amateur mountaineers. The Fuji Five Lakes area just north of Mt. Fuji, in neighboring Yamanashi prefecture, is an adventure alternative for those unable or unwilling to climb the mountain.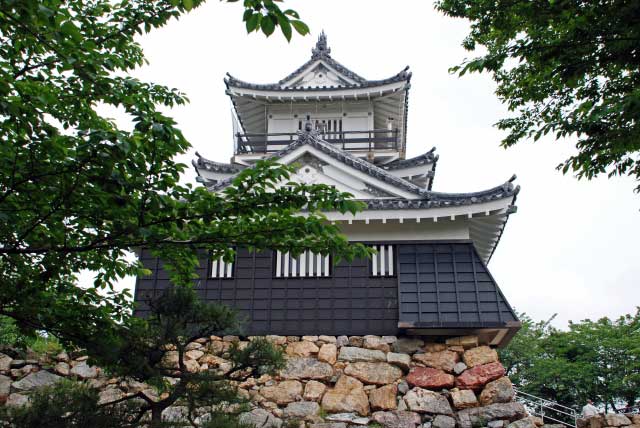 Hamamatsu Castle, Shizuoka
Hamamatsu
Sunny Hamamatsu is Shizuoka prefecture's number two city, with a large Japanese-Brazilian population, and best known for its industries, mainly musical instruments and motorcycles. Hamamatsu has lots for visitors, starting with beautiful Hamamatsu Castle Park with its old castle and museums.
Big Lake Hamanako just west of Hamamatsu is dotted with places of great historical interest, and relaxing onsen towns, such as the fun-filled, outdoorsy Kanzanji district with its amusement park, flower park and zoo.
Kakegawa
Kakegawa Castle is a meticulously reconstructed castle in Kakegawa City between Shizuoka City and Hamamatsu, and a local stop on the Tokaido Shinkansen line.
Access
Air
The international airport serving Shizuoka is Mt. Fuji Shizuoka Airport, and is 27 km (17 mi) south-west of Shizuoka Station, with bus access to it and to the nearest station, Kanaya Station, on the Tokaido and the Oigawa main lines.
Train
The Tokaido shinkansen bullet train connects Shizuoka Station with Tokyo Station and further west to Kyoto Station and beyond. Only the local Kodama and the semi-express Hikari shinkansen trains stop at Shizuoka.
All the themes of the city