Withdrawing money in Japan: 10 Things to Know
お金を下ろす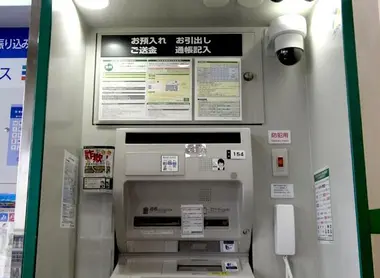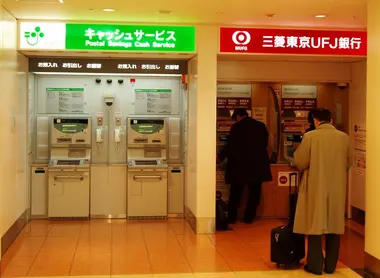 10 things to know
Please note: Most Japanese merchants refuse foreign credit cards ... Some tips for never running out of cash during your trip.
Card or cash?
It is very common in Japan to pay for purchases in cash (even in large sums) rather than by credit card. Moreover, many shops and restaurants don't accept credit cards...hence the importance to withdraw cash before shopping!
The Post ...
The Japan Post Office ATMs (which will show "International ATM Service") are common and accept major international credit cards - Visa, Visa Electron, Plus, MasterCard, Cirrus, American Express, Diners Club, and JCB. The withdrawal limit is generally 200,000 yen/day.
... Or elsewhere
Other options: Citibank, in large cities only, and also Seven Bank, within the konbini chain 7-Eleven (also in airports, hotels, and some shops). This online locator shows Seven Banks everywhere in Japan.
English version
If the screen of an ATM offers a key to access the English version of the service ("English" or "English guidance") it accepts foreign cards. Check out the video to understand how to use an ATM if you do not read Japanese ...
24/7?
Post offices differ by location, but often closed at 5 pm (and Sundays and holidays, except for large agencies). Seven Eleven ATMs are accessible 24/7, as is any konbini. For Citibank, check out the list of banks and schedules for all of Japan.
MasterCard and Maestro
Please note these cards are more complicated to use in Japanese ATMs. The first is now denied in Seven-Eleven, as well as Maestro, no longer accepted in post offices. When in doubt, ask your bank.
Visa
Caution: the presence of a "Visa" logo does not guarantee that cards will work every time: Sometimes it is exclusive to the Japanese Visa cards! But holders of such cards can find a participating merchant anywhere in Japan through this interactive online map (ATM Locator).
Bank charges
Fees are often charged by international banks (a commission for withdrawing abroad, and in most cases, a percentage based on the amount withdrawn). These amounts vary considerably depending on your bank, so be sure to check your bank/credit card foreign transaction fees before your trip.
Ceiling
Remember to inform your banks well in advance that you are going abroad and will be making withdrawals so that your account is not locked due to suspicious activity. And do not forget to ask your withdrawal limit: many cards do not allow more than $300/300 € a week.
Precautions
Some areas of Japan have no or almost no ATMs. Do not expect to find any if you are on a pilgrimage across the island of Shikoku (except for major cities like Takamatsu and Tokushima), or trekking in Shiretoko National Park, or in a spa tucked away in the mountains. So think of the bill before you go to avoid disappointment!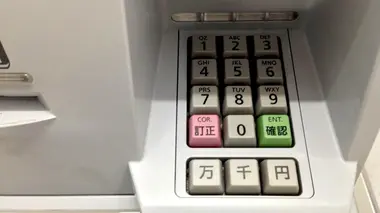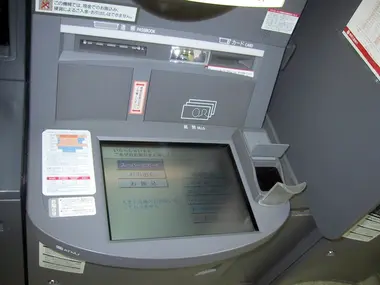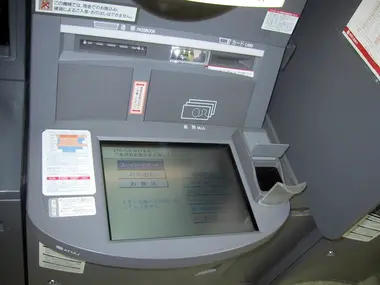 All the themes of the city
Comments
erreur dans l'article sur plafond retrait Been here a few times and was great fun for the whole family.