Netsuke
根付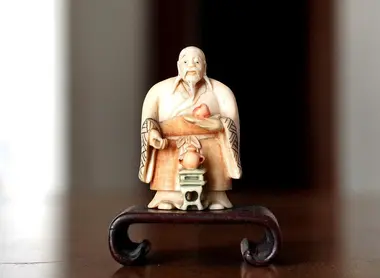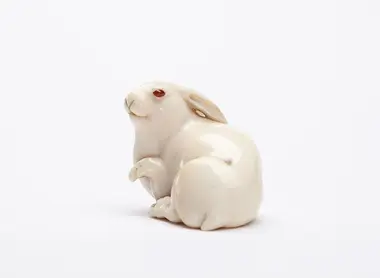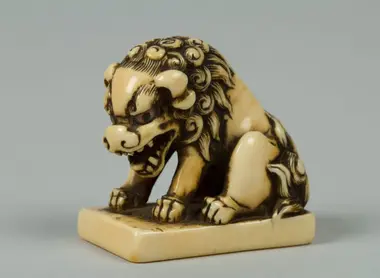 All about Japanese mini-sculptures
From fashionable clothing accessories in Japan during the Edo period, they have become popular collector's items around the world. But what are netsuke and where can you get them?
What is a netsuke (pronounced netsuke)?
It was not until the Meiji era (1868-1912) that bags appeared in Japan. Previously, the Japanese used a Furoshiki to carry their belongings.
Japanese women hid their small effects in the wide sleeves of their kimonos. But the men, wearing kimonos without pockets and with relatively narrow sleeves, used to hang their personal belongings on their obi (belt of the kimono). We then spoke of sagemono, "suspended thing". Purses, medicine boxes, writing sets ( yatate ), tobacco pouches or even sake cups: all hung on the belt .
These various objects therefore had a weight and, around the middle of the 16th century, we had the idea of attaching something else to them to act as a counterweight and keep them in place : the netsuke was born . It is therefore a small carved object, pierced with two holes and attached to the cord of the sagemono .
The etymology of the word suggests that at first it may have been roots, ne ( né , 根) meaning root and tsuke ( tsuké,付), derived from the verb tsukeru : to attach, to assemble.
Read also: Wafuku, traditional clothing and accessories
netsuke fashion
Very quickly, during the Edo period (1603-1868) , craftsmen transformed this everyday object into a refined craft product. To do this, they used all kinds of materials, such as hardwoods of various species: cherry, maple, boxwood and others, horn or porcelain, coral and ivory (elephant tusk but also walrus or narwhal). And above all, they competed in imagination and talent.
The netsuke then came in all sorts of forms: animals, human beings, deities, masks and kabuki and nô characters, myths and legends, monsters, scenes of life... All this sculpted in a mini format. Schools opened in Kyoto, then in Tokyo and in various regions of Japan, each with its own specialty. Some netsuke craftsmen, the netsuke-shi, became famous and made a fortune. Their works bear their signature.
The end of the 17th century and the first half of the 19th century mark the golden age of netsuke . Books were then published listing the works and their creators and all the men who had the means hung real works of art on their obi !
A new era for netsuke
During the Meiji era (1868-1912) the fashion for Western clothing prevailed and the netsuke gradually lost its usefulness. However, some foreigners landed in Japan are not without noticing these unusual and sophisticated objects. In Europe, France in the lead, it was the era of Japonism and collectors or lovers of oriental art took a keen interest in it and many pieces were taken to the West with their owners.
Small and light, the netsuke is the ideal object to bring back or import from Japan. Craftsmen therefore continued to produce them, but in smaller quantities and also of lower quality. Many pieces are now exhibited in museums in Europe or the United States.
In 1975, the International Society of Netsuke, Netsuke Kenkyukai Society, was created, long chaired by a Frenchman, Mr. Robert Fleischel, a great specialist in Japan.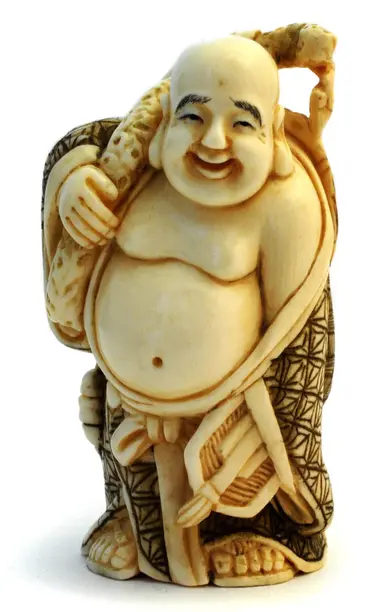 The netsuke market
In the 21st century, the craze for this object has not ceased and collectors from all over the world flock to auctions in European capitals. Some coins can reach astronomical prices. In 1990, an 18th century netsuke depicting a horse broke all records in London with a price of 275,365 euros. In 2005, a 13 cm high ivory statuette representing Shôki wrestling with an Oni (devil) was sold for 127,375 euros, including costs. But in general, netsuke are traded between 100 and 3,000 euros .
The value of a netsuke is due to the quality of its sculpture, its carving , the signature of the craftsman, the rarity of its theme or its originality and its patina. Only its side exposed to light is patinated. This is also one of the criteria that can help distinguish a real from a fake. Because yes, there are more and more copies of netsuke (mainly made in China) on the market. It is therefore necessary to be vigilant and to buy only in trustworthy specialized shops. Fakes would even circulate in the auction room.
In Tokyo, the Sagemonoya gallery, founded by Robert Fleischel, offers a wide range of netsuke and sagemono.
Yotsuya 4-chome 28-20-704
Shinjuku-ku, Tokyo 160-0004 JAPAN
Phone +81-(0)3-3352-6286
http://fr.netsuke.com/
All the themes of the city