Nomikai
飲み会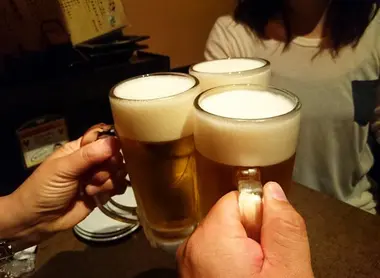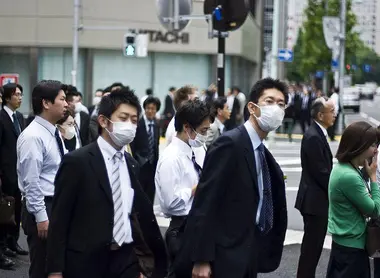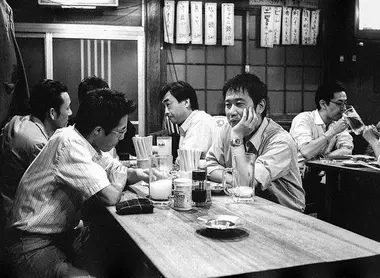 Les salarymen japonais en goguette
Il n'est pas rare derencontrer le soir dans les rues des centres-villes japonais des bandesde salarymen, les employés des entreprises de l'archipelreconnaissable à leur costume, joyeux, les joues un peu rouges,sortant d'un bar ou d'un izakaya. Pour certains, les soirée peuventfinir par une sieste sur le seuil d'un immeuble ou par quelquestitubements dans le dernier métro. En général, il s'agit deJaponais venant de participer à un nomikai.
A business institution
Nomikai literally means "gathering to drink". Employees of a company, often those working within the same department, are invited to meet up after work to drink together, usually to celebrate the completion of a work goal, the departure of old colleagues or the arrival of new ones, or even celebrate someone's birthday. A nomikai can also be suggested any time by a manager, an invitation that's difficult for employees to turn down!Read: The Japanese salaryman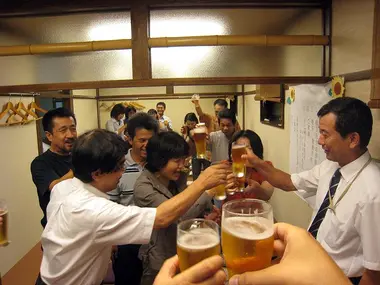 The evening lasts a few hours, during which employees can indulge in as much drinking as they like. It's not considered bad to drink a lot during a nomikai; any remarks made under the influence of alcohol are brushed off as unimportant and won't affect you at work the next day. The tradition during a nomikai is to always let another serve you your drink rather than doing it yourself, often a kohai (younger employee) filling the glass of a senpai (older employee).
The party continues
A nomikai brings all work colleagues together. The group then often breaks up into smaller groups, this time employees who are closer friends will continue the evening at another izakaya or bar. Called a "nijikai", meaning "second meeting", it's an after-party of the party, where employee presence is no longer mandatory. The blood alcohol level of participants tends to rise much faster at this party than during a nomikai. In some cases there's even a "sanjikai" or "third meeting"!
Read: Izakaya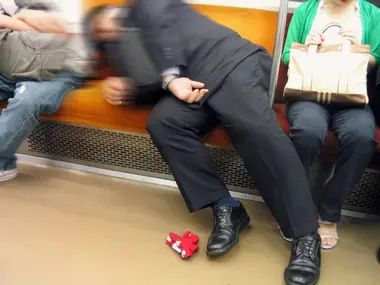 The bonenkai
The bonenkai, or "gathering to forget the year" is the end of year nomikai of a company to which all the employees are invited and strongly encouraged to attend. The goal is to forget any arguments or troubles that have occurred during the year and celebrate the coming year. The management usually tries to subsidize the price of participation in the bonenkai, in order to encourage as many people as possible to come.
All the themes of the city