Yamabushi Mountain Priests
Yamabushi, literally - those who lie in the mountains - are Japanese mountain priests that draw from indigenous kami worship and esoteric Buddhism and are also influenced by Daoism, Yin-Yang Theory, as well as Korean mountain shamanism.
Sacred Mountains and Yamabushi Part 1 山伏
Jake Davies
Mountains have always been sacred to the Japanese. For the earliest Japanese, who settled the coasts and river plains where they could grow rice, the mountains were mysterious and dangerous places.
Mountains were considered the abode of the gods, and also the places where the gods descended from the High Plain of Heaven. The mountains were the source of the water that irrigated their rice paddies, and shrines were placed at the base of the mountains, but not up in the mountains. Few people would venture into them.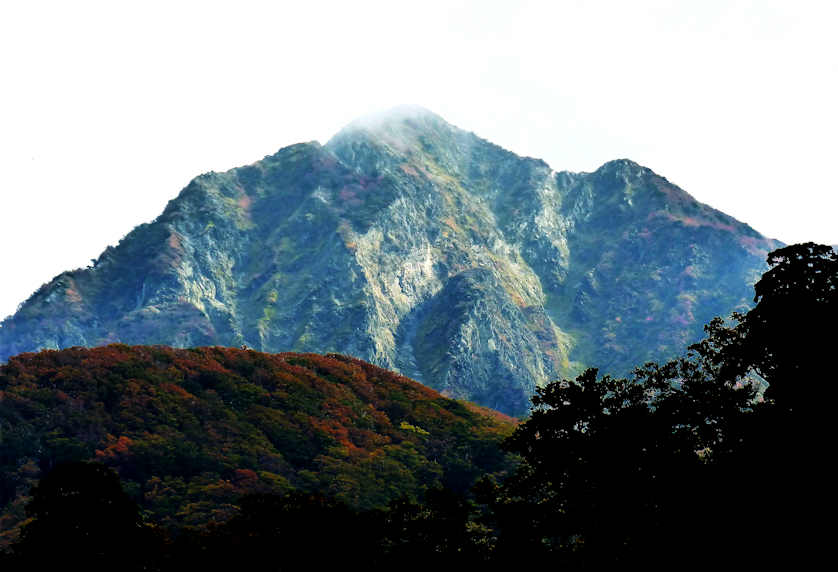 1729 meters high Mount Daisen in Tottori, the highest mountain in Chugoku and a prominent center for Yamabushi and Shugendo since ancient times.
Steep, rugged, remote and foreboding, the mountain of the Kumano region of Wakayama were home to probably biggest concentration of Yamabushi in pre-modern Japan.
With the introduction and subsequent spread of Buddhism, a different, but no less sacred attitude to the mountains took form. Mountains had a pivotal role in early forms of Buddhism, and in China, where Buddhism spread from India and from where much of Japanese Buddhism derives, four sacred mountains became dominant.
Nowadays in Japan, temples will have two names, one of which will be a mountain. In Japan a new breed of "holy man" developed, men who went into the mountains to search for  spiritual guidance, practice austerities, and develop magic powers.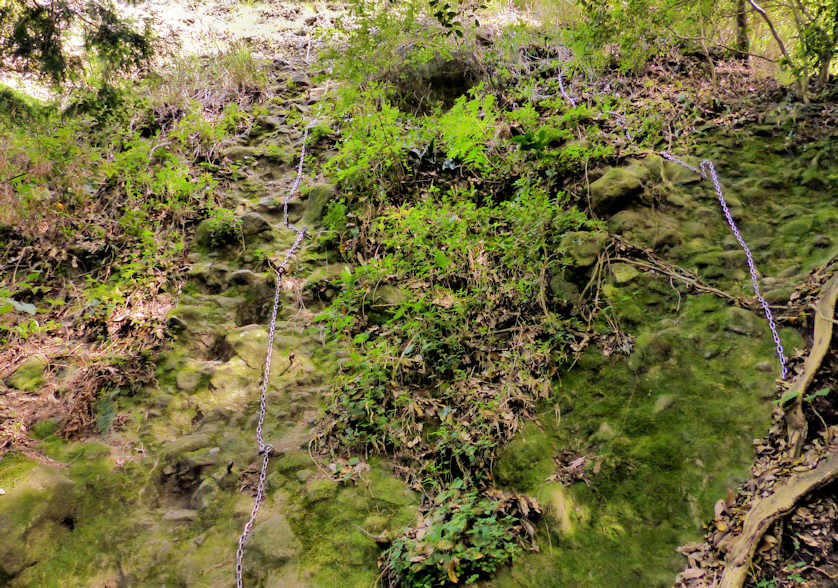 Iron chains used by yamabushi to climb difficult terrain are a common feature at many of the old mountain training centers. These are in the mountains of the Kunisaki Peninsula and are part of a modern trail that follows the old yamabushi pilgrimage route.
Caves, some with temples and altars built into them are found at many of the old yamabushi centers. This is the Nageiredo, a National Treasure at Mitokusan in Tottori.
Those who lie in the mountains
Called "Yamabushi" - literally "those who lie in the mountains", they drew from indigenous kami worship and esoteric Buddhism but were also influenced by Daoism, Yin-Yang Theory (Onmyodo in Japanese), as well as Korean mountain shamanism.
Eventually they became organized as a sect known as Shugendo, and "shugenja" is another word interchangeable with yamabushi. I used the phrase "holy man" rather than "holy person" because in most cases women were forbidden from entering sacred mountains, something that didn't change until the modern period, though actually Mount Omine in Nara is still off limits to females.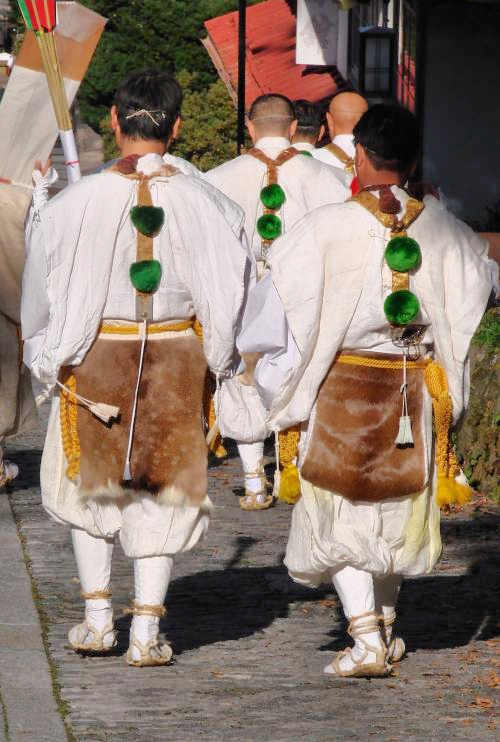 A gathering of yamabushi on Mount Daisen. The goatskin hisshiki clearly visible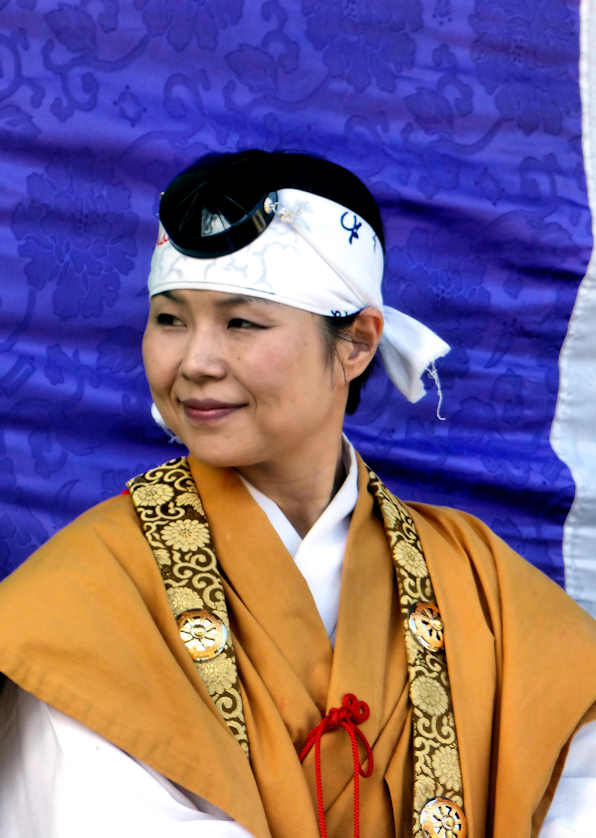 A sign of the times, women are now allowed to be yamabushi
Yamabushi Mountains
There are literally hundreds of mountains scattered across Japan that have sites, shrines, and temples associated with yamabushi, but some areas were home to particularly large communities of yamabushi. In northern Kyushu, Mount Hikosan and the whole of the nearby Kunisaki Peninsula were big centers. On Shikoku, Mount Izushi, the highest mountain in West Japan, was a main center.
In Western Japan there is Mount Daisen in western Tottori Prefecture, in the far north the three sacred mountains known as Dewa Sanzen, but without a doubt the biggest center for Shugendo was the the Kumano mountains on the Kii Peninsula in Wakayama and stretching up to Mount Omine and Yoshino to the north in Nara.
From here yamabushi spread out across the country. By the Edo Period yamabushi could be found everywhere, often performing healing rituals, exorcisms etc. At times some traveled with a "wife", a miko, who would go into a shamanic trance under the direction of her "husband".
Many shrines and smaller wayside temples would not have permanent priests and the yamabushi provided services not available otherwise, in fact there were very few Shinto priests at all, so many Shinto rituals would have been performed by yamabushi. They also functioned as guides on the many pilgrimage routes, especially the ones to Kumano. When modern Japan began to take shape  in the late 19th century the new government outlawed Shugendo labeling it as a primitive set of superstitions with no place in a modern society (unlike the new religion they created that had the emperor as a "living god").
In the postwar period, with the American influenced constitution guaranteeing religious freedom, Shugendo has been revived, though there is no central authority, much like it was in its earliest days. Yamabushi can now be seen at all the old sacred mountains, and weekend training courses that fit the modern lifestyle have proliferated.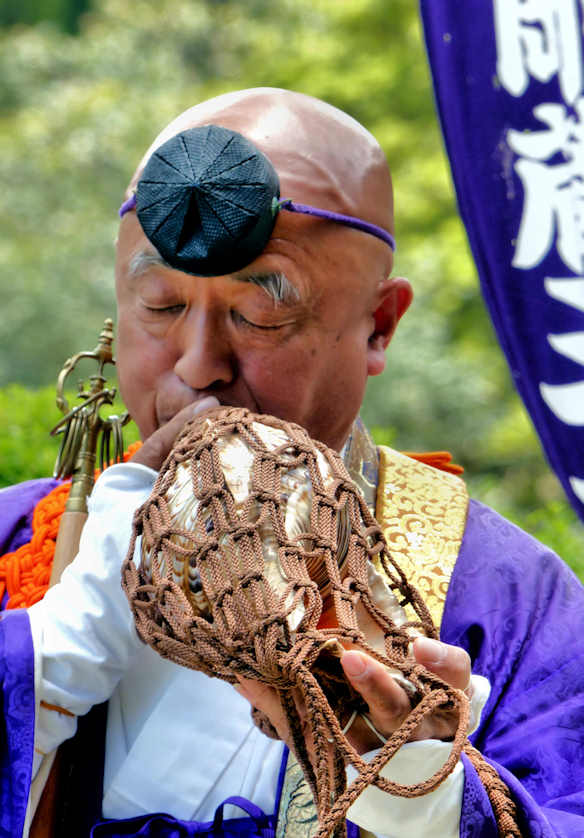 A yamabushi playing a horagai, a conch shell trumpet, as part of a Goma ritual
Yamabushi Clothing & Accessories
There are several items that clearly distinguish Yamabushi from other religious practitioners, most notably their headgear, a small cap called a tokin.
A tokin is a very small, black, box, and is worn at the top of the forehead. It is believed to have been larger in earlier days, and because it is lacquered it is quite hard. By being worn on the forehead it helped protect the head when traveling through dense forest, and now it doubles as a drinking cup.
The other noticeable item worn by yamabushi is the hisshiki, a piece of animal skin hanging down and covering the rear end. Usually goatskin, though could be deerskin or bearskin, its function is for sitting on and keeping the rear end warm in the cold, damp forests.
Another item that identifies a yamabushi is something he carries - a conch shell. Called a horagai in Japanese, it is a little different than the conch shell trumpet played at other places around the world in that a mouthpiece has been added so that a variety of tones can be produced rather than the single tone found everywhere else.
It is used during ceremonies and rituals, but also to signal across long distances in the mountains.
Though not as numerous as in earlier times, yamabushi can be seen all over Japan but especially at the numerous sacred mountains that are strongly linked with them.
In part II, I will introduce some of the gods, myths, and other symbols associated with the yamabushi.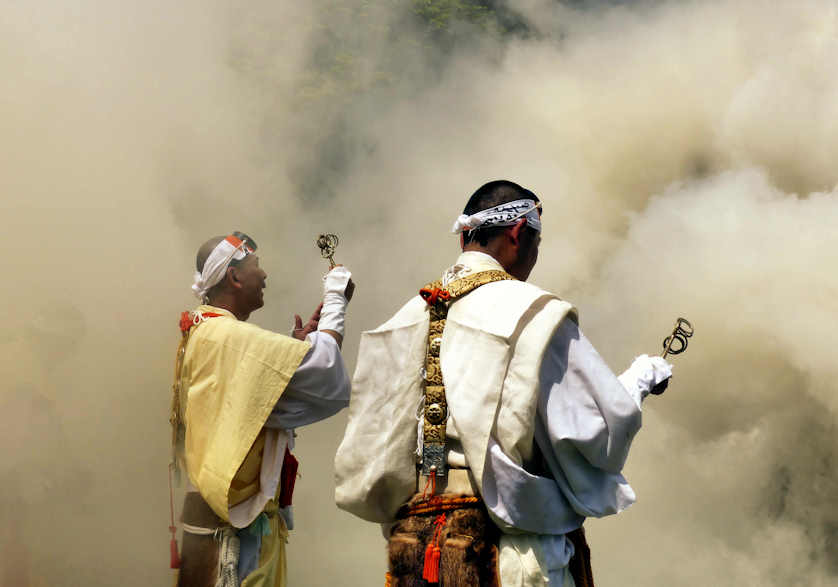 Yamabushi performing a Goma, fire purification ceremony. Yamabushi goma is performed outside, but standard Buddhist goma is performed inside, though both are performed in front of a statue of Fudo Myo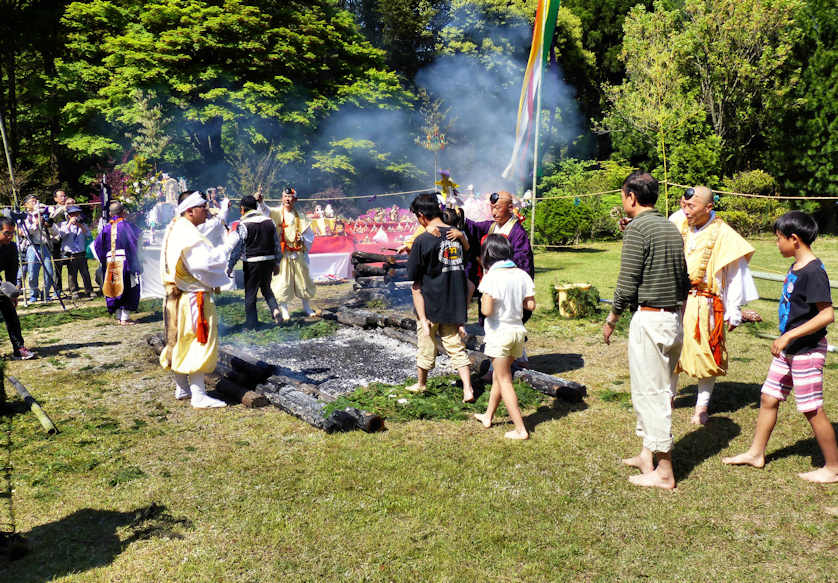 Following a goma ritual yamabushi lead attendees in some fire walking
All the themes of the city