Smartphone Apps for Your Japan Rail Travel

How to make your trip easier ?
Check out a few of our favorite apps to use when traveling Japan by rail! Order your JR Pass today - available in 7-, 14-, and 21-day passes.
Travel with the Japan apps
Many travelers who visit Japan are intimidated by transportation in the country: the labyrinth of the Tokyo subway system, the unfamiliar language,
the rules to follow
… Your JR Pass takes a lot of the hassle out of your trip, and now with your smart phone, you can make it even easier!
Here are a few of our favorite apps for travel in Japan.
Getting around Tokyo
If you have a jam-packed schedule visiting all of the exciting places in Tokyo, the Tokyo Metro app is your new best friend. Available in English, French, Spanish, German, and Japanese, this app will tell you how to get from point A to point B without following the complicated metro map. It can even use your current location to help you find the nearest station!
Get the app for your iphone here.
The City Rail Map App will also give you transportation information about the Tokyo area.
If you need to book a taxi, the JapanTaxi App has an english version.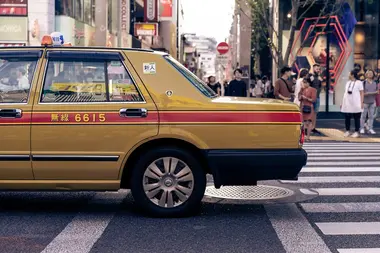 Getting around language barriers
You'll find that Japanese people across the country are extremely friendly and helpful (regardless of their English ability!), but for the most dire of circumstances, the Yomiwa app can get you over the language barrier.
This app, which is available even when you're not connected to the internet, will translate the Japanese that you see around with from photos taken with your smart phone!
Find it here.
 
The new Japan Travel Guide App for tourist can help you to find interesting spot and restaurant.
Getting around the rest of Japan
Hyperdia is one of the popular application for travelers to get organized and get moving while traveling through the country. Not only is the website convenient, you can also download their app and keep their endless resources of train schedules in your pocket! For lightning-fast info, try their Hyperdia for Voice application, too.
For more information on how to use Hyperdia, you can read our article. *Please note that since April, 2022, Hyperdia has stopped updating its timetable details.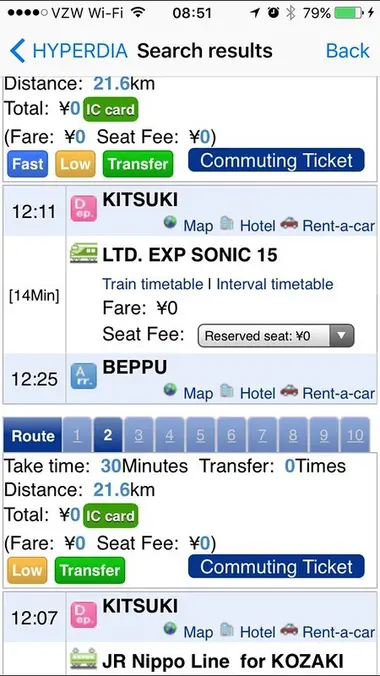 Known as Japan Transit Planner, Jorudan is one of the best alternative application for navigating the train system in Japan.
Jorudan has a web and mobile version - both on Android and Apple, and on which you can search train, airline and highway bus schedules in Japan and compares prices. It is available in 13 languages including Japanese, French, English, Spanish and German. 
If you are traveling with a Japan Rail Pass, this application is made for you as the free version includes a JR Pass option and allows results to be limited to trains covered by the JR Pass.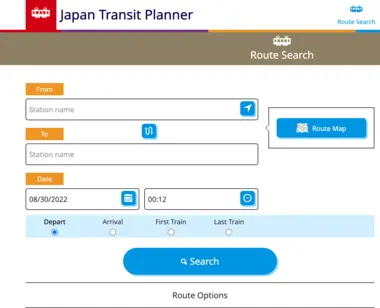 Unlimited 24-hour high-speed internet access during your trip with our prepaid SIM card
All the themes of the city