Ukiyo-e: glossary and useful addresses
浮世絵 語彙と有用な住所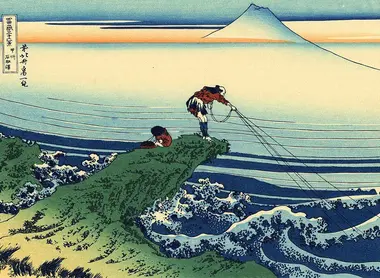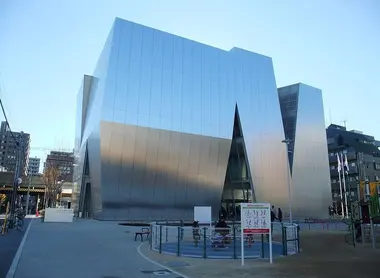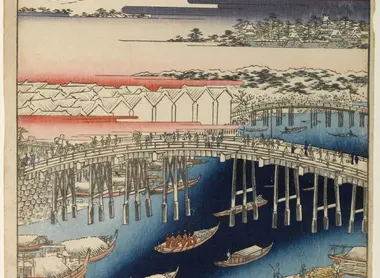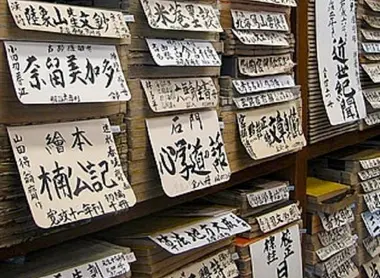 Notice to amateurs and collectors
How about bringing back a Japanese print as a souvenir during your stay in the archipelago? Here is our glossary to help you find the rare pearl and the addresses of specialized museums and galleries.
Find our selection of terms to know.
General and technical
Aratame : censor stamp meaning "examined".
E : image, painting, print.
Fude (or hitsu) : means "due to the brush", added to the artist's signature.
Ga : "designed by", is placed after the artist's signature.
Karazuri : paper embossing technique.
Kirazuri : addition of mica powder on the prints for a shiny effect.
Kiwame : censor's stamp used from 1790 to 1842 meaning "approved".
Nikishi-e : polychrome print called "debrocade print".
Sumizuri-e : print in black ink obtained in a single pass.
Ukiyo-e : artistic movement of the Edo period, symbolized by the representation of the ephemeral, of "floating world".
Urushi-e : Lacquered image.
Types of prints
Bijin-ga : print representing "beautiful people", more precisely beautiful young women.
E-goyomi : calendar in the form of a print.
Fūkei-ga : landscape print.
Kacho-e or kacho-ga : print of flowers and birds.
Meisho-e : print illustrating a famous place.
Mitate-e : print parodying a famous legend or a historical episode in a contemporary scene.
Musha-e : print representing warriors, images of war.
Okubi-e : bust portrait, close-up.
Shini-e : print commemorating a deceased actor or artist.
Shunga : literally "spring scenes". This term refers to an erotic print.
Surimono : very refined print, reserved for commemorations or any other exceptional event and produced on the initiative of clubs or private orders.
Uchiwa-eban : print on which the contours of a fan form a frame in the image.
Yakusha-e : portraits of kabuki actors.
Sizes
Ehon : book, illustrated album.
Hashira-e : very narrow vertical print intended to be hung on the pillar of a house.
Kakemono : scroll clinging to the wall.
Oban : the most used vertical format measuring 37 to 38 x 25.5 cm.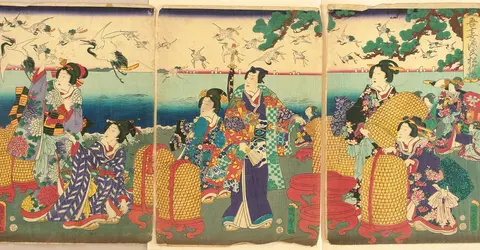 Useful addresses: museums, galleries, bookstores
Ota Museum (Tokyo)
1-10-10, Jingumae, Shibuya-ku, Tokyo
Telephone: +81 (0)33 403 0880
http://www.ukiyoe-ota-muse.jp/
Sumida Hokusai Museum (Tokyo)
2-7-2 Kamezawa, Sumida-ku, Tokyo 130-0014
Telephone: +81 (0)366 588 931
http://hokusai-museum.jp/
Japan Ukiyo-e Museum (Matsumoto)
2206-1 Koshiba, Shimadach, Matsumoto, Nagano Prefecture
Telephone: +81 (0)263 474 440
http://www.japan-ukiyoe-museum.com
Fujisawa Ukiyo-e Museum (Fujisawa) 2 Chome-2-2 Tsujidōkandai, Fujisawa-shi, Kanagawa-ken 251-0041
Telephone: +81 (0)466 330 111
http://fujisawa-ukiyoekan.net/en/index.html
Nakagawa-machi Bato Hiroshige Museum (Nakagawa)
116-9 Bato, Nakagawa-machi, Nasu-gun, Tochigi 324-0613
Telephone: +81 (0)287 921 199
http://www.hiroshige.bato.tochigi.jp/
Hiroshige Museum (Tendo)
1 Chome−2−1, Kamatahoncho, Tendo, Yamagata 994-0025
Telephone: +81 (0)236 546 555
http://www.hiroshige-tendo.jp/index.html
Hiroshige Museum of Art (Ena)
176-1 Oichō, Ena-shi, Gifu-ken 509-7201
Telephone: +81 (0)573 200 522
https://hiroshige-ena.jp/
Tokaido Hiroshige Museum (Shizuoka)
297-1 Yui, Shimizu-ku, Shizuoka 421-3103, Shizuoka
Telephone: +81 (0)543 754 454
http://tokaido-hiroshige.jp/
Daishodo Bookstore (Kyoto)
604-8045 Enpukujimae-cho, Nakagyo-ku, Kyoto.
Telephone: +81 (0)752 210 685
https://www.vivrelejapon.com/ville-kyoto/daishodo
Bookstore - Mokuhankan Gallery (Tokyo)
Asakusa 1-41-8, Taito-ku, Tokyo.
Telephone: +81 (0)705 0111 418
https://mokuhankan.com/index.html
Ohya-shobo Bookstore (Tokyo)
1-1 Kanda, Jimbocho, Chiyoda-ku, Tokyo.
Telephone: +81 (0)332 910 062
http://www.ohya-shobo.com/
All the themes of the city