Exploring the Seto Inland Sea and the Setouchi Triennial
The Seto Inland Sea is nestled between the islands of Honshu, Shikoku, and Kyushu.
It is one of the treasures of western Japan, part of the islands and their surroundings of which is also called the "Setonaikai National Park". The latter is home to more than 3,000 islands, including the well-known island of Miyajima with its UNESCO World Heritage-listed Itsukushima Shrine. There's also the more anonymous port of Tomonoura, the village that inspired Hayao Miyazaki's animated film "Ponyo on the Cliff," the infamous city of Hiroshima, or the magnificent Himeji Castle.
The eastern part of the Seto Inland Sea between the islands of Honshu and Shikoku is known as Setouchi (pronounced Se-to-ou-chi). This is mainly the part of the sea between Okayama and Kagawa prefectures.
---
---
The Setouchi Triennale, a breath of life
The Seto Inland Sea had been a vital and busy trade route of the region since ancient times. The boats then sailed daily from island to island and from port to port, transporting materials and objects, but also know-how and knowledge. The dynamism of the region is today in decline with a rural exodus and aging of the local population, as well as a decreasing economic activity in the region.
In reaction to this, the international art festival called the Setouchi Triennale was created and is held every three years. Its objective is to breathe new life into this magnificent region, full of riches. On this occasion, works are installed in different places and invite visitors to navigate from one island to another, like the merchants of yesteryear.
The last edition of the Setouchi Triennale took place in 2019, and was built in three stages:
It should also be noted that some of the works, in the open air or the many museums in the region, were permanent or semi-permanent. So you might be able to enjoy some of them on your next trip, ahead of the next Triennale in 2025!
Check out these works of art by discovering the many islands of the Seto Sea where the festival is organized. Take the opportunity to explore the islands and their fishing villages, their Buddhist temples, and their Shinto shrines.

The Setouchi Triennale Festival was held in 2019 across 12 islands as well as Takamatsu City and Uno Port. Among the islands that we recommend:
And there are also: Megijima , Ogijima , Oshima, Shamijima , Honjima , Takamijima , Awashima and Ibukijima .
---
Traveling from island to island
To get to these exhibition sites, you will have to take a boat! The public transportation network for the islands is very well developed and you will have no difficulty navigating the Seto Inland Sea. Read our article on how to get around during the Setouchi Triennale.
We invite you to see the details via the official website of the Setouchi Triennale: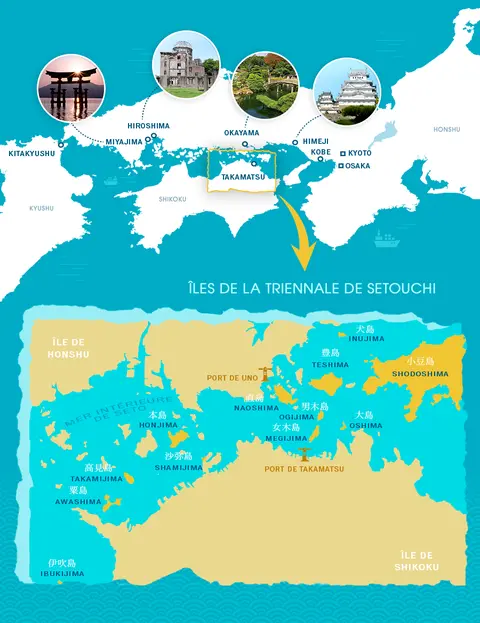 Book your regional JRP to explore the Setouchi region!