Fugu in Usuki
Fugu in Usuki: read a guide to eating fugu (blow fish) in Usuki in Oita Prefecture, Kyushu, Japan which is famed for this deadly delicacy.
Fugu in Usuki: 臼杵のふぐ
Johannes Schonherr
Fugu, the fabled poisonous blowfish, still manages to scare a lot of people off from even trying its fabulous taste. Others are just afraid of the tab - fugu doesn't come cheap.
Fear not. There are ways and places to enjoy even the potentially most deadly parts of the fish in (near) perfect safety and without burning a hole in your pocket - especially in winter, the traditional season for the fish.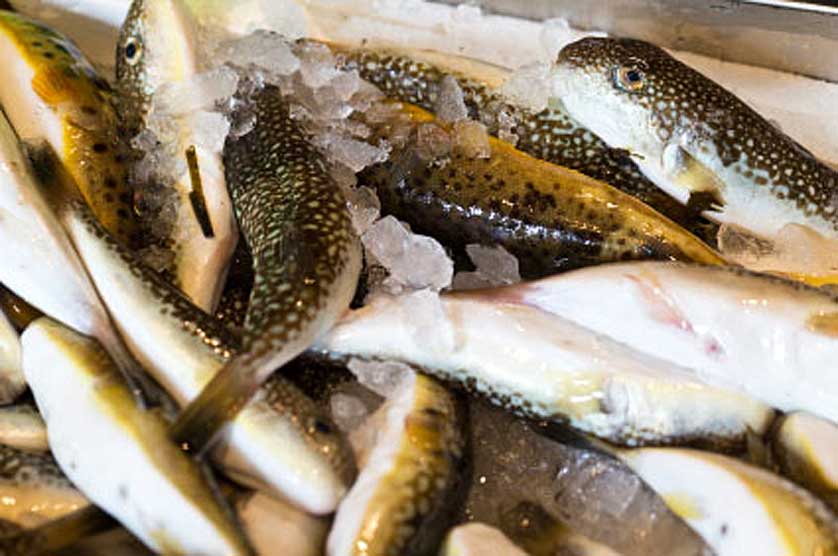 Freshly caught fugu
Usuki
The fugu is a creature of the south of Japan and you should head in this direction for a fine fugu meal. One perfect destination might be Usuki in Oita Prefecture. Usuki is a beautiful old samurai castle town, where whole areas have survived almost unscathed from the Edo times or even before and it offers a variety of fugu restaurants that ranges from the exclusive: the Yamadaya whose Tokyo branch has three Michelin stars (and that's only the Tokyo outlet!) to pretty basic lunchtime specials where you can have an easy but still quite enjoyable fugu lunch for about 3000 yen. There are plenty of restaurants operating on levels between these extremes - this small town is home to more than 20 fugu eateries.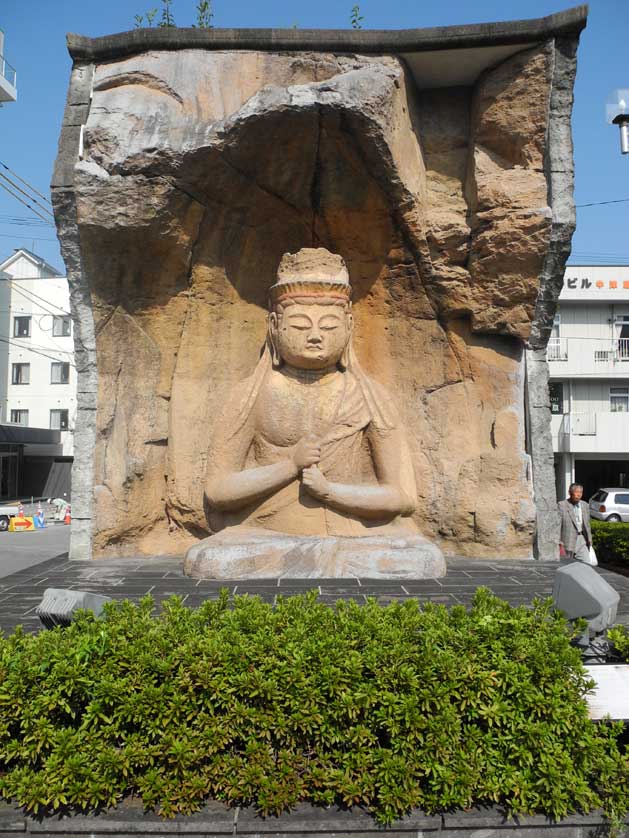 Stone Buddha replica in front of Usuki Station. Usuki is famous for its real ancient stone Buddha sculptures

Fugu History
But before you entrust your life to the cook, you might want to do some sightseeing. Ask the ticket seller at the train station for a free bicycle. He will give you the key for one of the yellow tourist bikes they keep there.
Go to the historic samurai area, visit the beautiful Ryugenji pagoda, pedal through the quiet, ancient streets. Don't miss the ruin of Usuki Castle close to the city center. Though it's not exactly spectacular, you get a good view of the harbor and out to the sea from there. It's a good place to ruminate a bit about the history of both the fish and Usuki.
From here, in the mid-1500's, Usuki daimyo Otomo Sorin sent his samurai out to fight neighboring clans. Having received the first Portuguese missionary to ever show up on Japanese shores, Francisco Xavier, Sorin had converted to Christianity. But the Christian god didn't seem to be on his side - he lost his castle to the enemy. Help came eventually from Shogun Toyotomi Hideyoshi who in his conquests to unify Japan, sided with Sorin and with his help brought the various southern daimyo (feudal lords) under his rule.
Having conquered all of Western Japan, Hideyoshi set out to take over Korea. Now, that's were the fugu comes in. Many of his soldiers were from the mountains and didn't know much about fish. While waiting for more troops to arrive in Shimonoseki, the starting point of this conquest, they had a bit too much time on their hands and went out to the sea to catch fish - just like they had seen the locals doing.
They caught a lot of fugu and cut them up with their unskilled hands, puncturing the poisonous inner organs. The death toll was devastating. Fearing that his expedition might falter before it even started, an enraged Hideyoshi declared fugu prohibited - once and for all.
However, people on the southern shores of Japan had figured out how to enjoy the poisonous fish long before Hideyoshi's war and they continued to prepare it - though serving fugu now became strictly an underground business.
In 1888, then Japanese prime minister Hirobumi Ito spent some time on government business in Shimonoseki, staying at a private guest house. The waves where high right after a typhoon and no fisherman wanted to go to sea. "Sorry, we can only serve dried fish," the guest house couple told the mighty statesman. Ito being Ito, the strong character who later managed to accomplish what Hideyoshi had failed to do by bringing Korea under Japan's thumb, he demanded fresh fish, no matter what.
He got his fresh fish - an especially tasty fish for that matter, a fish he had never tasted before. Asking for the name of the fish after the meal, the guest house owners reluctantly admitted, that yes, this was the prohibited fugu. Having not only survived the meal without harm but greatly enjoyed it, Ito got the law changed: fugu was legal again! First only in Yamaguchi Prefecture, where Shimonoseki is located, later the other prefectures followed.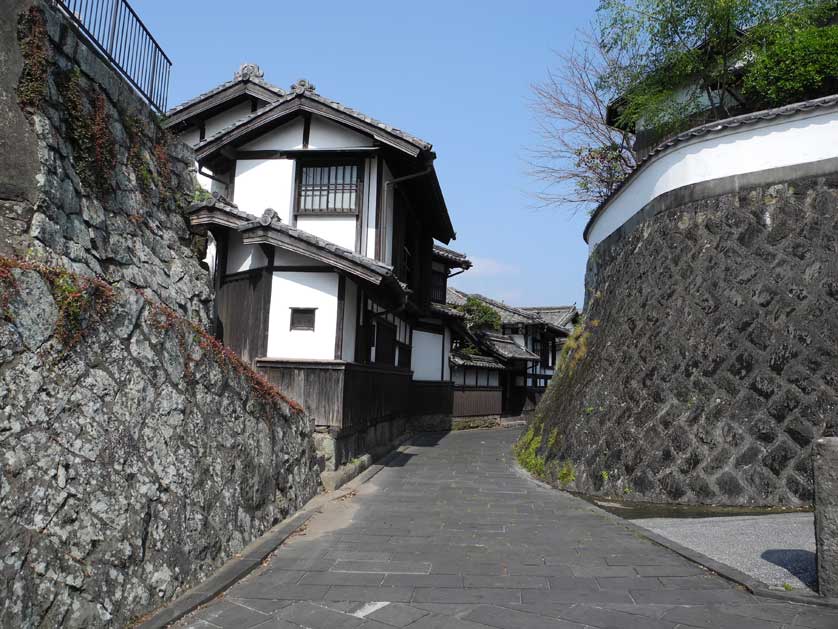 Usuki's old samurai quarter, Oita Prefecture, Kyushu, Japan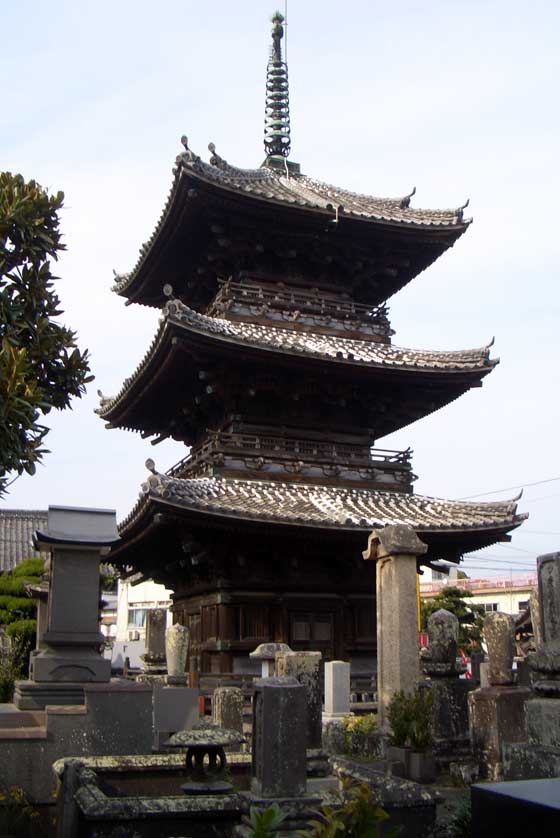 Ryugenji Pagoda in Usuki, Oita Prefecture, Kyushu, Japan
Fugu Liver in Oita Prefecture
Oita Prefecture was rather slow to catch on. But once it did they went the most radical way. There, even the consumption of fugu liver was (somewhat) permitted. However, beware as the liver is the most dangerous part of the fish.
Though available in virtually all fugu restaurants in the prefecture and an indispensable part of the menu, fugu liver is not overtly advertised. Look at the pictures Oita fugu restaurants publish - fugu liver will not be there. It is listed on the restaurant menus, though, along all other dishes served.
That semi-legal status of the fugu liver, perpetually threatened by politicians on a crusade bent to outlaw it, makes it just that much more appealing to some.
Fugu liver (kimo) is typically served in two ways. One is the kimo ae, usually an appetizer. It's fugu liver mixed with slices of the fatty, inner parts of fugu skin.
Most commonly, though, it is served on the general sashimi plate. Just take a slice of that see-through thin fugu sashimi and wrap it around a bit of that creamy grey stuff (the liver).
A real master fugu chef will leave just enough of the fugu poison in the liver to make your fingertips a bit numb after the meal.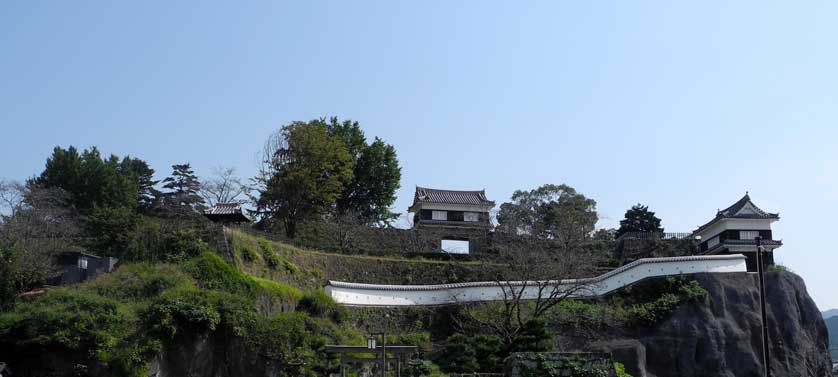 Usuki Castle, Oita Prefecture, Kyushu, Japan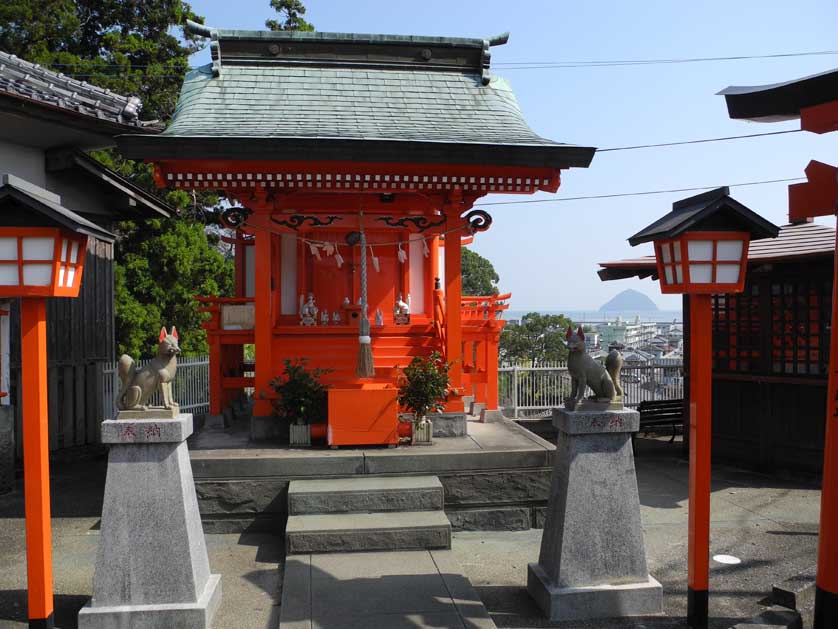 Shrine with a view to the sea at Usuki Castle in Usuki, Oita Prefecture, Kyushu, Japan

Access - Getting to Usuki
Ferry: The easiest and most relaxing way is to take the overnight Kansai Kisen Ferry from Osaka or Kobe to Beppu, then the direct train to Usuki. www.ferry-sunflower.co.jp
Air: Fly to Oita Airport, take the bus to Beppu and from there a train to Usuki.
Train: Take the shinkansen to Kokura, then the Sonic Express to Oita city, then a local train to Usuki.
Fugu restaurants in UsukiThere are too many fugu restaurants in Usuki to list them all. The restaurants listed below are just intended to give just a small impression of the range available.
High end: Yamadaya: (the site also has info on their branches in Tokyo and Oita city, in Japanese)
Affordable on payday: Horikawa Omoya: (in Japanese)
Cheap but good lunch deals from 3000 yen on (though much more expensive courses also on offer):
Kiya (in Japanese)
Related Oita Prefecture Articles
Mount Takasaki Monkeys
Keishoji Temple CavesUsuki Stone BuddhasSuppon Turtles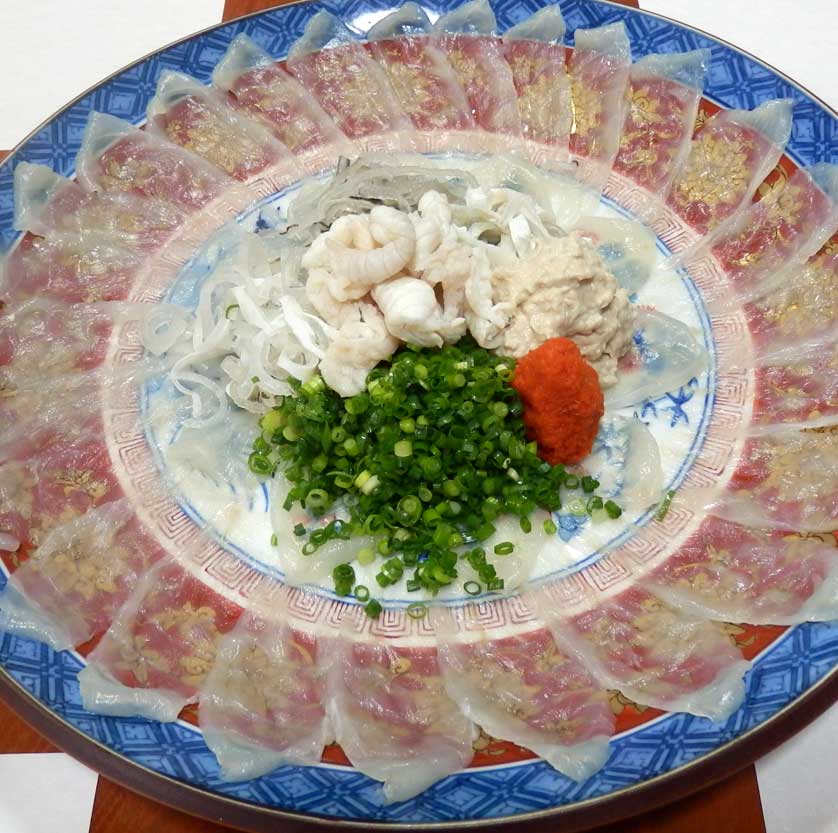 The grey matter is fugu liver
All the themes of the city