William Adams
William Adams 三浦按針
William Adams 1564-1620
Born Gillingham, Kent, England; died Hirado, Nagasaki, Japan
English sea captain, pilot and later samurai
Vassal of Shogun Tokugawa Ieyasu
aka Miura Anjin
Arrived in Japan 1600
Helped found the English trading 'factory' on Hirado
Engaged in 'Red Seal' trade with South East Asia
Built first western-style ships in Japan and became an adviser/translator to Ieyasu Tokugawa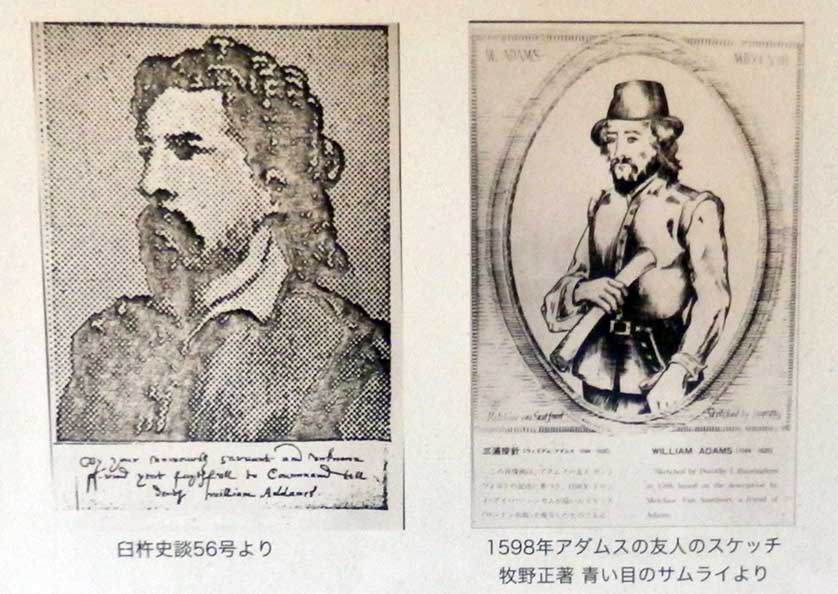 Sketches of William Adams made during his lifetime, Tokaikan, Ito
Early Life of William Adams
William Adams, known in Japan as Miura Anjin ('Pilot'), is thought to be the first Englishman to have set foot in Japan.
Born in Gillingham, Kent in 1564 Adams started work as an apprentice in a shipyard in Limehouse, London at age twelve. After twelve years of study of astronomy, navigation and shipbuilding, Adams joined the Royal Navy under the command of Sir Francis Drake and saw service against the Spanish Armada in 1588.
Aged thirty four, Adams joined a Dutch expedition of five ships to the East Indies as a pilot. After various adventures off the coasts of Africa and South America, only one ship of the original flotilla, the Liefde, with a crew of just twenty, starving men arrived off the coast of Kyushu.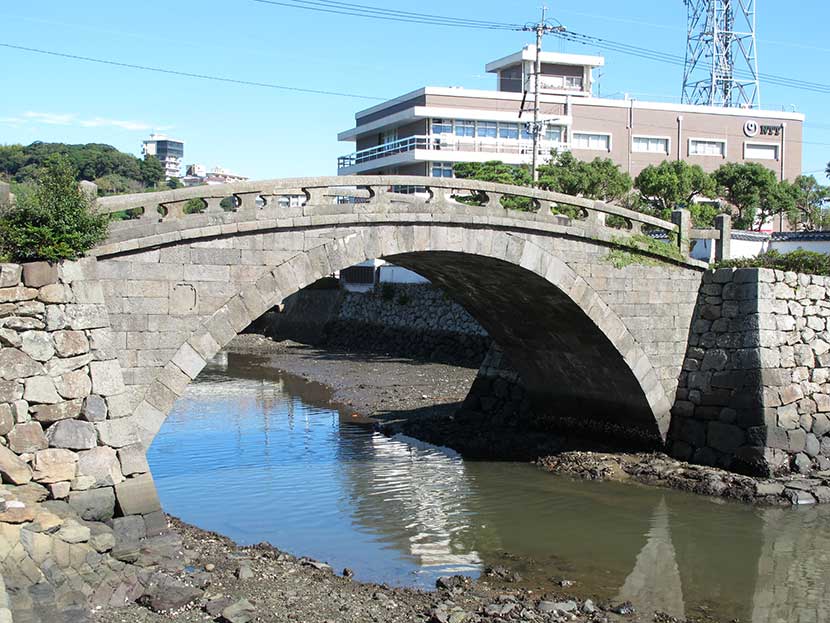 Dutch Bridge, Hirado, Nagasaki
William Adams' Grave, Hirado, Nagasaki
William Adams' Arrival in Japan
Resisting pressure from Portuguese Jesuits, who wanted the men put to death as pirates, the surviving crew were imprisoned in Osaka Castle on the orders of Ieyasu Tokugawa and the Japanese authorities.
Summoned to meet Ieyasu, Adams impressed the future Shogun with his knowledge of ships and navigation and was released from confinement.
In 1604, Ieyasu ordered Adams to build Japan's first western-style vessel and over time the two men's relationship strengthened as Adams built more ships and lead trading expeditions, the so-called "Red Seal" voyages, on behalf of the Shogun to Thailand and Vietnam in South East Asia. Eventually Adams was granted the title of hatamoto - a samurai in direct service of the Shogun - and granted lands and servants near present-day Yokosuka.
Although married in England, Adams took a Japanese wife, possibly called Oyuki, the daughter of a highway official, with whom he had two children - Joseph and Susanna. Adams also had a consort in Nagasaki with whom he had another child born after his death, as during the latter part of his life Adams became estranged from his Japanese wife.
Adams was influential as a translator in the setting up of Dutch and English trading stations in Hirado and Nagasaki, though the English 'factory' at Hirado (1613-1623) proved unprofitable and was abandoned.
Adams was unable to establish a good relationship with the English representative in Japan, John Saris, who disliked Adams for his adoption of a Japanese lifestyle and habits. Adams advised against Hirado (a small island off Nagasaki) as a permanent trading post and favored Uraga much nearer to Edo (present-day Tokyo). Adams refused to return to England with Saris, due to his dislike of the man.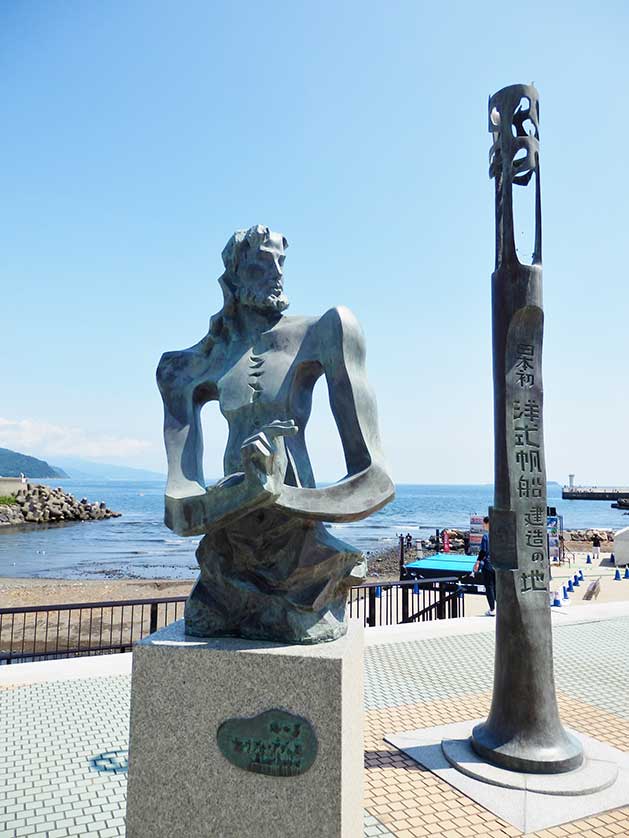 Bust of William Adams by Kenji Shigeoka at Anjin Memorial Park, Ito
Death of William Adams
Adams died in Hirado aged 55 and his tomb and memorial stone look out over the sea. A stone from his wife's grave in the UK was brought over so the two could be united in some way.
Adams was largely forgotten in Japan after his death and is mostly known to Westerners nowadays due to his depiction in James Clavell's best-selling novel Shogun, and then the TV mini-series of the same name.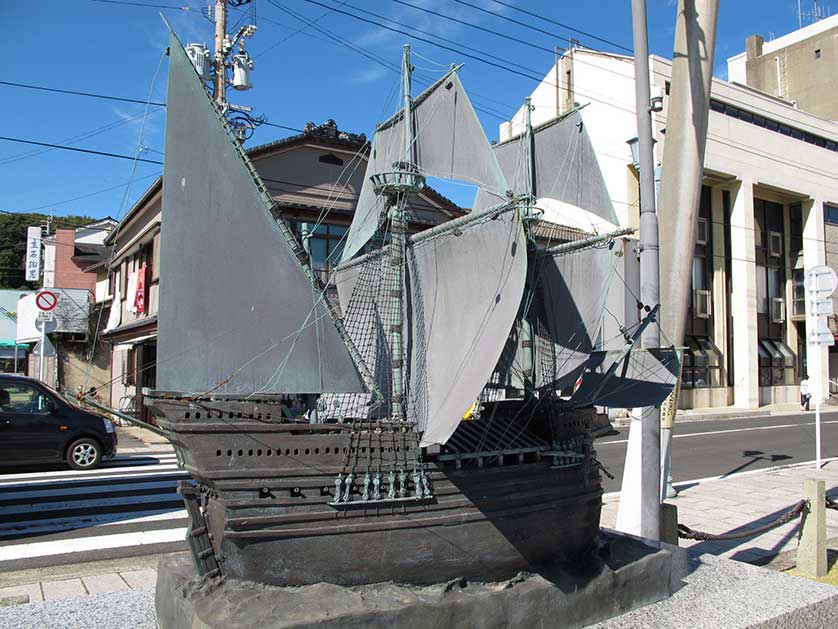 Model of a sailing ship in Hirado, Nagasaki Prefecture, Kyushu
Book Hotel Accommodation in Tokyo
William Adams: read a biography of William Adams, the English seafarer and samurai of the Edo Period. Adams became an adviser to shogun Ieyasu Tokugawa.
All the themes of the city