Japan Festivals - June
June Japan Festivals 6月の祭り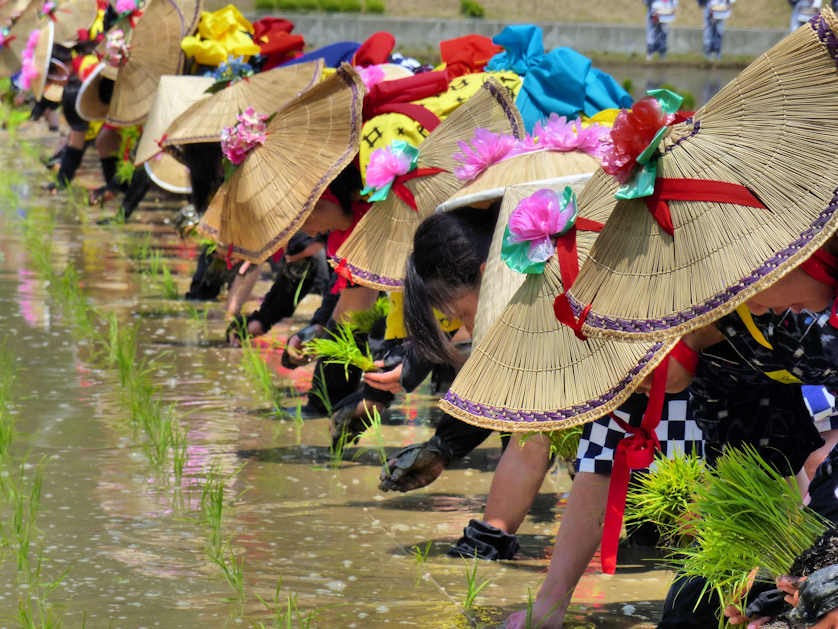 Tauebayashi, a traditional rice planting festival in Japan that can be seen in rural areas especially Shimane Prefecture in late June
Takigi Noh Performance
1-2 June
Heian Shrine, Kyoto
Noh performances illuminated by blazing torches with the classic architecture of the Heian Shrine in the Okazaki district of Kyoto and the Higashiyama hills in the background. The only unreserved seats are the mats and benches at ground level. Many bring their own picnics and tickets are on sale (300 yen) from 4.30 pm. Performances last until around 9pm.
Access: take bus no. 5 from Kyoto Station to Kyoto Kaikan-mae (20 min)
Kaiko Kinenbi (Yokohama Port Opening Festival)
1-2 June
Minato Mirai and Rinko Park, Yokohama
Annual celebrations marking the opening of Yokohama Port. Festivities include boat races, processions, music, dancing and a marketplace.
Access: Sakuragicho Station, Yokohama
Dontsuku Festival
Early June
Higashi Izu-machi, Shizuoka Prefecture
A fertility festival in which local geisha parade through the streets carrying carved phalluses in order to pray for harmonious marital relations and the prosperity of one's descendants.
Ryori Amaterasu Mioya Shrine Shikinen Taisai
Early June
Ryori-chiku, Sanriku-cho, Ofunato City, Iwate Prefecture
This once-every-five years festival began in 1931, and is by fishermen praying for good catches. A nighttime Shinto ritual is followed by a daytime parade of portable shrines and boats, as well as a lion dance featuring the biggest gongen lion costume in Japan. Next to be held in June 2016.
Enshu Hamakita Hiryu Matsuri
1st Sat and Sun of June
Hamamatsu City
The festival honors Ryujin, the god of the Tenryu River, and includes kite flying in Hamakita (Hamakita Takoage), a fire-festival parade of a flying dragon's head (Hiryu Himatsuri) and performances of Japanese drums (taiko). The Enshu Hamakita Hiryu festival celebrates water, sound and flame.
Yosakoi
Agata Festival
June 5
Agata Shrine, Uji, Kyoto Prefecture
The festival begins late in the evening of June 5th at Agata Shrine in Uji and lasts through to the next morning. A portable shrine (mikoshi) is carried out of the shrine grounds and around town. Along with the mikoshi, the participants in the parade carry a bonten, which is a long piece of wood with many oblong pieces of white paper attached to it to form a large ball. In the darkness the bonten is waved about in a ritual called bonten-mawashi. If one catches a piece of paper that falls from the bonten it acts as a powerful charm to drive away evil. Agata Shrine is close to both JR and Keihan Uji stations.
Rice Planting Festival
14 June
Sumiyoshi Shrine, Osaka
Major rice-planting festival that dates back more than 1,700 years. 12 women ritually plant rice seedlings in the shrine's paddy field to the accompaniment of traditional music and rice-planting folk songs.
Access: Sumiyoshitaisha Station, Sumiyoshi-toriimae Station, Osaka
Info: 06 6672 0753
Izawanomiya Otaue Matsuri
14 June
Izawanomiya Shrine, Mie Prefecture
Rice-planting festival at a sacred rice field within the precincts of the grand shrine at Ise. After the rice-planting itself, the Taketori-shinji ritual is performed by a group of loincloth-wearing men who battle in the muddy paddy field for charms attached to a 14m high bamboo pole.
Sapporo Festival of Hokkaido Shrine
14-16 June
Sapporo, Hokkaido
On the last day of the festival a parade of four palaquins and eight decorated floats begins from near Toyohira-koen Station through Odori Park. The shrine is a 15-minute walk from Maruyama-koen Station on the Tozai Line of the Sapporo subway.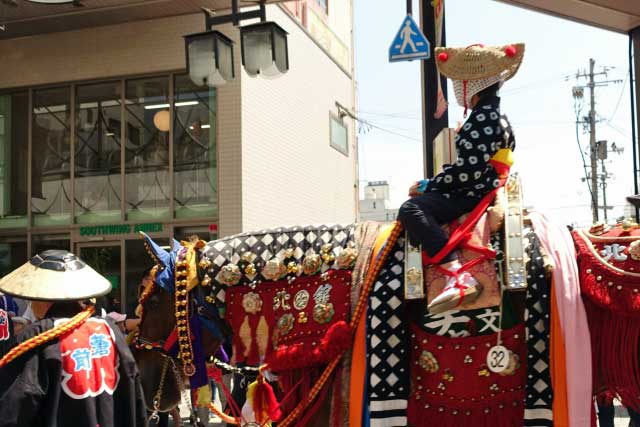 Chagu-Chagu Umakko (Horse Festival)
Chagu-Chagu Umakko (Horse Festival)
Early-Mid June
Onikoshisozen Shrine, Takizawamura, Morioka, Iwate Prefecture
This region of northern Japan is famous for its horses and this festival was originally conceived by horse breeders who wished to pray for long and happy lives for their animals. Features a parade of colourfully dressed horses ridden by local children. The parade follows a 15 km course from Onikoshisozen Shrine in Takizawamura to Morioka Hachimangu Shrine in Morioka from about 9 am-2 pm. Around 80-100 horses usually take part dressed in konida costumes (worn by the horses of daimyo - feudal lords - in the Edo Period). At the end of the parade, prayers are offered for a bountiful rice harvest and thanks are given to the horses. The name of the festival comes from the noise made by the bells (chagu chagu) on the horses' harnesses (umakko) and the event is designated as a national intangible folklore cultural asset.
Getting there: take a bus or train to Morioka Bus Station then a free shuttle bus to Sozen Shrine. There are free shuttle buses from Morioka Station from 6.30 am-8.25 am.
Aoba Matsuri
15th June
Chishaku-in, Kyoto
Celebrating the birth of Kukai (aka Kobo Daishi, 774-835), the founder of the Shingon sect of Japanese Buddhism, priests and yamabushi (mountain ascetics) turn out in full regalia at Chishaku-in Temple in Kyoto for a series of purification rites and an ancient fire ceremony.
Aoba Matsuri
15th June
Koyasan, Wakayama
Festival to celebrate the birth of Kukai (Kobo Daishi) at Koyasan's Okuno-in Temple. A hundred priests from the temples of Koya-san supervise the purification rituals.
Yasaka Shrine Festival
15th June
Kyoto, Kyoto Prefecture
A court dance of the Heian Period (794-1192) is performed on the Buden stage from 10am at Yasaka Shrine in Gion. Take Kyoto bus #206 to the Gion stop.
Takekiri Eshiki Matsuri
20th June
Kuramadera, Kyoto
'Bamboo-cutting' festival where two teams of monks race to cut four bamboo poles representing evil serpents into three pieces.
Yosakoi Soran Matsuri
Early June
Sapporo
A festival of folk dance that turns the whole of Sapporo into a stage. The Yosakoi Soran Festival in 2000 attracted 375 teams totaling 38,000 dancers from all over Japan and enough visitors to more than double the population of the city. Dance groups perform in the streets all over the city including the Odori Park area and stirring music based on the Soranbushi folksong of Hokkaido can be heard on every corner.
Itoman Hare
Mid-June
Itoman, Okinawa
The most famous of Okinawa's Hare, or dragon boat racing, festivals in which colourfully decorated boats made from lightweight wood are raced by teams of 8-14 men in equally colourful dress. The festival and its associated rituals have a strong connection with the local fishing community in Okinawa who pray for safe sailing and good catches. Held on the 4th day of the 5th month according to the Chinese lunar calendar.
Info: Itoman City Office 09 8992 4121
Sanno Festival
10-16 June (on even numbered years)
Hie Shrine, Tokyo
Elegant and courtly festival originally held in 1478 to ensure good fortune during the construction of Edo Castle in present-day Tokyo. Features a parade of mikoshi and hundreds of people in the traditional dress of the Imperial court.
Access: Akasaka-mitsuke Station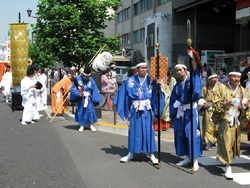 Hiei Jinja's Sanno Matsuri festival in Yotsuya, Tokyo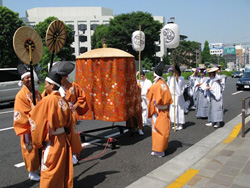 Hiei Jinja's Sanno Matsuri festival in Yotsuya, Tokyo
Yakata Matsuri
22-23 June
Himeji
A parade of children dressed in summer yukata on Otemaedori between Himeji Castle and Himeji Station. Hundreds of stalls line the street.
Gotanshin Sai
25 June
Kitano Tenmangu, Kyoto
A large ring of fresh reeds is made at the entrance to the shrine which affords protection against summer infections. The festival commemorates the birth of scholar Lord Sugawara, the 10th century scholar. The monthly flea market at Kitano Tenmangu Shrine is also held on this day.
Aizen Festival
30 June - 2 July
Shoman-in (Aizen-do) Temple, Osaka
One of Osaka's three major summer festivals. Celebrates Aizen Myo-oh the greatest of the 8 Buddhist guardian gods and the temple's principle image. Throughout history Aizen Myo-oh has been worshipped by actors, actresses, entertainers and prostitutes as the god of charms and popularity. Hundreds of thousands turn out every year to see the glamorous parade of geisha riding on decorated palanquins called hoekago.
Access: JR Tennoji Station, Subway Shitennojimae-yuhigaoka Station.
DISCLAIMER Festivals may be cancelled or postponed without much warning. Check with your local tourist office for confirmation.
Sanno Festival, Tokyo
Japanese Festivals June. See a list of the major Japanese festivals in June.
All the themes of the city