Keio Inokashira Line
The busy 12.7km Keio Inokashira Line runs from Shibuya Station to Kichijoji Station in Tokyo.
Keio Inokashira Line 京王井の頭線
The Keio Inokashira Line is a private railway line in Tokyo part of the Keio Corporation rail network running in western Tokyo.
The 12.7km Keio Inokashira Line runs from Shibuya Station to Kichijoji and transfers to the Keio Line can be made at Meidaimae Station.
Both local (kakueki teisha; 各駅停車) and express trains (kyuko; 急行) run frequently on the Keio Inokashira Line.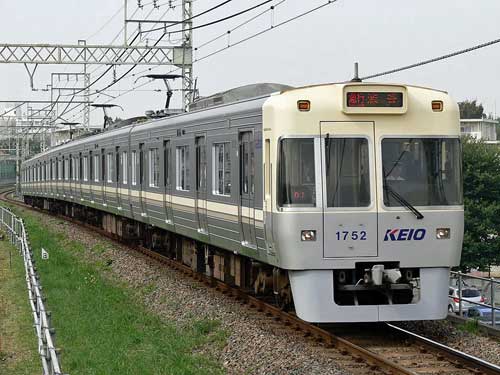 Keio Inokashira Line, 1000 series EMU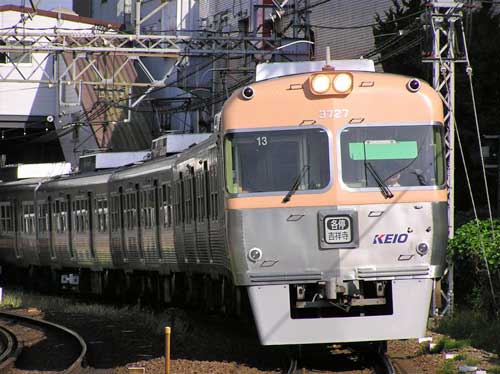 Keio Inokashira Line 3000 series EMU Train
History
The original line, then owned by Odakyu started operations in 1933.
Post-war the route was acquired by Keio.
Since 2013 Keio Inokashira Line stations are numbered 01 from Shibuya etc and prefixed "IN".
Keio Line Stations
The complete list of stations on the Keio Inokashira Line is: Shibuya (Yamanote Line, Saikyo Line, Tokyo Metro Ginza Line etc), Shinsen, Komaba-Todaimae, Ikenoue, Shimo-Kitazawa, Shindaita, Higashi-Matsubara Station, Meidaimae, Hamadayama, Takaido, Fujimigaoka, Kugayama, Mitakadai, Inokashira-koen and Kichijoji (also on the Chuo-Sobu Line).
Keio Inokashira Line Information
The first Keio Inokashira Line train leaves Shibuya Station at 5am on weekdays with the last train at 12.45am (to Fujimigaoka).
Services are less frequent on weekends and public holidays.
For complete timetables and updates please check the Keio Line website below.
Using the Keio Line
Here are some useful tips for using Keio Lines in Tokyo.
1. First buy a pre-paid IC card, such as a Suica or Pasmo. They require a refundable 500 yen initial charge, but make train & subway use infinitely easier than having to buy a paper ticket at a station whenever you ride a train. You only need to touch your card for a second on the sensor at the ticket wicket as you pass through.
2. If you are purchasing a regular ticket, touch the button displaying the fare to your destination. Wait for the purchase display to appear. Insert coins or notes into the ticket machine and collect your ticket (and change, if any).
3. Mind your manners. Don't eat or drink on the train, don't put luggage on the seat beside you, don't talk on your cell phone, and if you're talking to people, try and keep it subdued.
Keio Line Video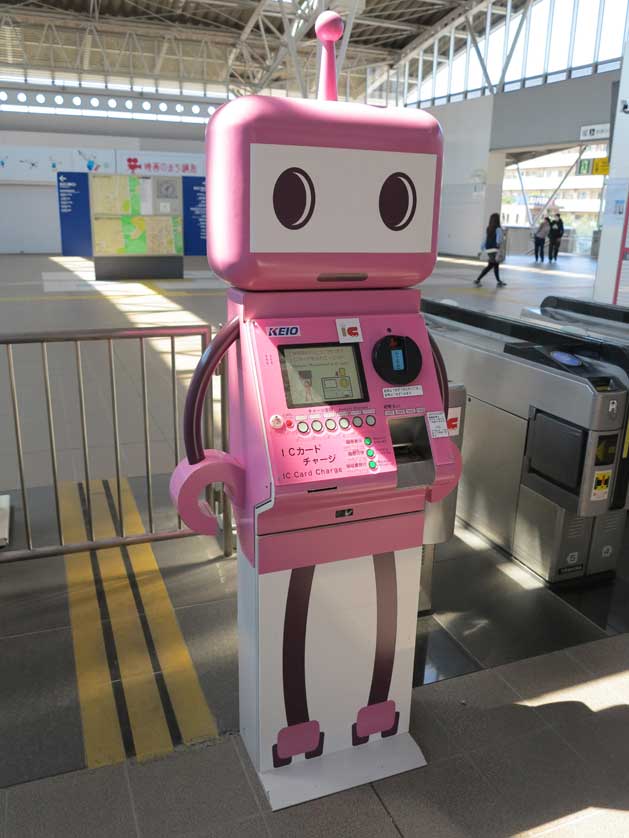 Keio Line, Tobitakyu Station, Tokyo
All the themes of the city