Kichijoji
吉祥寺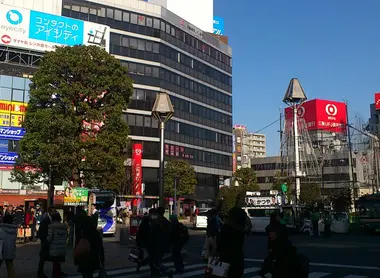 A <i>Distant Suburb</i>
To the west of Tokyo, Kichijoji is one of the favorite neighborhoods of Tokyo inhabitants, polls put it at the head of the most popular places of residence. Kichijoji is one of the favorite residential areas of Tokyo. Is it a suburb to go for a stroll? Yes, and not only that, it is home to the Ghibli Museum and Inokashira Onshi Koen. A lively neighborhood.
Manga fans will be happy: at the exit of the station, with very original architecture, the atmosphere and the streets seem familiar. Kichijoji was inspired the famous GTO manga by Tohru Fujisawa (born in 1967), in which he drew an off the wall view of education and the world, "another" Japan.
Back to reality and the many shopping areas in this very remote suburb, both geographically - Kichijoji is ten kilometers from Shinjuku, it takes half an hour to get there by train - and culturally. Everything is calmer, more "human" and less excessive.
Avant-garde for its jazz and Tokyo rock, it concentrates many cafes and bars, and a curious mix of small stores and department stores. The covered shopping area Kichijoji -  a street where it is good to take a stroll, offers many stores, while waiting to visit Ghibli Museum. The train station pours out many visitors eager to discover the colorful world of Hayao Miyazaki. But Kichijoji is worth more than just a quick stop for its popular museum: Inokashira Onshi Koen, is also to be seen in the spring when there is hanami, season to contemplate the cherry blossoms.
All the themes of the city