How to go from Tokyo to Sendai?

Japan's premier railway axis
Located just an hour and a half away from Tokyo by Shinkansen, Sendai is known for its tree-lined streets and Tanabata festival. A variety of sightseeing spots are abound on the way, too!
Along the Tohoku Shinkansen
To go to Sendai, take the Tohoku Shinkansen line, which boasts both the greatest length and the fastest operating speed of any of the lines in Japan. If you get the chance, take the Hayabusa train, which as well as having a very distinctive shaped nose, is the fastest of them all. The Hayabusa, Hayate, Yamabiko and Komachi bullet trains also operate on the line. In addition to the Japan Rail Pass, destinations from Tokyo to Sendai are also covered by the JR East Tohoku Pass and the JR East Hokkaido Pass.
0 KM - Tokyo Station
In Tokyo Station, Tohoku Shinkansen trains depart from tracks 20 to 23.
4 KM - 0H05 - Ueno Station
Located on the Yamanote Line, this station is very useful for people staying in the north of Tokyo to board the Shinkansen without going through the crowds of Tokyo Station. Almost all of the trains stop here.
30 KM - 0H25 - Omiya (Saitama) Station
The Railway Museum is a short shuttle service away from this station. There are many real train carriages and engines to see here.
81 KM - 0H41 - Oyama (Tochigi) Station
Only some Yamabiko services stop here, where you can change for the JR Mito Line.
110 KM - 0H49 - Utsunomiya Station
Utsunomiya is a major train hub served by the Tohoku Shinkansen Line, JR Tohoku Main Line, Tobu Nikko Line and JR Utsunomiya Line. Change here for Nikko and take the JR Nikko Line (41 min, one train every hour).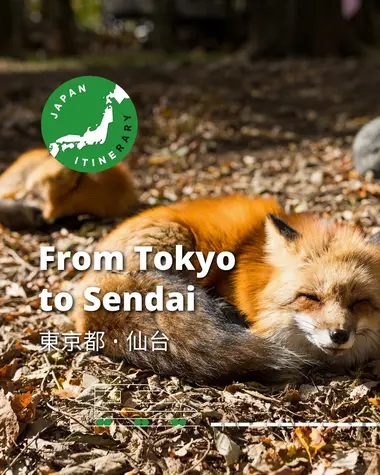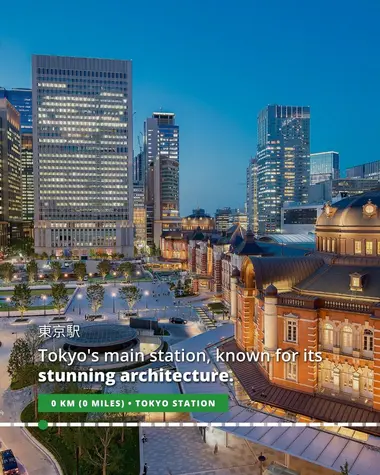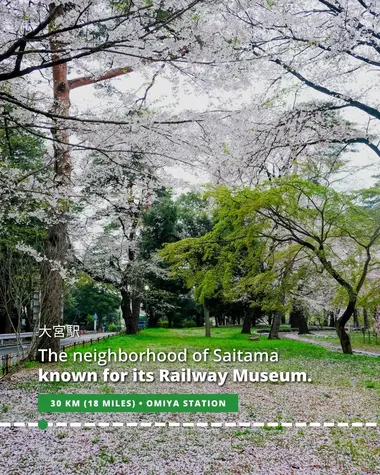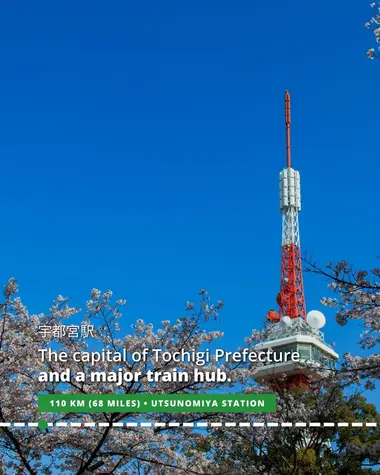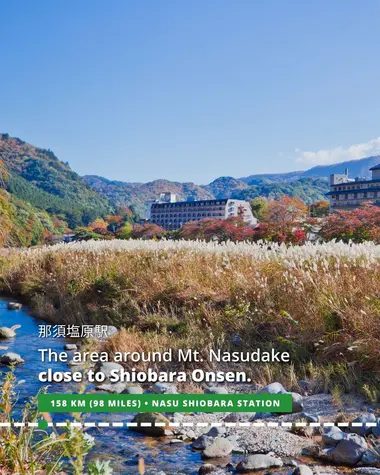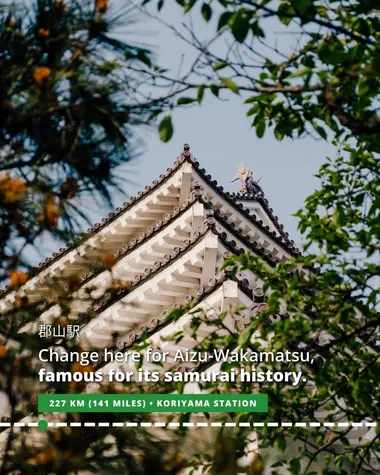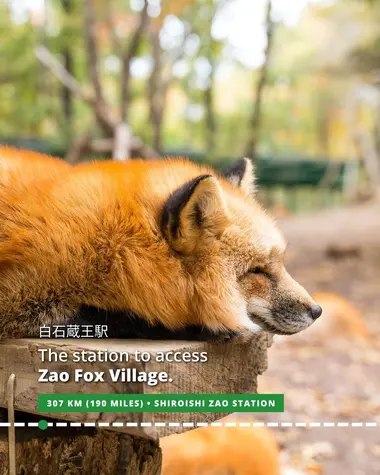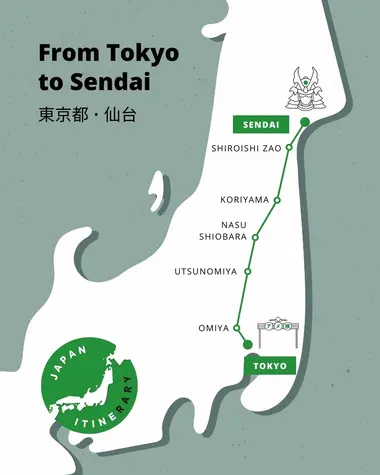 158 KM - 1H09 - Nasu Shiobara Station
Naru Shiobara is the area around Mt. Nasudake, an active volcano in Nikko National Park. It's home to forested highlands, to several hot springs including Nasu Onsen on the volcano's slopes and Shiobara Onsen, as well as various hiking trails that lead to waterfalls and suspension bridges along the mountain's slopes. The Nasu Ropeway climbs about 800 meters up the side of Mt. Nasudake. From the upper station, it is a further 30 to 45-minute hike to the peak.
185 KM - 1H20 - Shin-Shirakawa Station
With a castle and a park, there is little else of note to deserve a special visit here.
227 KM - 1H20 - Koriyama Station
Change here to head to Aizu-Wakamatsu, one of the last strongholds of the samurai and famous for its sake.
273 KM - 1H32 - Fukushima Station
If you climb Mt. Shinobu, in the center of town, you can find Iwaya-Kannon with 60 Buddhas carved into the rock and you can get a good view of the city.
307 KM - 1H49 - Shiorishi Zao Station
Not far from the station you can find a traditional merchant house, a doll museum, a samurai house and a traditionally restored castle.
352 KM - 1H32 - Sendai Station
Learn more about Sendai with our Japan Experience Travel Guide. Take the JR Tohoku Line (track n°2 at the station) for a 20-minute ride to Matsushima.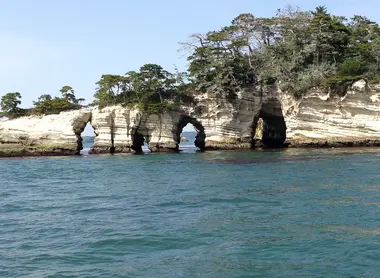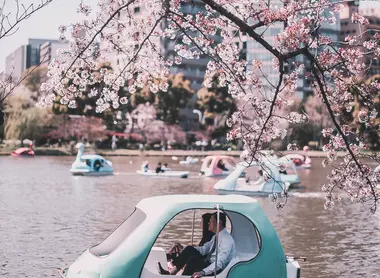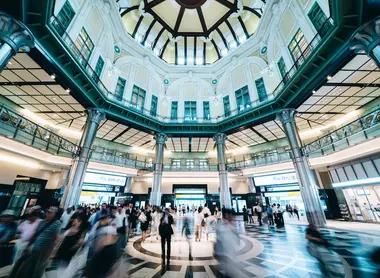 Discover Matsushima
What to see ?
Matsushima Islands
Located half an hour outside of Sendai, the city is famous for its bay dotted with over 200 small islands covered by pine trees. For centuries, it has been ranked one of Japan's three most scenic views, along side Miyajima and Amanohashidate. A good way to enjoy the bay is to get on a cruise boat. Operated by multiple sightseeing cruise companies, there are round trips starting and ending at Matsushima and boats from Matsushima to the nearby city of Shiogama. Longer cruises will get you to the more remote areas of Oku-Matsushima, which are less spoiled by industrial and urban development.
Where to stay ?
Matsushima Century Hotel 松島センチュリーホテル
Senzui 8, Matsushima-cho, Miyagi-gun, Miyagi, 981-0213
Tel : 02-2354-4111/www.centuryhotel.co.jp/gaikokugo/en
A great hotel for sightseeing. Located a 5-minute walk to the ferry port to Fukuura Island. Close to the ocean you will have a great view of the neighboring islands from the balcony.
Hotel Ubudo ホテル 海風土
5-3 Higashihama, Matsushima, Miyagi-gun, 981-0213
Tel : 02-2355-0022/www.ubudo.jp
A new type of ryokan, combining Japanese and Western style, with an excellent location. From Matsushima Kaigan Station on the JR Senseki Line, take the Matsushima Loop Bus for about 10 minutes to the Hotel Ubudo Mae stop.
Where to eat ?
Shobian 松美庵
Shobian is across the main road from Matsushima National Park, about a 6-minute walk east down route 45 from Matsushima Kaigan Station.
Open daily, 11 a.m. to 5 p.m./www.matsukama.jp/shop/shobian.html
This sweets café is perfect for a nice break along Matsushima Bay, with its clean and modern interior and spectacular view of the bay.
Kakigoya かき小屋
If you're strolling alongside the picturesque Matsushima Bay, naturally seafood is your best choice of cuisine! This highly-rated restaurant is where the locals come for 50 minutes of all-you-can-eat fresh oysters at a reasonable price. From the eastern end of Matsushima National Park, continue towalk along the bayside beach. When the path ends, turn left,and Kakigoya is a little shack on your right.
Open daily during oyster season (October through March), with their hour-long all-you-can-eat rounds starting at 11 a.m.,12 p.m., 1 p.m., and 2 p.m.
Tel : 02-2354-2618
Sightseeing from the comfort of a boat!
All the themes of the city